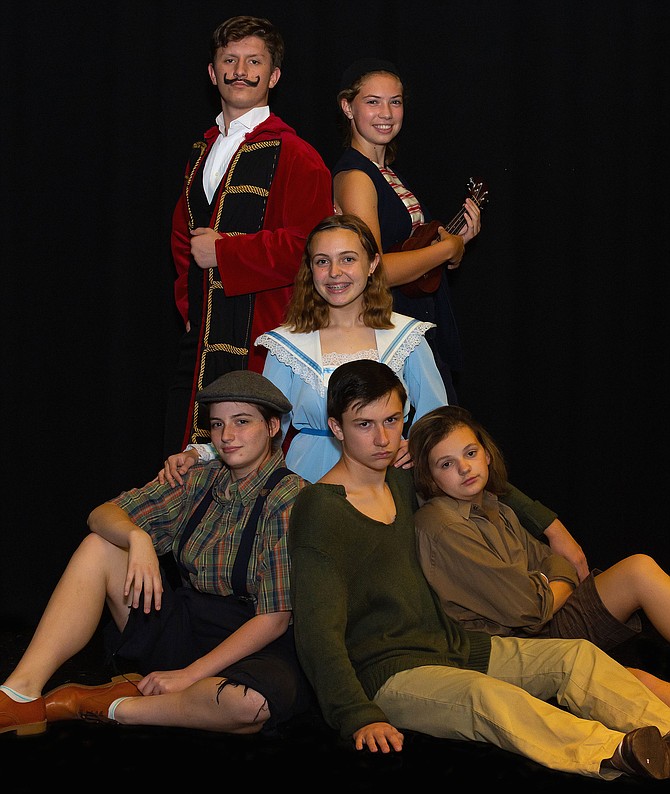 A comedy with music and a love story, "Peter and the Starcatcher" is the prequel to "Peter Pan" and is Westfield High's upcoming play. It also marks the debut of Enza Giannone-Hosig as the school's new theater director.
Show times are Friday-Saturday, Oct. 18-19, at 7 p.m.; Sunday, Oct. 20, at 2 p.m.; and Friday-Saturday, Oct. 25-26, at 7 p.m. Tickets are $12 at the door, or $10 with a student I.D. or via www.westfieldtheatre.com.
In the story, Peter and two other orphans, Prentiss and Ted, are sold into slavery on a pirate ship called the Neverland. Meanwhile, Lord Aster is on a ship called the Wasp. His goal is to collect and destroy starstuff because it's so powerful; it lets people be whatever they want and can cause evil and destruction. His daughter, Molly, is on Peter's ship. After a hurricane and a battle, Peter is thrown overboard, and the other boys and Molly follow him to an island later named Neverland, and adventures ensue.
"There's lots of swashbuckling fun and a gentle love story," said Giannone-Hosig. "It's true to those first feelings of love, when you're 12 or 13 and realize someone could be more than a friend, and you're thinking of someone else's needs." She explained that starstuff are magic particles that fall from the stars and become stardust – or what Molly calls "star stuff." Molly's father is a starcatcher and she's a starcatcher in training.
She said audiences will love the show's "playful nature. They'll never stop laughing and will connect to their inner child as they watch it. Peter says, 'Guys, this is gonna be one, awfully big adventure' – and the play really is. It'll take the audience on an adventure, from the time the lights go down, until they come up again."
THE PLAY features a cast and crew of 45, and Giannone-Hosig called them "committed and dedicated." And, she said, "It's a great show because it's an ensemble piece and I was able to cast students from every grade, representing many parts of the Theater Department. I'm so excited to be working with teens passionate about theater and willing to take risks in their performances."
This show is in the style of story theater, where the actors narrate the story as it's unfolding. So, said Giannone-Hosig, "They're jumping in and out of many, different characters. They also become parts of the set – which lends itself to playful, physical acting. And I'm hoping this play connects us all to the joy of childhood, when children can see things and turn them into something else in their minds."
Sophomore Jason Tongarm portrays Peter, 13. "He's shy, doesn't even have a name and doesn't know much," said Tongarm. "He doesn't even know what a bedtime story is. He goes through hardships and eventually realizes there are other people to care about besides himself. And by the end of the story, he becomes a hero."
Tongarm likes his role because "Peter's in the same situation as Prentiss and Ted – and in real life, they're some of my closest friends. It's my first lead role, so it's both interesting and scary, but I'm excited and thankful to perform in this show. It's fun playing someone so different from me; he lashes out a lot because he has lots of pent-up anger, so I get to go off on people and be angry."
He said people will enjoy "the sense of friendship among the main characters, the heroism that comes with each character and how they grow up and mature throughout the play."
Playing Molly, 13, is freshman Kylee Weimeister. "Molly's headstrong, knows what she wants, is passionate and dedicated," said Weimeister. "She changes during the show and becomes more of a mother figure to the Lost Boys and starts to develop feelings for Peter."
Weimeister also loves her part. "It's incredible to get such a large role, my freshman year," she said. "She's similar to me in her dedication and passion, but different in her stubbornness. And I get to have a British accent and go up gangways and through tunnels and interact with the ensemble."
She said the audience "will love how Neverland is an inclusive community where everyone can feel like a child, whether they are or not. They'll also like the show's comedic edge, stunts and swordfighting."
SOPHOMORE Chloe Jornales is part of the ensemble of mollusks and sailors. "We're shells in the mermaid song and back up the pirate, Fighting Prawn, in a fight scene," she explained. "We sing, 'Mermaid Outta Me,' and I enjoy it because I'm singing the melody. But for the majority of the show, I'm a sailor on the Neverland. We clean the ship, hoist the sails and try to keep the ship together because it's old and rundown."
She likes her roles because "We get to highlight the leads and help make the story run. And we use our bodies to create the passageways and tunnels on the ship. And it fits well with the play because all the characters are children creating a story."
It's a fun-filled show, said Jornales, because "The comedy is hilarious, and not only will children love it, but adults, as well. It'll take them back to when they were children using their own imaginations. And the sets are awesome because they'll look like playgrounds that the children turn into pirate ships."
Portraying Black Stache is junior Matthew Krelovich. His character is the Wasp's pirate leader and eventually becomes Capt. Hook. "He's flamboyant," said Krelovich. "He tries to be as serious and scary as possible but doesn't always come across that way. His righthand man, Smee, is constantly correcting all the words he messes up."
It's a fun role, said Krelovich, because "I get to explore different types of acting and go from serious and scary, one minute, to comical, the next. It's physically challenging since he's so animated and moves around a lot. But he's unique, and it's always fun to play a comedic part where I get to add my own charm and character voice."
"Overall, this show is just a good time," he added. "It's fast-paced, with something always going on. There are lots of references to pop culture and it's really entertaining."