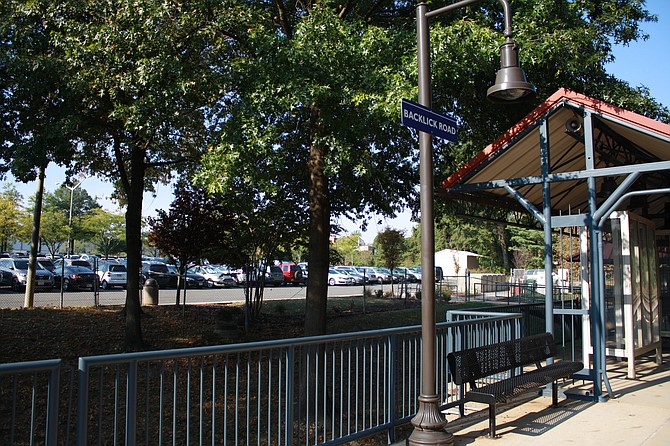 Nearly 170 years ago, Springfield had its own railroad station and the site of a Civil War skirmish, putting Springfield on the map for local historians.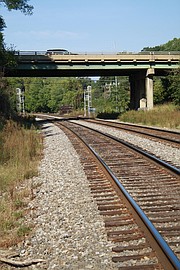 The station was not much more than a little wooden shack along the Orange and Alexandria Railroad tracks, but it was labeled "Springfield," on a piece of lumber attached to the roof in an area east of present-day Backlick Road near the current Backlick Road Virginia Railway Express station. Backlick Run is a creek that runs through the area, and goes under the tracks.
There is one picture of the station at the Virginia Room in the Fairfax County Library, taken by Richard Burnett in 1948. According to documents in the Virginia Room, the station became the first Springfield Post Office in 1866, and then the "combination depot was no longer needed," said a land record from 1953, so it was combined with a tool house from Burke, and the materials from Burke were "placed at Springfield for use as a passenger booth and freight room," the record stated. It remained a post office from 1866-1953.
There was a local effort to erect a historic sign near the VRE station along Hechinger Road, named after the hardware store there that is no longer in business. On the sign, it states the station was the "site of a Civil War skirmish on 3 October 1861 and a Confederate raid on 3 August 1863."
Local historian Don Hakenson had a little more information on the small battle at the station.
"On Saturday night, Aug. 1, 1863, a Confederate raid was conducted at Springfield Station. A company of guerillas from Prince William and Fairfax
Historic Movie Showing
The Road to Happiness, Sunday, Nov. 3 at 2 p.m. at Old Town Hall, Fairfax,
3999 University Drive.
The showing of a 1924 silent movie produced by the Ford Motor Co. and filmed in this area.
counties (the Chincapin Rangers or Company H, Fifteenth Virginia Cavalry), under the command of Cornelius Kincheloe, of Fairfax with Francis C. Davis of Prince William as first lieutenant, were involved in the attack. They tore up some of the rails, but a train of U.S. soldiers came up and the rangers disappeared."
"The Springfield Station was like a little whistlestop," said Chris Barbuschak, the president of the Fairfax Historical Society and also the Archivist/Librarian at the Virginia Room at city of Fairfax Library. "The original railbed is now part of the Accotink Trail," he said. The Burke Station, a little further down the tracks, is still there, and at the Devereux Station which is now Clifton, there was another Civil War battle.