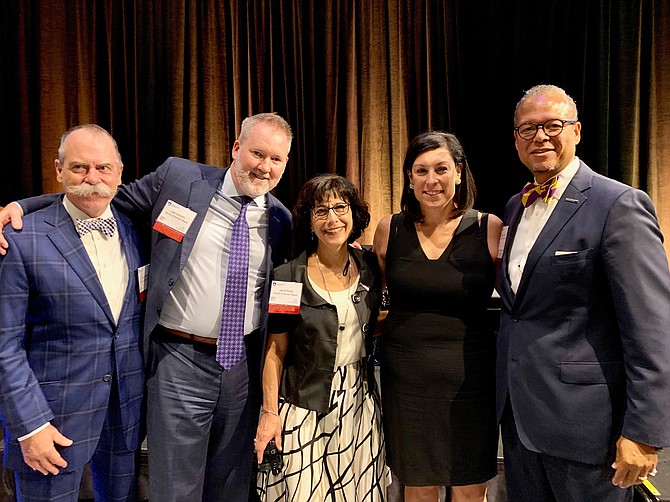 The stars of the business community walked the red carpet Oct. 2 as the Alexandria Chamber of Commerce celebrated the Best in Business awards at the Alexandria Westin Hotel.
Presented by Burke and Herbert Bank, awards were presented in several categories with Stephanie Landrum, president and CEO of the Alexandria Economic Development Partnership, honored as Business Leader of the Year.
"It's been a fulfilling 14 years for me," said Landrum in accepting the award. "I look forward to the implementation of projects like the Virginia Tech Innovation Campus. This is my hometown and I truly love working in Alexandria."
Virginia Tech president Tim Sands was on hand to salute Landrum and the Alexandria business community.
"This is Alexandria's biggest night of the year," said Sands, who presented Landrum, a graduate of the University of Virginia, with a football jersey from state rival Virginia Tech. "We are here to be part of celebrating the city's brightest stars."
Awards were presented in several categories, including the Rising Star award for new businesses in the city. This year's Rising Star honoree was Nicole McGrew for Threadleaf.
"Threadleaf is a women's boutique in Old Town focused on responsibly made fashion," said McGrew. "We focus on fair labor, organic fibers and small independent designers and labels that are hard to find anyplace else."
McGrew was appreciative of the recognition.
"This award means a lot to me," she said after the presentation. "It shows that when you have an idea, a dream, and when other people like it and appreciate it, it makes you feel good. As an Alexandria resident, it's amazing to be part of the business community and is a way to connect with your friends and neighbors."
Other honorees included: Small Business of the Year -- Tartan Properties Commercial; Medium Business of the Year -- Daniel O'Connell's Irish Bar and Restaurant; Large Business of the Year -- Brandywine Living at Alexandria; Nonprofit/Association of the Year -- Del Ray Business Association; Rising Star Business of the Year -- Threadleaf; and Overall Business of the Year -- The Goodhart Group.
www.alexchamber.com