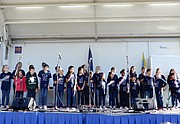 The 27th annual Centreville Day celebration was Saturday, Oct. 19, in Historic Centreville Park. And, as always, the Centreville Day Planning Committee recognized those who've made a difference in Centreville.
Boy Scout Troop 1826 was honored as the Nonprofit Citizens of the Year, and community historian Dennis Hogge was honored as the Citizen of the Year. Supervisor Kathy Smith (D-Sully) made the award presentations during the event's opening ceremony.
She called Troop 1826, led by Scoutmaster Thad Palmer, a good steward of the Centreville Historic District. "Over the last 2½ years, they've walked the district and kept it clean," she said. "They also improved it, with Eagle Scouts Nathan Palmer, Mitchell Palmer and Andrew Zanotti organizing more than 300 volunteer hours and materials to build picnic tables, benches and planters."
They also revitalized the "River Thames" by the Stuart-Mosby Cavalry Museum. "Thanks to [their efforts], visitors to this museum and to Historic Centreville Park can better enjoy their visit and recognize that this is a special place in our community," said Smith. "The Centreville Day Planning Committee and the Friends of Historic Centreville are pleased to celebrate Troop 1826's exemplary service to the Centreville community in the best tradition of Scouting."
As for Hogge, she said he's invested in Centreville's history, both "metaphorically and literally. Dennis's interest in local history led him to purchasing historic houses in Centreville. Rather than develop the land, he preserved these buildings."
Furthermore, said Smith, "He worked with other advocates of historical preservation to help establish the Centreville Historic Overlay District in 1986 and to expand the district in 2007. Dennis has gone to great lengths to preserve Centreville's history, including saving a small stone gas station from demolition by moving it from Lee Highway to its present location off of Braddock Road."
She said he did so because the station was built out of stones salvaged from the Four Chimney House built at the end of the 18th century. And that building now houses the Stuart-Mosby Calvary Museum.
Smith noted, as well, Hogge's contributions to historical research, including assembling and researching Civil War photographs of Centreville and its surroundings taken by Mathew Brady studio photographers. They were placed into books which, said Smith, "enrich our understanding of Centreville during the Civil War and enhance public awareness of the role Centreville played in the war. The Centreville Day Planning Committee and the Friends of Historic Centreville are proud to present the 2019 Centreville Day Citizen of the Year and Honored Community Historian award to Dennis Hogge."