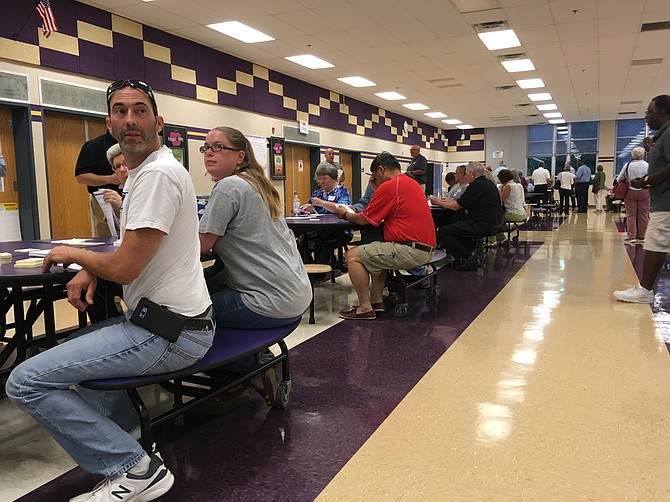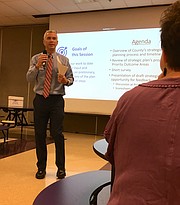 When Jacob Stenstrom walked into Lake Braddock Secondary School, it was different than when he was a student. He was now trying to learn the ways of the county, and taking part in the Fairfax County Strategic Plan Meetings was a start for the now-college grad. "I want to be more active in my community," he said.
Stenstrom was among a cafeteria full of people in attendance at the first of the county's strategic plan meetings across the county to make a plan for Fairfax County in years to come. This was the second series of such meetings that began in February, and this set of meetings will end this December when the planners hand the plan over to the Board of Supervisors for finalization.
The planners, led by James Patterson, manager of countywide strategic planning, divided the county's expectations into nine categories as they wrestle this enormous task into conceivable terms. The nine categories, range from economic opportunity to safety and security, but in the first of several steps, everyone was looking at the issues from 30,000 feet – issues that will be put under a microscope further down the road of this process.
"We want to get your input, are we on the right track?" asked Patterson.
The Fairfax County Strategic Plan was subtitled "Shaping the Future Together," and laid out nine subtopics impacting everyone in the county. It was presented in a booklet that each participant took as they went to the various stations to discuss the intricacies. There were survey cards to fill out at each station, and questions to bring up that got the conversation going. All the data and comments will be compiled in the end.
"I see nothing in here that addresses ecological value," said one man at the "Health and Environment," station.
"People need to think of spending money like it's their own money," said another in the "Effective and Efficient Government." Station.
In the 36-page booklet, there was a mission statement of sorts under each chapter topic and then bullet points for each that the participants will evaluate. Under "Effective and Efficient Government," for instance, the goal read "Fairfax County is a place where all people trust that government responsibly manages resources and provides exceptional services."
Every 20 minutes, stations shifted and attendees addressed another aspect of the plans.
In Fairfax County, "there's a lot of things that are working well, but there are a a lot of things that could be better," said Steve Struthers of Accenture Company, a contractor that was brought on to facilitate these discussions. All the strategies that were presented are "very preliminary," Struthers said.
The nine areas of discussion included:
•Cultural and Recreational Opportunities
•Economic Opportunity
•Education and Lifelong Learning
•Effective and Efficient Government
•Health and Environment
•Housing and Neighborhood Livability
•Mobility and Transportation
•Safety and Security
•Self-Sufficiency for People with Vulnerabilities
Burke resident Theresa Parillo was overwhelmed after looking at the book and attending a few of the discussions. "It's hard to say no to any of this," she said.
Although most things "county," are budget-dependent, the dollar topic is so far into the future that the budget wasn't part of the discussion. A rough draft of the wants and needs will be put together in the November-December time frame, and then presented to the Board of Supervisors after that, and it will be worked into the plan sometime after that. The plan may go into place ten to twenty years from now, officials said. "Strategic plans need to be lean," said Struthers.
After growing up in Fairfax County, Stenstrom wants to stay here, but is looking at cost, which was one of the nine areas of concentration. "It made sense overall; I like that there's a plan," he said.
Future meetings:
South Lakes High School
Thursday, Sept, 19, 2019
6:30 PM - 8:30 PM
Seahawks Drive
Reston, VA 20191
Gum Springs Community Center
Monday, Sept. 23, 2019
6:30 PM - 8:30 PM
8100 Fordson Road
Alexandria, VA 22306
Marshall High School
Wed, Sept. 25, 2019
6:30 PM - 8:30 PM
7731 Leesburg Pike Falls Church, VA 22043