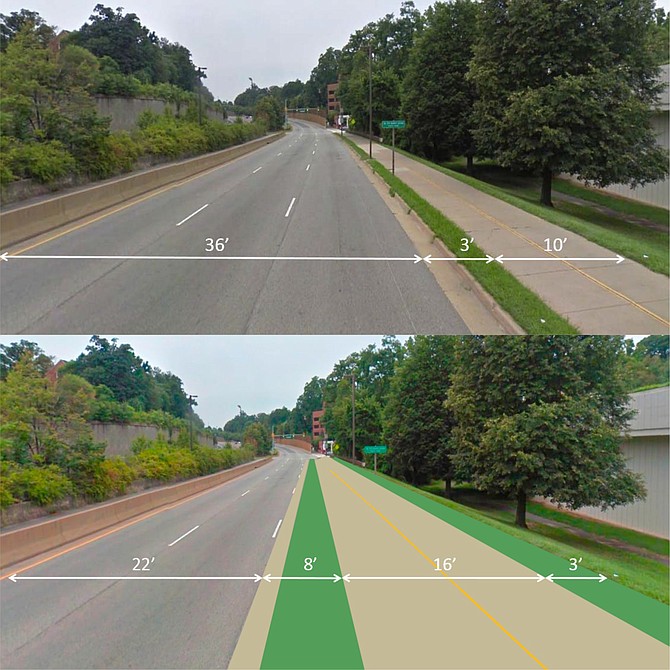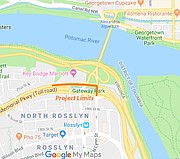 Bicyclists in Arlington are gaining a lane and motorists are losing a lane, as the Virginia Department of Transportation enters a second phase of the Lynn Street Esplanade and Custis Trail Improvements project in Rosslyn.
Bike riders are getting wider lanes on each side of the yellow bike path lane lines to accommodate more bikes. According to VDOT, the trail is being widened from 10 to 16 feet, and is shifted an additional five feet from the roadway to improve safety for bicyclists and pedestrians. When the project is complete in spring 2020, an eight-foot-wide grass buffer will separate the trail from the roadway.
"The Custis Trail widening will improve safety along the trail by providing more space for pedestrians and cyclists and increasing visibility at intersections that have high volumes and have historically experienced high numbers of accidents," said Eric Balliet, Arlington County Communications Specialist.
This particular section of the Custis Trail is one of the most heavily used multi-use trails in Arlington, with a daily average of about 1,000 cyclists alone, Balliet said.
The project is the result of several studies in this area: the 1999 Esplanade Study, 2003 Rosslyn Circle Safety Study and 2006 Lynn Street Esplanade Preliminary Design Study. The findings from these studies were incorporated into the plans for the Lynn Street Esplanade and Custis Trail Improvement project that is currently under construction.
The 2003 Safety Study first recommended removal of the third westbound lane on Lee Highway. Subsequent public outreach was conducted with VDOT to get stakeholder feedback on the proposed lane reduction. Additional studies were conducted prior to design development that indicated removal of the third lane was feasible considering current and projected vehicle traffic volumes.
In addition, the safety improvements in this area include wider sidewalks, improved curb ramps, upgraded traffic signals, decorative lighting and landscaping. A public art installation by Arlington County called "Corridor of Light" will also be incorporated, with prominent elements at each of the four corners of the North Lynn Street bridge over I-66. The art project is described as "a synthesis of public sculpture and lighting infrastructure, embraces and defines Rosslyn's urbanity. Illuminated sculptures of different scales appear at significant junctures along the corridor to create a series of inked points from Key Bridge to Meade Street Bridge," the county website said.
Urban Identity
Arlington County puts it in terms of "urban identity." In an area where new development is planned, and older structures are taken down, the Corridor of Light is intended to provide a distinctive identity and a positive experience on its streets where public and private interests meet in the face of this rapid growth, the county said.
Ardent Company, LLC of McLean is the contractor for the $9.3 million project, which is financed with state and county funding, including Revenue Sharing funds. VDOT is managing construction of the project for Arlington County, and there are overnight lane closures associated with the construction.