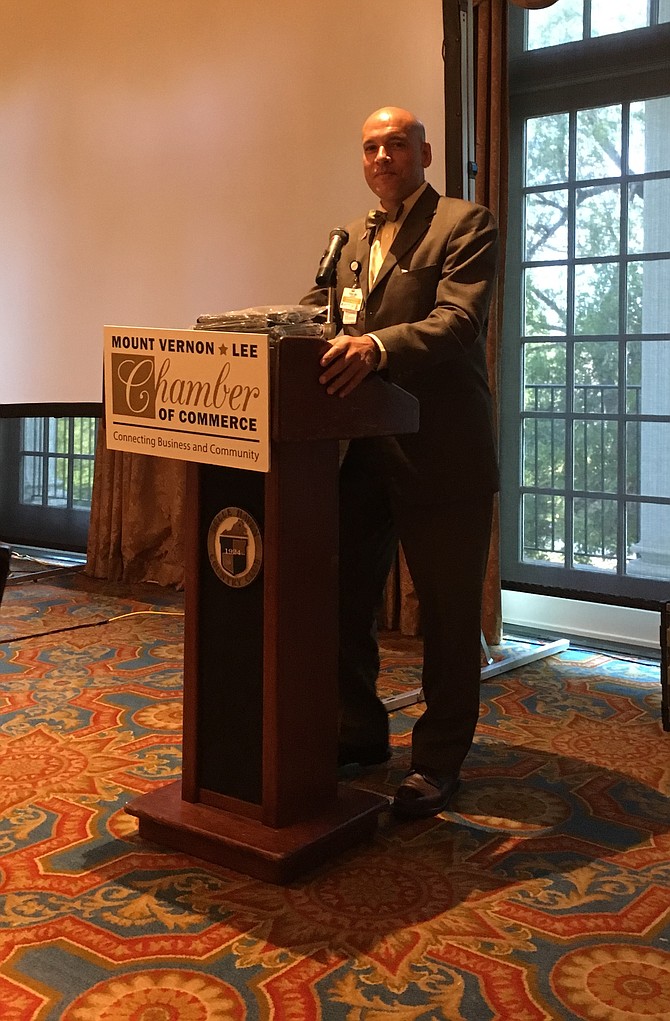 There are two giants in the healthcare industry located in the Mount Vernon area, and those are in the form of Inova Mount Vernon Hospital and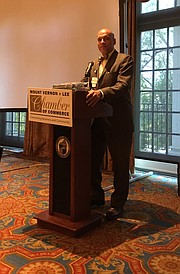 the Fort Belvoir Hospital. The positive impacts of these two centers was highlighted at the recent Mount Vernon-Lee Chamber of Commerce meeting held at Belle Haven Country Club.
"The focus of what we do is the patient," said Dr. Joseph Pina, a 30-year Army veteran that is now leading the efforts at Inova Mount Vernon. Pina was joined by Dr. Rick Repeta, the leader at the Fort Belvoir Hospital and a resident of Mount Vernon.
The large facility at Fort Belvoir has now been open eight years, and has a number of components including an emergency room, to address any kind of medical emergency. Technological advances are a big part of the treatments there, as Repeta noted on one of his slides that showed the robotics in the operating room. "We do have a Da Vinci Robot there," he said.
The wounded warrior program at Fort Belvoir addresses combat wounded patients and also the long term veteran recovery programs for those with PTSD.
Belvoir's facility was built with LEED principles and has earned a LEED Gold level certification. "We're very proud of that," Repeta said. "Inspired By Nature" is a formula they've followed in the construction there, which includes a multitude of glass to let in natural light, an element that aids recovery, he said.
"The military has so much invested in this region; it is really something to speak of," said Pina.
Inova hospital network is moving forward in the modern healthcare arena. That starts with Dr. Stephen Jones, a relatively new CEO, and the $150 million Schar Cancer Center in Fairfax, which was built in the former Exxon-Mobil facility on Gallows Road.
"A lot of exciting stuff is going on there," said Pina. At Mount Vernon, they specialize in hip and knee replacements.
In the south county area there is the new MRI facility at the Lorton Healthplex, which is right off I-95 in that area. It's a "stand alone emergency department," Pina said.
In attendance at the breakfast presentation was Delegate Paul Krizek (D-44), Supervisor Dan Storck (D-Mount Vernon), representatives from Lee District, and a representative from U.S. Rep. Don Beyer's (D-VA) office.
Mount Vernon is rich in elements that create a strong community, and these hospitals are part of it, Storck noted, pointing out tourism, healthcare and federal employees living in the district impacts. "These are largely important to the Mount Vernon economic health," Storck said.
In the near future, the military hospital system is going through a change, moving all the hospitals from the umbrella group to become the "defense health agency," Repeta said. "It will encourage standardization across the board," he added. Readiness continues to be their concentration, he added.
To conclude the chamber event, new chamber members were introduced as well, and that includes E1 Asset Management, Britepaths, Curves of Alexandria and New York Life.