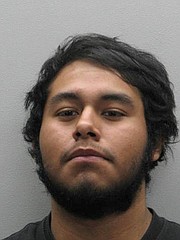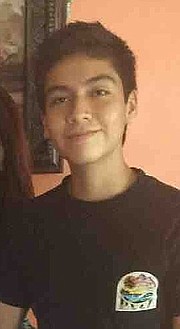 In February 2018, Fairfax City's Uriel Josaphat Espinosa Cruz shot and killed Centreville High student Matthew Ortega at point-blank range. Last Monday, Sept. 9, in Fairfax County Circuit Court, Espinosa Cruz pleaded guilty to murder.
"Are you entering this guilty plea freely and voluntarily – and because you are, in fact, guilty of this offense?" asked Judge Thomas Mann. "Yes," replied the defendant. Mann then warned him that, because he's not a U.S. citizen, he could be deported because of this conviction.
Mann also told Espinosa Cruz, 19, that he could sentence him to as much as 40 years in prison and that, since there's no parole in Virginia, he'd have to serve at least 85 percent of his sentence. In exchange for his plea, the prosecution agreed to reduce his first-degree murder charge to second-degree and drop his related charges of attempted robbery and using a firearm in the commission of a felony.
Assistant Commonwealth's Attorney Kathleen Bilton then explained what her case against Espinosa Cruz would have been, had it gone to trial. She said a Washington Post deliveryman discovered Ortega's body in the road, Feb. 14, 2018, just after 5 a.m., in front of 13506 Jeb Stuart Square in Centreville.
"He was lying on his stomach with blood coming from his head," she said. The Post employee called 911; but since Ortega, 17, had no ID on him, police didn't know who he was. "Det. Aaron Spooner got a list of absentee students and determined it was Matthew, and his mother confirmed it," said Bilton. "The medical examiner said cause of death was a single gunshot wound to the top of the head with a .40-caliber bullet."
She said nearby residents heard a scream, the night before, around 10:15 p.m., and detectives found a pill bottle containing just under 2 grams of marijuana in Ortega's pants pocket. Then, said Bilton, "A friend said he knew Matthew and that Uriel had confessed to killing him and said he'd buried the gun somewhere far away."
ORTEGA was actually shot inside a car and his body dumped on the ground afterward. He was in the back seat, with Espinosa Cruz next to him and two other people in the front. The details came out July 27, 2018, during the defendant's preliminary hearing in Juvenile and Domestic Relations Court.
The star witness was Enrique Rivera, 18, who was in the front seat that night and who testified against Espinosa Cruz in exchange for immunity from prosecution. Rivera used to live in Centreville and attend school there with Ortega. And, he said, "I knew Uriel since I was a kid in Fairfax."
On the night of the murder, Rivera said he was driving around in his mother's car, smoking marijuana with Espinosa Cruz and a friend nicknamed Peanut before meeting with Ortega. "It was Uriel's idea," said Rivera. "He said he wanted to rob somebody who had weed; he said it would be easy. [Peanut] contacted Matthew through Snapchat. Matthew sent the address where he was, in Centreville, and I drove there and parked."
Rivera said Peanut was in the front passenger seat, with Espinosa Cruz in the back seat, behind him. Ortega came inside, sitting behind Rivera. "There were people around, so I drove across the street because I knew Uriel was going to rob Matthew," said Rivera. He said he kept the motor running and that, less than a minute later, Ortega was dead.
"Uriel pulled out a gun from his waistband and pointed it near Matthew's chest," said Rivera. "I saw it in the rearview mirror. Matthew put up his hands, palms out, in front of him and said, 'Stop, chill, chill.' That's when Uriel shot Matthew in the head. I never expected Uriel to shoot him."
Afterward, continued Rivera, "Uriel said, 'He's bleeding, he's bleeding.' Uriel grabbed [Ortega's] feet and I grabbed him, too, and we pulled him out of the car and put him on the ground."
Then, he said, they left Ortega lying on the pavement and headed to Safeway to buy cleaning supplies – "Baby Wipes and stuff" – to erase the evidence of the crime inside the car. Said Rivera: "We all cleaned the blood off the back seat and the floor."
IN COURT MONDAY, Bilton said Espinosa Cruz claims an argument arose between him and Ortega and punches were thrown before he pulled his gun. "He says the victim pushed it away and it went off," she said. "He said he did not mean to pull the trigger."
However, added Bilton, neither Rivera nor Peanut told police anything about an argument, but that "Uriel simply pulled out a gun and shot [Ortega]. Both got immunity and then said the defendant told them he planned to rob Matthew. Both said the shot seemed to surprise Uriel. They said he wanted to take the marijuana from the victim's pocket afterward, but they told him not to."
Judge Mann then formally accepted Espinosa Cruz's plea and set his sentencing for Nov. 15. He'll continue to be held in jail without bond until then. Meanwhile, defense attorney Michael Chick requested permission to have a psychological evaluation performed on his client, and Mann agreed.
Afterward, outside the courtroom, Chick said the charge of second-degree murder also includes accidental homicide. He also said, "Uriel is extremely remorseful for what he did, and he's sorry for the pain he caused Matthew's family."