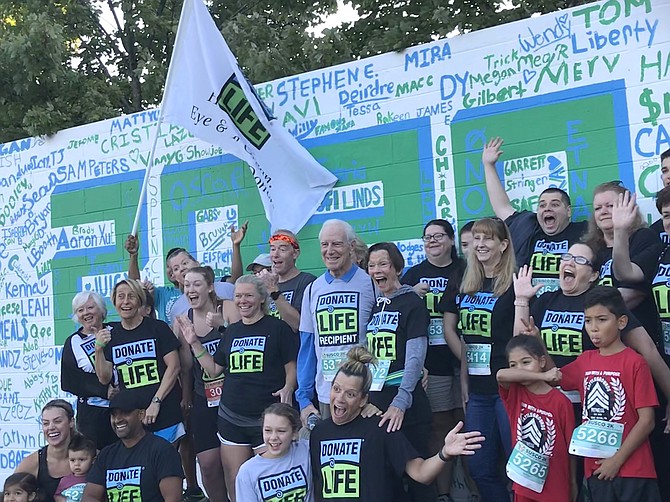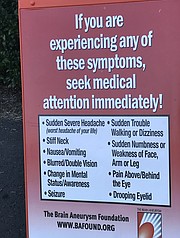 September is National Brain Aneurysm Awareness Month, and they were off one last time at the 12th annual Susco 8K: Running with Tim. The event brought runners, walkers, volunteers and a handful of sponsors to South Lakes High School on Sunday, Sept. 22. They walked alone and with family. They pushed strollers of babies loved ones never had the chance to meet. And they ran and ran to promote brain aneurysm research so what happened to their loved one, doesn't happen to others; and to promote organ donation awareness, the gift of life for another person and their family, if tragedy does happen.
Tim Susco was a 1999 SLHS graduate. Susco ran Track and Cross Country every season of his four years at SLHS according to his brother, Tom. In August of 2007, Tim worked in Hollywood as a Key Assistant Location Manager on the television show, "Heroes." While out scouting for a location that month, Tim suffered what would be a fatal brain aneurysm.
In a statement, after the race, the Susco family wrote: "When we started out, we didn't know what we were doing and barely thought we'd make it through year one. All we knew was that we wanted to raise awareness and much-needed donations for two wonderful charities that helped us tremendously when Tim passed."
THE TWO CHARITIES reportedly remained the same for 12 years: Brain Aneurysm Foundation, a global leader in brain aneurysm awareness, education, support, advocacy and research funding; and Washington Regional Transplant Community, a D.C.-based organization responsible for facilitating the organ, eye and tissue donation and transplantation process.
As the registered race participants lined up at the race wire, some wore t-shirts inked "Donate Life, Recipient Family," "Team Kathy," and "Organ Recipient." Some wore race bibs that read "In Memory of (name)." Each had a story to tell.
Kara Tayyab worked at Washington Regional Transplant Center. She brought her children: Ela, 2, who would be running for the first time, and Isa, 3½.
Cathy Gabig came up from North Carolina to complete her third run. "I do it to support Tom and Nancy. We wouldn't miss it."
Barbara Gordon of Fairfax also worked at Washington Regional Transplant Center. While her husband and two adult children would run, she said she'd walk to promote organ, tissue and eye donation.
Michele Fox of Springfield stated, "I'm extremely happy to be here. They have been doing a wonderful job, a legacy for Tim."
For others, the run was more personal. Andy Bender of Vienna waited with his wife, Betty. His race bib read Organ Recipient. "I received a kidney March 22," he said. "The only reason he's a recipient is that he agreed to take a Hep C-positive kidney," said Betty. Andy said that he'd been on the kidney waiting list for six years and informed he'd probably be on at least two more years at which time he'd be 80. Weighing the wait, his age and the Hep C, acquired with the transplant, he agreed to receive a new kidney. The decision allowed Bender to receive the kidney transplant faster as Hepatitis C-positive kidneys remain less in-demand. After his operation, doctors treated him with antiviral medication. Betty said that as of a few weeks ago, Andy's Hepatitis C had been eradicated. "He is now virus-free," she said.
FeLisa Lee, a local teacher, wore a memory bib for fellow teacher, Miriam Kirkland. "She was in her 40s when she passed from a brain aneurysm." She said the teachers rallied the first year at the race; then numbers dwindled until now, she walked alone.
Sunday morning Sept. 22, the door inched and closed on any future Susco 8K: Running with Tim events. "We are having trouble finding sponsors to support us," said Nancy Susco, Tim's mother. "It obviously costs a lot of money (to produce an official race.) We use the school; there's food and chip timing. We struggle to find sponsors. This is very hard for us."
According to Tom Susco, the run needed to be a quality event. "One Tim would be proud of. We could do short cuts, but we can't. For us, the effort was always worth it until recently. We've seen a trend with increasing costs and decreasing sponsorships. This decision was one we struggled with for a long time," said Susco.
SINCE THE FIRST RACE, the Suscos raised more than $500,000 for Brain Aneurysm Foundation and Washington Regional Transplant Community. It also allowed the family to meet and work with many wonderful people. The family said while Tim's race may be ending, they anticipate finding new projects to advance brain aneurysm research and organ donation awareness.
Red balloons covered a table near the finish line promoting Brain Aneurysm Foundation's new awareness campaign, STOP the POP!
Dave Michaels of Arlington and his daughter Amelia, 6, were members of Team Barb. "We had a friend, Barb Chirles who died of a brain aneurysm in 2008. We've been coming every year for eleven years. Never missed one," said Michaels. Asked if he'd come again if the event happened, Michael replied, "Absolutely, we'd come."
Female and Male Top Finishers
Cathy Ross, Burke, VA, 48F, Placed First; Chip Time 35.42 Pace 7:12/M
Adam La Femina, Brambleton VA, 24M, Placed First; Chip Time 25:22; Pace 5:07/M
Brain Aneurysm Foundation
"Brain aneurysms are not easy to understand...so picture this: a red balloon represents an aneurysm. The popping of that balloon represents a rupture. Together we can work to curb this silent killer, and help STOP the POP. Brain aneurysms are treatable! One in 50 people in the U.S. has a brain aneurysm. Each year 30,000 people in the U.S. suffer a ruptured brain aneurysm, and half of those people die.
Visit stopthepopnow.org for more information. Let's make brain aneurysm awareness go viral!" #stopthepop #1in50 #SavingLives #ImprovingLives#BAF25 #AwarenessMatters