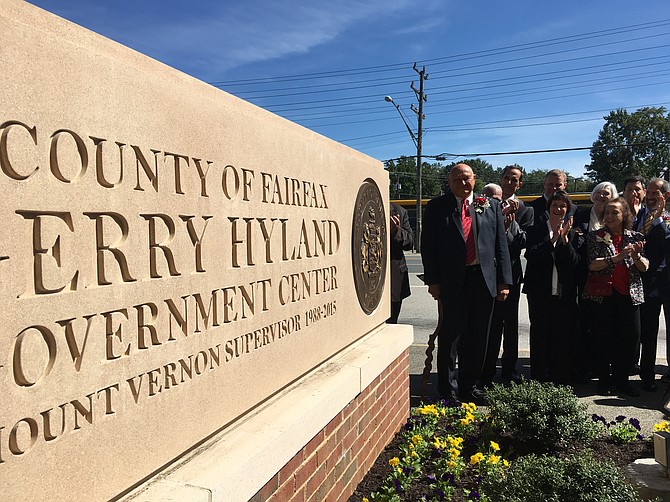 Former Mount Vernon Supervisor Gerry Hyland was known around the board of supervisors as the king of puns, and they wouldn't let him forget it at the naming and dedication of the Gerry W. Hyland Building on Sept/ 20. Throughout his career in Mount Vernon, Hyland looked out for people, and the former South County Government Center houses some of the Fairfax County offices dedicated to human services, which was appropriate for Hyland. All the speakers talked about the fun times they had with Hyland.
"When I was on the board, he was the other Gerry," said U.S. Rep. Gerry Connolly (VA-11).
Gerry Hyland was elected to the Fairfax County Board of Supervisors in 1987 and was the Mount Vernon District Supervisor from 1988-2015. His many victories along the way included protecting the Huntington area from floods, acquiring the prison land in Lorton, and keeping the Mount Vernon Hospital open. The energy behind the accomplishments was his desire to help people.
"I miss being your supervisor, the best job I ever had," said Hyland.
The room at the South County Government Center was full of former elected officials, staff members in Hyland's old office and residents of Mount Vernon that had worked alongside of Hyland to get things done in the district.
"He truly is a leader that listens," said Supervisor Dan Storck (D-Mount Vernon), Hyland's successor.
"So many things that never would have happened had he never been on the job," added former Congressman Jim Moran.
Hyland did note the role that humor does play in situations in the county government, and he used it to get people to let their guard down and talk things out. "It changes the conversation," he said. "If you can make people smile and laugh, you have made progress," he said.
Chairman Sharon Bulova had her stab at comedy, and was making fun of her own effort at stand-up comedy as she got up on the podium. "We'll see how this goes," she said, looking at her notes. "Gerry was known on the board for being 'punny'" she said, getting a laugh from the audience. She then handed him a caricature she did at one of many meetings they attended.
The elected officials then filed out front of the center for the sign unveiling, which was covered in a black shroud. There were even jokes about that.
It was that kind of afternoon, but the smile on Gerry Hyland's face as he looked at the new sign was genuine.