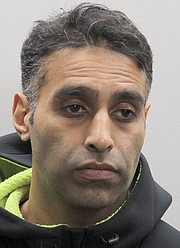 When people try on clothes in store dressing rooms, they have an expectation of privacy. But for the unlucky ones filmed by Mumtaz Rauf, that innocent belief is shattered forever.
Following his guilty pleas in June, he returned Sept. 13 to Fairfax County Circuit Court for sentencing. And while his attorney argued that Rauf's behavior was out of character for him, the prosecution saw it otherwise.
"What this defendant did is horrendous," said Assistant Commonwealth's Attorney John Pickett. "Mr. Rauf has nothing in his past to justify his actions – he simply has a twisted and perverted moral compass."
In the end, the judge agreed, and sentenced Rauf to 18 months in prison. First, though, people testified for and against him and the attorneys presented their cases.
The incidents occurred in late December 2018, rippling like shockwaves through the community when residents learned that, unbeknownst to them, a man had been filming customers trying on clothing in dressing rooms at Fair Oaks Mall. Police arrested Rauf, 39, of Alexandria. on Christmas Eve.
The incidents occurred Dec. 22 and Dec. 24, 2018. On Dec. 24, around 4 p.m., police responded to the Forever 21 clothing store following a customer's complaint. There, the young victim told them a man looked over the top of the dressing-room door and photographed her while she was changing.
A STORE EMPLOYEE then saw a man leaving the store and heading into the mall and described him to police. Officers found Rauf – who matched the description – in the fitting room of the H&M clothing store. Police said he had a pinhole camera, black tape and a battery-powered, Bluetooth transmitter that officers believed he was using to remotely gather video and pictures from various fitting rooms. Rauf was charged with felony unlawful filming of a minor, since the victim was under age 18.
He also told police he'd been in Forever 21 previously and would put a device on top of the dressing rooms, film people and then watch the footage on his cell phone. He said he did it in Forever 21, H&M and Old Navy. Police later searched Rauf's home and seized two small digital cameras – one that looked like a pen.
But that's not all. Detectives from the Major Crimes Bureau continued investigating and discovered more than 100 videos on Rauf's phone. They then identified three additional females he'd recorded in store dressing rooms over the holidays, after these victims contacted them. As a result, on Jan. 23, police charged Rauf with three more offenses.
On June 12, he pleaded guilty to one felony and three misdemeanor counts of unlawful filming. And before his Sept. 13 sentencing, defense attorney Justin Daniel called Dr. Michael Hendricks, a forensic clinical psychologist, to testify. Hendricks said he spent 4-1/2 hours with Rauf in jail and did a psychosexual evaluation of him.
"He had no signs of sexual interest in children," said Hendricks. "He said he wasn't aware a minor was involved – he was simply videotaping whoever was in the next stall. He doesn't have any psychiatric disorder, so my opinion is that he's less likely to recidivate than the typical sex offender."
"Is it true that Mr. Rauf has nothing unusual in his sexual history and wasn't sexually abused, himself?" asked Picket. "Yes," replied the doctor.
Judge Dontae Burke then noted that he'd received two, victim-impact statements from the parents of two of the people Rauf filmed. And the mother of one of them testified by phone. She said her daughter was just 13 when it happened.
"She now won't try on clothing in stores," said the mom. "Everywhere she goes now, she looks for a camera. She's very bothered by it and thinks people are constantly videotaping her everywhere. And it makes me sick to think that he saw her take her clothes off."
Calling it a "difficult and serious case," Daniel said Rauf has "no prior history of any kind of criminal act, mental-health issues or substance abuse. It was an aberration. It involved no actual nudity or acts of sexual gratification, and he cooperated with police, to his own detriment. The police thoroughly searched his electronic devices and found no evidence of deviant, sexual interests or child porn."
Daniel said Rauf had no plan to target minors, just whoever walked into the dressing room. "It only went on for a two-week period in December, and he didn't distribute any photos to anyone," said Daniel. "So no one else saw these images."
He said Rauf has worked since age 17, is a longtime Northern Virginia resident and has provided for his wife and young daughter. And, added Daniel, "He had full custody of his daughter for six years, after her mother died, before he remarried. And there were never any allegations of misconduct made against him then, or in his past – which you'd expect in a case like this. And he has family support from his mother and sister."
Daniel also said Rauf hasn't seen his daughter since his arrest and wants to reunite with her. But her biological aunt is suing him for custody, and a hearing is scheduled for Oct. 1. So because of this case, he's in danger of losing custody.
"He's not a predator or pedophile and is no danger to others if he's released," said Daniel. "He has no history of violence, so he wouldn't be a threat if he's on probation. He's already done eight months in jail and, if you give him a year, the custody case can be continued until he can get out and appear in court. The child is now living with her aunt; and wanting to be with his daughter is his strongest motivation for him not wanting to re-offend."
Saying this case has no sentencing guidelines, he asked Burke to sentence Rauf to time served, with a lengthy term of supervised probation. But Pickett vehemently disagreed. "At the time he filmed someone 13, his own daughter was 13," said the prosecutor. "And his actions had a terrible impact on the victims."
Furthermore, said Pickett, "One victim's mother wrote that her daughter doesn't want to leave the house and that's she's embarrassed and ashamed and had to undergo counseling. [Rauf's] actions will stick with [his victims] for the rest of their lives."
"This case is about the protection of other women, so it doesn't happen to anyone else and about punishing the defendant," he continued. "There's nothing to rehabilitate." Pickett then recommended two years' incarceration, plus active probation and sex-offender treatment.
Rauf then stood and apologized to his wife and daughter and the victims. "I'm very sorry," he said. "Not a day goes by that I don't think about what I did."
"I struggle with understanding why you did this," replied Burke. "The un-consenting videotaping of adult women is also a problem, and it sounds like you were just getting started. And the court has to take into account the victim-impact statements. I don't think you were there looking for young girls, but that's what happened. I can't fix your custody case – I can only deal with the case before me."
THE JUDGE then sentenced Rauf to five years in prison, with all but 18 months suspended, for the felony offense. He placed Rauf on four years' supervised probation, ordered him to complete a behavioral-intervention program and banned him from Fair Oaks Mall. In addition, Rauf must register as a sex offender and undergo any sex-offender treatment the probation office recommends.
Burke also sentenced Rauf to a year in prison on each of the three misdemeanor charges, running these sentences consecutively to each other and suspending them all. So he has 10 months total left to serve behind bars.
The judge then told Rauf that, now that he's been convicted, a sample of his DNA would be taken and entered into Virginia's database of convicted felons. Addressing him sternly, Burke said, "Mr. Rauf, you've got some stuff to figure out – and the community and your family need you to figure it out."