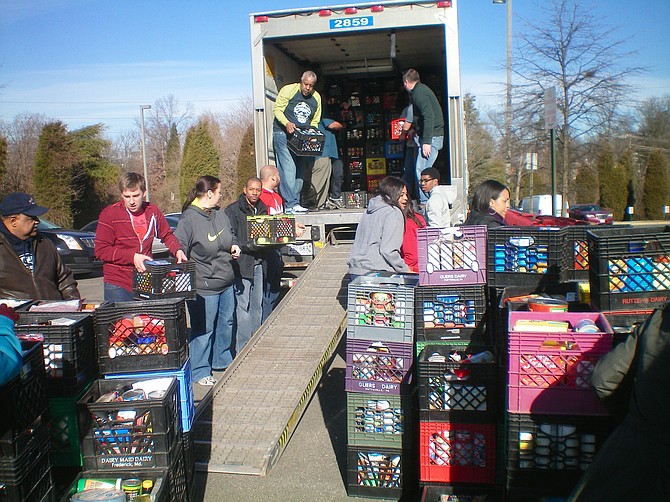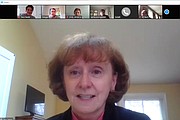 "They (Amazon) reached out to us and the three other community foundations in our region…A $1 million grant to the four…We were immensely, immensely grateful," said Eileen M. Ellsworth President and CEO of The Community Foundation for Northern Virginia. The organization serves residents in Fairfax, Arlington, Loudoun and Prince William Counties, and the Cities of Alexandria, Fairfax, Falls Church, Manassas and Manassas Park. It is known for 'Responding to Critical Need… Seeding Innovation'.
In response to COVID-19 and its impact in the area, on March 18 Amazon announced it donated $1 million total to the four largest community foundations serving residents in the HQ2 area, including The Community Foundation for Northern Virginia as well as ACT for Alexandria, Arlington Community Foundation and Greater Washington Community Foundation.
"The Washington, D.C. area is our new home, and we must rally together to support our neighbors during this difficult time for our region and around the world," said Jay Carney, Senior Vice President, Global Corporate Affairs of Amazon in The Amazon blog dayone. The donation kick started collaborative emergency COVID-19 response funds to support vulnerable populations impacted by the coronavirus outbreak.
"We are incredibly grateful," said Ellsworth. "We heard from Amazon… when it was dawning on the entire country what we were going to face with COVID-19. So they got ahead of it…" According to Ellsworth, each of the four foundations would collaborate regionally and use a portion of the $1 million donation for grants to nonprofits addressing food insecurity, housing/shelter, and providing emergency financial assistance. Local businesses, community groups and individuals would be encouraged to get involved and donate at http://bit.ly/cfcovid-19.
"That was their (Amazon's) intent… We came together to collaborate on that gift... We felt very, very strongly when we launched the fund that because COVID-19 is a public health issue, we needed to take input from public health officials (in) Fairfax County, Prince William County, Loudoun County, and Arlington County," Ellsworth said.
She added that the advice they received from health officials was unanimous. Basic needs assistance came first. The Community Foundation's overarching consideration for deploying not only the Amazon gift but also other money they were raising was to provide their grantees with maximum flexibility through block grants, ones without or limited restrictions. "As one of them (a grantee) said to me... they're reinventing themselves by the hour," Ellsworth said.
According to Ellsworth, Round One Grants from the COVID-19 Response Fund for Northern Virginia would meet the basic needs of low-income families, individuals, and the elderly and complement the work of public health officials. The Community Foundation's goal was to get the money out the door immediately to nonprofits and other programs in the region and without accepting applications, ones that have deep roots in the community, and strong experience. "We know who the biggest human service provider nonprofits are…(those) that have stood the test of time...(and) are very well managed," she said.
The Community Foundation announced its Round One Grantees on March 20. Cornerstones in Reston received a $15,000 grant. "Cornerstones joins our grateful community in saluting all who are working to protect our health and safety during this unprecedented crisis, including the many business owners striving to keep our economy going and people in their jobs. I am so profoundly grateful to my colleagues at Cornerstones who are here every day and through the night to help local families, children and individuals in need. Together with our corporate partners, donors, volunteers, and community advocates, we are keeping Cornerstones' safety net strong as we prepare for the long haul," said Kerrie Wilson, CEO of Cornerstones.
As for the Round Two Grants, Ellsworth said she was considering what philanthropy could do to soften the blow for recently laid-off workers, especially as numbers grew in the coming weeks. "We need to focus on that next...and get it right. We may need some help understanding that and our nonprofit partners are infinitely agile and... strategic thinkers. We would want their input," she said. Ellsworth quoted words written in a recent email from a donor: "The Community Foundation in many ways sits at the center of community and is well suited to playing a meaningful role in these highly unusual circumstances."
Record-Breaking $422,160 in Community Investment Grants to Local Nonprofits
In addition to the Round One block grants, The Community Foundation announced on March 25 that it awarded a record total of $422,160 in Community Investment Grants to local nonprofits, separate from the Round One Grants. "This year's level of giving reflects the extreme generosity of our donors, and, most importantly, the Foundation's commitment to help make a positive impact on those who are disadvantaged throughout Northern Virginia. I am very honored to have been a part of this process and want to thank the over 40 volunteers and the Foundation's staff who helped make this such an unprecedented and successful grant cycle," said Brandon Elledge, Chairman, Community Investment Funds Grant Committee and Partner, Holland & Knight.
Count the Region 2020 Census Initiative
While The Community Foundation works to stay responsive to local needs, it urges the public to fill out the 2020 Census. "By simply filling out the Census accurately, the community receives Federal Funding toward local programs based on the number of residents counted. Each person counted is equal to $12,000 in funding over 10 years. If 20,000 people living in Northern Virginia don't fill out the census form, $240 million in Federal Dollars would be lost, according to NOVA Counts Challenge: https://www.novacounts.org.

The Community Foundation for Northern Virginia also encourages businesses, community groups, and individuals to get involved and give generously, especially during the current crisis, either through their donor advised fund or directly to the COVID-19 Response Fund for Northern Virginia at https://www.cfnova.org/our-programs/covid19.
Round One Grantees – COVID-19 Response Fund
While three other organizations also received grants, the following list is exclusive to The Community Foundation for Northern Virginia and Fairfax County:
Northern Virginia Family Services – $25,000: NVFS provides services to the elderly and others who fall into high risk/vulnerable health categories, low income families, those without adequate health insurance, families experiencing food insecurity, and the immigrant community. This grant will support services in Prince William, Fairfax, and Loudoun County, including support for NVFS's Food Distribution Center that serves approximately 10,000 clients per year, their health access programs providing access to free or reduced cost prescription medication and health care for 6,600 clients per year (including those who become ill with COVID-19), and their housing programs in Fairfax and Prince William that will help subsidize rent and other basic expenses.
Food for Others – $20,000: Food for Others, a large provider of free emergency groceries in Northern Virginia, distributes food to more than 2,000 families per week, and has seen a sharp increase in the number of families requesting food, coupled with a steep decline in food donations. They also provide services to the elderly, low income families experiencing short term financial crises, food insecure residents, residents with limited English language proficiency, and families from immigrant communities and communities of color.
Cornerstones – $15,000: Cornerstones promotes self-sufficiency by providing support and advocacy for those in need of food, shelter, affordable housing, quality childcare, and other human services. Cornerstones works closely with government and community partners to provide critical supportive services safely.
2020 Community Investment Funds Grants
A full press release naming all grantees is available at http://cfnova.org/press. While others outside of Fairfax County also received grants, the following list is exclusive to those that serve residents in Fairfax County:
Acting For Young People – $10,000: This grant will support 3 sessions of Time to Shine afterschool program at two FCPS Title I elementary schools.
Hispanics Against Child Abuse – $10,000: and Neglect-Funds will be used to continue implementing the LEER+ program and will continue to support literacy growth of families.
Generation Hope – $8,660: Funding will help teen parents earn college degrees, enter a competitive workforce and provide their children with early childhood support.
Literacy Council of Northern Virginia – $10,000: Funding will support LCNV's Family Learning Program, providing English literacy and language instruction to children and their low-income parents.
Year Up National Capital Region – $10,000: Funding will support training and certifications for 150 students in Northern Virginia, which creates a pathway for them to gain the necessary knowledge and experience to secure meaningful employment.
Arcadia Food, Inc. – $21,000: This grant supports Arcadia's nationally recognized Veteran Farmer Program, which trains military veterans, active-duty service members, and family members in the business and craft of farming on a Northern Virginia farm.
Blue Star Families – $21,000 Serving All of Northern Virginia: Funding will support Spouseforce, the workforce development platform from Blue Star Families, which seeks to end the military spouse unemployment crisis by connecting them with military friendly opportunities and skills training.
Amara Legal Center – $10,000: The Funding will provide legal representation of survivors of sex trafficking, specifically expungement and vacatur representation: filing petitions of expungement of criminal records obtained while involved in the commercial sex industry against their will.
Ayuda – $10,000: This grant will support culturally specific emergency services for low-income Hispanics, Blacks, and Asian immigrant victims of sexual assault and domestic violence in Northern Virginia.
Britepaths – $10,000: Funding will support the Financial Assistance Program, which provides emergency rent, utility, pharmaceutical, and car repair assistance to low and middle-income clients.
Fairfax Law Foundation – $10,000: The grant will be used to provide free necessary and critical legal services to individuals and families in poverty facing legal challenges in maintaining or improving their housing situation, working to ensure that their health and safety is not threatened.
Friends of Guest House, Inc. – $10,000: Funding will support general operations to support its prison-to-community reentry services tailored to women's unique needs.
Second Story – $10,000: Funding will assist with general operating support to provide safe, stable housing for homeless, runaway, thrown away and abused youth.
Northern Virginia Family Services – $25,000 Serving South Fairfax County (along Route 1 corridor): This grant will provide accessible, culturally competent mental health services and trauma-informed group therapy to recently immigrated youth in the Route 1 area.
The Child and Family Network Centers – $25,000 Serving South Fairfax County (along Route 1 corridor): Funds will assist at-risk, four-year-old children and immigrant families to thrive in kindergarten; reduce language, health, social-emotional, and socioeconomic barriers to learning; and empower parents to advocate for their long-term success in school and in life.
United Community Ministries – $25,000 Serving South Fairfax County (along Route 1 corridor): This grant will fund SPARK (Success through Purpose, Achievement, Respect and Knowledge), which provides tutoring, homework help, STEM activities, and social/emotional wellness.
Insight Memory Care Center – $35,000: This grant will support programs which allow older adults to safely age in place during this difficult disease journey- which affects 1 in 10 over 65. Funding will primarily support the adult day center program and the caregiver education and support programs.
FACETS+ – $6,500: A grant of $6,500 to FACETS, representing the 20% portion of the annual 5% of available spending from the Huntsman Endowment Fund as requested by Ken and Marci Huntsman. Funding made possible by the Huntsman Endowment Fund.
More like this story