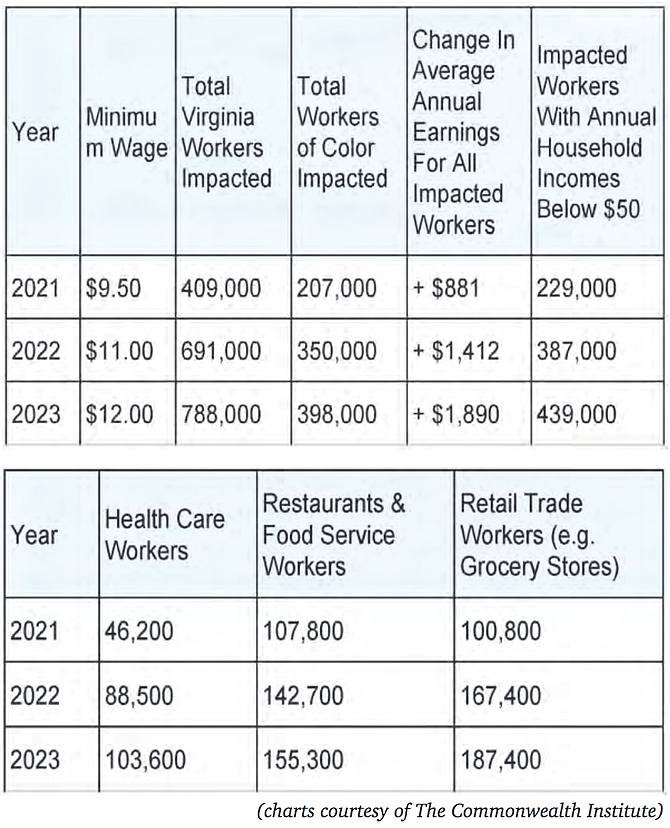 The last few weeks have reminded us that many essential jobs in our Commonwealth are, in fact, minimum and low wage jobs. These low wage workers are on the front line of the coronavirus pandemic, making sure that we have the necessary services our society needs to weather this awful crisis. While we stay home to "flatten the curve," workers in health care, shipping, food service, retail, and sanitation have quickly been thrust on to the front lines of fighting the COVID-19 pandemic, and have become the essential workers that we rely on daily. Many of them are putting their lives on the line for us. I am pleased that now many people have come to recognize their labor as valuable. At one hospital the entire staff applauded the housekeepers who are responsible for cleaning the patient rooms, nursing units, surgical areas, offices, labs, restrooms, and the waiting rooms. I hope that at least one good thing to come out of this pandemic is to eliminate the stigma and recognize the value of this labor and that that continues long after the crisis is over. One way we will do that is by raising the minimum wage.
It has been less than three weeks since I was down in Richmond for the end of the General Assembly's historic session where we passed a bill to finally raise the minimum wage. Once signed into law, this will be the first increase in the minimum wage in Virginia in over 11 years. As passed by the General Assembly, the minimum wage will rise from $7.25 to $9.50 on January 1, 2021, and will reach $12 by 2023. There are a few exemptions and some that were necessary compromises to get the bill passed. As it stands, close to 800,000 Virginians will benefit, including those essential workers getting us through the COVID-19 pandemic crisis.
Especially considering what will be a post-COVID-19 rebuilding of our economy, raising the minimum wage has never been more essential for Virginia's working families and for Virginia's businesses. Raising the minimum wage will not only give more economic security to hundreds of thousands of workers who are currently living paycheck to paycheck, but it will also bolster Virginia's economy by increasing the buying power of working families.
By 2021, a minimum wage of $9.50 will lift average annual earnings for impacted workers by $881 per year. With the future increases in the legislation, that figure will grow to more than $1,400 in 2022 and nearly $2,000 in 2023. So, as the phase-in period increases, the rising wage floor would generate millions of dollars in additional wages, which will spread out to the families of these workers and their communities. Because lower-paid workers spend much of their extra earnings, this injection of wages will help stimulate the economy and spur greater business activity and job growth. Not only will this raise consumer spending, and give critical essential workers well-deserved raises, but our economy will become more equitable. More than half of all workers who will benefit from an increased minimum wage are workers of color. By 2023, nearly 400,000 minority workers in Virginia will have greater economic security due to the increases in the minimum wage from this legislation.
For those readers who have lost their jobs, please visit vec.virginia.gov or call 1-800-897-5630 to apply for unemployment. If you have filed an application (UI), you must file each week you remain unemployed or you will not be paid. The best days are Sunday, Monday, or Tuesday if you want to be paid for the prior week. New information regarding the federal CARES Act has been added to the Virginia Employment Commission website. For more information, please visit here: vec.virginia.gov/covid19.