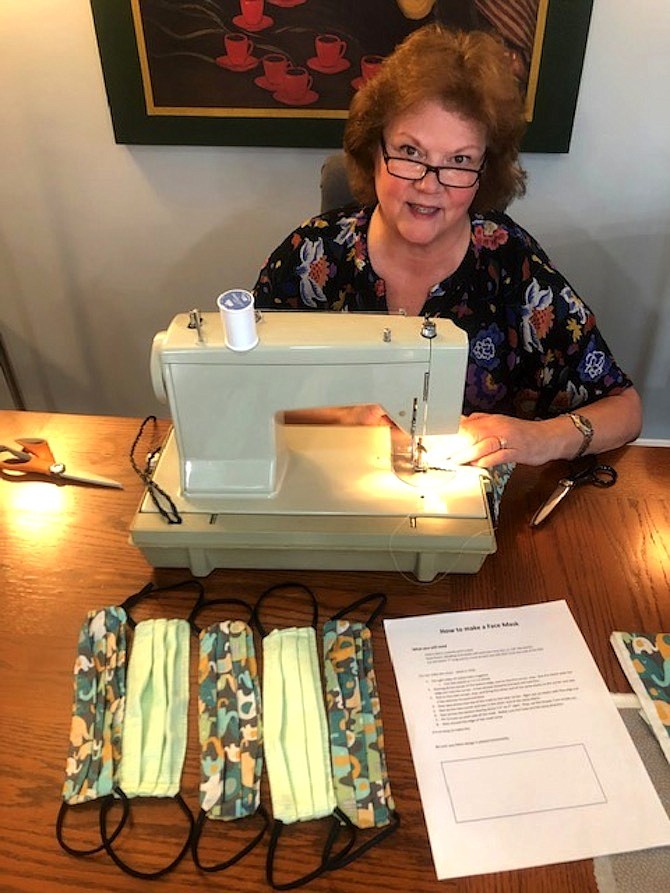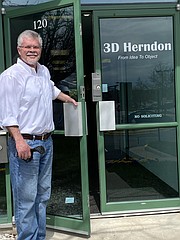 Kitty Bernard of Reston is sewing away. Ran Farmer, owner of 3D Herndon, and the company's employees, are working near 24 hours a day to keep production running. The lives of their families, friends and people they don't know are in their hands and the hands of so many other area residents. According to Gov. Ralph Northam's news briefing Wed. April 1, the worst is yet to come. More cases of COVID-19 and more deaths. Northam said the peak is not expected until late April or May.
Across the area, local volunteers and businesses are scrambling to support the need for nonmedical face masks, effective at reducing the spread of the virus when worn by someone who is asymptomatic or is sick, while others are providing CDC-compliant face masks. Individuals and companies are working to relieve supply shortages of medical face shields in response to the COVID-19 pandemic.
BERNARD dug out her 45-year-old sewing machine from the garage. Referencing a post by Deaconess Hospital, Inc., titled: "Coronavirus: Deaconess asks public to sew CDC-compliant face masks for staff," Bernard said she was set to work. She sewed masks using CDC guidelines. "The first people I thought of, besides myself and hubby… were neighbors of mine who were considered to be in the high-risk age group, …post-cancer patients in their 80s."
From there, Bernard sewed more masks, this time for the medical oncology team and immunocompromised cancer patients at Virginia Cancer Specialists in Reston. The practice's March 27 Blog read: "Face Masks Needed at Virginia Cancer Specialists: Calling All People Who Sew." According to Bernard, an Oncology Liaison from the practice drove to her home for curbside pickup of her masks. "Each batch of masks that I made was washed in a 2-hour sanitary cycle. Then handled by me while wearing latex gloves. When dry, they were packaged into Ziploc bags so they'd be ready for each recipient to wear immediately," Bernard said.
Fairfax County Emergency Information posted on Monday, April 6, that the CDC recommended individuals wear simple face coverings in public when it is difficult to stay six feet apart in public places like the grocery store. "These simple cloth face coverings are meant to protect people around you if you are infected but don't have symptoms. A cloth face covering is not intended to protect the person wearing it," according to the post.
RAN FARMER in the Town of Herndon owns and operates 3D Herndon. He and staff are fighting COVID-19 with 50 printers. They are working within organized programs and print for them, to get protective equipment into medical channels where they are needed. Farmer said that 3D Herndon partnered with companies like Ultimaker, which connects medical institutions and hospitals to printing hubs in the company's customer network to help in printing parts based on available designs.
"Sinterit has tested and deployed one solution... It's clever, it's simple and it works. What is it? A set of connector clips that instantly converts any standard set of safety glasses or personal eyeglasses to a face shield... It's easy. Slide the clips onto each earpiece temple, hang a sheet of standard vinyl plastic (A4 sheets of vinyl foil around 0.1mm thick) on the clips, and lock them in place:" according to the 3D Herndon. Farmer cautioned that if a product is going into direct use, then the maker has to make sure that it's medically safe. "That's why we stay in a very narrow range of what we're capable of doing with 3D printing," he said.
More Information
Visit: https://3dherndon.com/services.html
Virginia Cancer Specialists in Reston Need Face Masks: https://virginiacancerspecialists.com/face-masks-needed-virginia-cancer-specialists-calling-people-sew/?fbclid=IwAR1ZjyQW10dV34N-zlIO6SBdfLeN6T4pMweZ3Sy7nEF3JaMDV4w8keTorOM#.Xn4hTrobFMU.facebook
Text FFXCOVID to 888777 to receive updates from Fairfax County about COVID-19.