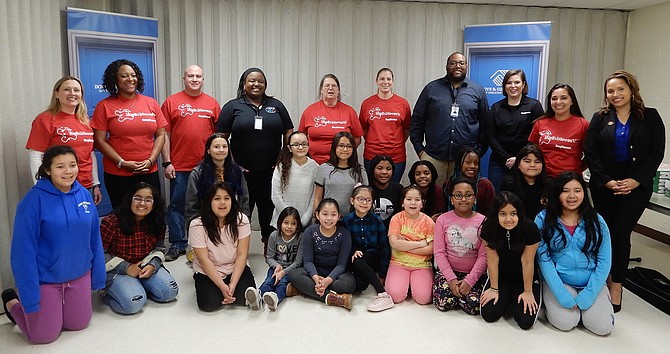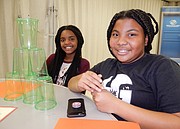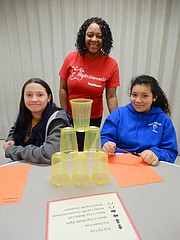 According to the National Science Foundation, just 14 percent of America's engineers are women. Yet careers in engineering provide opportunities for young women seeking successful futures.
So Raytheon and the Ox Hill Boys & Girls Club teamed up to introduce girls to women already working in the field, have them do a hands-on activity and encourage them to consider becoming engineers. In celebration of National Engineers Week Girl Day, they held a special event, Feb. 20, at Ox Hill Baptist Church in Chantilly.
"Engineers make the world a better place," said Stephanie Lackey, Raytheon director of engineering business analytics. "A Raytheon engineer designed the protocols for email addresses, and another Raytheon engineer invented the first microwave." She advised the nearly two dozen girls attending to take as much math in school as possible, en route to college degrees and success as engineers.
"The average salary has gone up, over the years, because engineers – especially women engineers – are in great demand," said Lackey. "In 2016, the average engineer's salary was $101,000. Over the course of their lifetimes, engineering majors will earn $1.4 million more than a liberal-arts major."
Next, the Raytheon engineers taught them how to write programs for a STEM activity, "Code without Computers." The girls wrote their directions as symbols illustrating each step to create pyramids of colorful, plastic cups. (So if they moved a cup to the right, they'd draw an arrow pointing right). Then, working in teams, they built their pyramids.
AN ENGINEER guided each team, and senior software engineer Andrew Oldham, who works in cybersecurity, reassured them that "There's more than one right way to do things. The symbols are your code; you can write your programs any way you want, as long as you reach the same result."
Franklin Middle seventh-graders Francesca Ruano and Amy Flores Cortez worked together. "It was easy," said Francesca. "And it was cool hearing them talk to us." Amy also enjoyed herself. "It was fun stacking the cups," she said.
Raytheon's Tiffany Mitchell, also in cyber security, was their advisor. "Growing up, there were always people mentoring me," she said. "So I try to give back and mentor others. We don't have enough engineers, let alone women in the industry. And it's a great way for women to help the country and their families."
"It's important to love what you do and have fun with your career," added Oldham. "We want to promote STEM with young women, so they'll have a bigger influence in technology for the future. Today, they got familiar with coding – learning engineering without realizing it."
"Raytheon lets us share our profession and have fun with our next generation of engineers," said Lackey. "It's a wonderful profession for women – we get to create, innovate and make our world a better place."
Kandice Ferrell, spokeswoman for Boys & Girls Clubs of Greater Washington, called the Chantilly presentation "amazing. The girls were happy and excited, and they got to see women on top of their fields in science and engineering. It helps them dream that big dream and shows them what's possible – that someday, they can do this, too."
BROOKFIELD ELEMENTARY sixth-grader Yayra Escobar said their project was "challenging, but fun – like a puzzle to figure out. And afterward, I felt happy and accomplished that we did it."
Joselyn Gonzalez, a Brookfield fourth-grader, said, "You had to follow directions carefully and stack the cups a certain way. I liked it, though. It was hard, but we didn't give up."
"I'm glad Raytheon came and did this presentation so the girls could learn something new," said Whitney Sparks, a program aid with the Ox Hill Boys & Girls Club. "It was cool seeing the kids being challenged and then feeling a sense of accomplishment when they finished their projects."