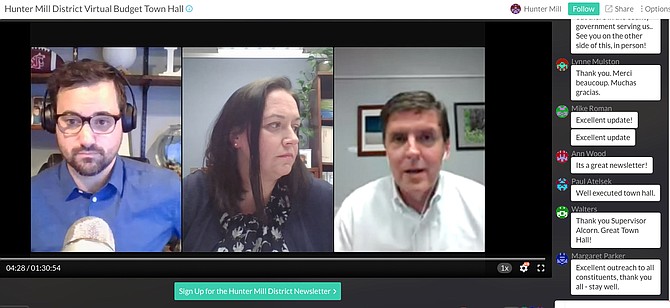 Supervisor Walter Alcorn (D-Hunter Mill) held the first-ever Hunter Mill District Virtual Budget Town Hall on April 8. It featured Christina Jackson, Director of the Department of Management and Budget for Fairfax County, Alcorn's input and a Q & A opportunity. Data on the screen reported 116 people attended. Jackson said, "A lot has been stripped out (of the budget)... It's almost like a back-to-basics budget."
Alcorn reassured listeners that his priorities and values had not changed. "I'm still committed to helping our most vulnerable. I'm still committed to doing everything possible to address the affordable housing crisis. I also am committed to schools... many of the things... that we were keyed up to do before this public health crisis hit, I still am committed to doing," Alcorn said.
During the Q & A, Marcella Levin asked Acorn, "Will you commit to substantially increasing the catastrophic events reserve withdrawals before the May 2020 COVID-19 peak to meet social needs? You can use pending federal funding to backfill the catastrophic reserve." Alcorn said, "Yes. I'm committed basically to doing everything we possibly can to help our nonprofits and our groups that are basically out there and keeping a lot of our most vulnerable, alive... housed and fed." Alcorn added the crisis also impacted people who worked with the homeless and hourly workers as well. "This is really taking it out on them... Those hourly workers are hired by small businesses...They're restaurants; they're service providers that don't have the large pool of capital to keep going during a time like this...I'm looking at all the opportunities that we have."
Adam, a high school student from Vienna, asked, " I noticed there were substantial cuts to a lot of the environmental investments... I was just wondering about how these cuts would affect the drive for environmental sustainability and protection." Alcorn said, "In terms of C cap, and our climate-energy action plan... I did notice that there was still some funding for that included in this budget." Jackson confirmed that while they didn't cut environmental funding, they didn't increase it. "There's still over $900,000, for example, included in environmental projects in our capital program. So, the projects that have already started will be able to continue. We just didn't add additional money."
View the video with Jackson's 8-minute budget summary, comments from Alcorn and questions from the public at https://www.crowdcast.io/e/hunter-mill-district
Residents can provide testimony on the budget via video, phone or online for upcoming budget hearings, scheduled April 28-30. After a planned mark-up meeting on May 5, the Board of Supervisors is expected to adopt the budget on May 12.