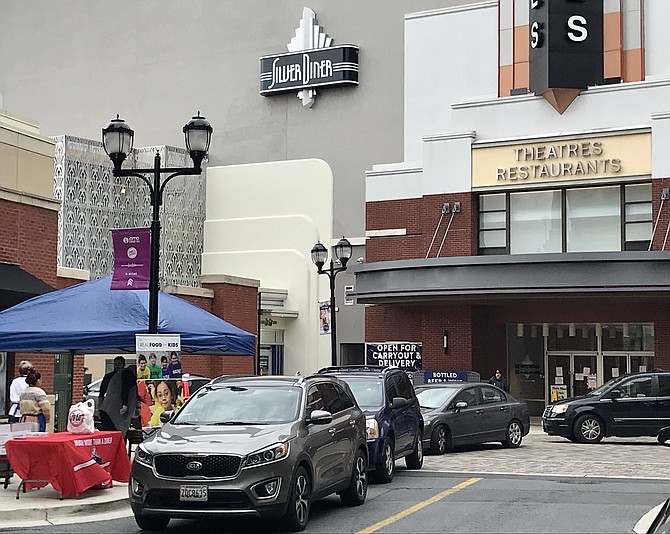 Silver Diner at Rio in Gaithersburg joined forces with Real Food for Kids and the program Chefs Feeding Families, a program designed to meet the needs of some of the many school children in the area who are without meals due to school closures. The program kicked off on April 1 and handed out more than 250 meals in the first days to some of those in line. As the program progressed, the lines of those in need grew longer. Real Food for Kids has worked with the community in obtaining additional donations. At Rio, the Peterson Family Foundation and the Pedas Family Foundation stepped up with donations as did others.
"It was rewarding to hand out the meals to the children and their families but also disheartening to have to turn people away," said Silver Diner's Executive Chef and co-founder Ype Von Hengst. "Thanks to some angel contributors, we are now able to provide at least 500 meals every weekday through June." Silver Diner has a history of giving back to the community, particularly through area schools, and has provided more than 6,000 meals at its Rio location for those in need. "While we're offering the meals only at our Rio location, our entire company is behind the effort."
Real Food for Kids and chef David Guas of Bayou Bakery in Arlington, Va. initiated the Chefs Feeding Families project on March 17. While local school districts are working around the clock to continue to offer meals, not all families are able to access available distribution sites and some school districts only provide meals on specific weekdays.
Silver Diner at Rio continues to serve a single-serve, healthy meal every weekday from 2 to 4 p.m. (while supplies last) at 236 Boardwalk Place, Gaithersburg, Md. 20878. Those seeking the meals can pull up to the curb and pick up as many meals as needed for their family. Representatives from Silver Diner and Real Food for Kids will be on hand at the pop-up tent at that address. They are all practicing social distancing and all meals are prepared under strict CDC guidelines.
"Although Silver Diner is also struggling to survive, it gives us a great feeling to be able to give back to the community and have an uplifting cause to give to," Von Hengst said. Silver Diner had to lay off 1,600 employees last week and is providing free meals to laid off workers for two weeks and paid benefits through the end of April.
Anyone wishing to donate to Chefs Feeding Families, visit www.realfoodforkids.org