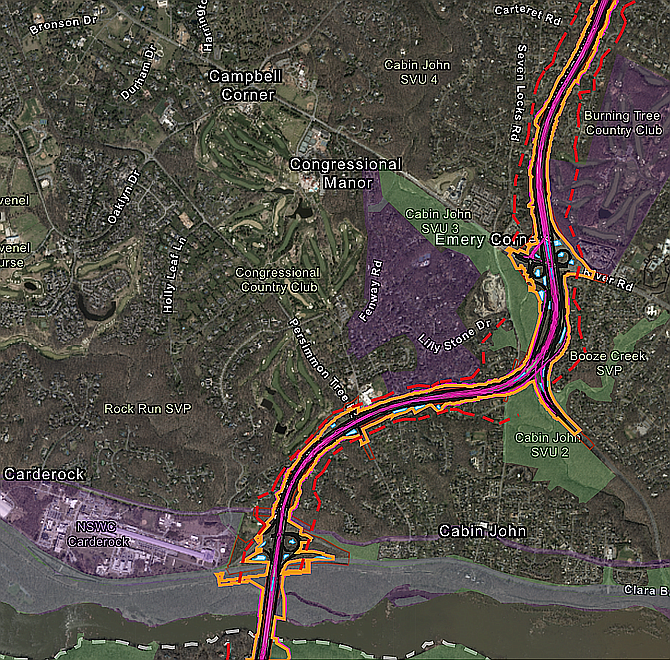 Montgomery County Executive Marc Elrich, in a letter to Maryland Department of Transportation Secretary Greg Slater, said that the community needs more time to review and respond to the complex and lengthy Draft Environmental Impact Study (DEIS) for the proposed managed lanes project for I-495 and I-270.
"And in the bigger picture, the crisis with the Purple Line Concessionaire indicates that we are not well positioned to construct a good public private partnership (P3) project. Without an in-depth analysis of what went wrong and what needs to be done differently, it is difficult to have confidence in the State's ability to get into another P3 that will protect the state's long-term interests."
Read the Documents at Montgomery County Libraries:
Potomac Library; Chevy Chase Library; Davis (North Bethesda) Library; Kensington Park Library. Hard copies will be available in trailers in the library parking lots. Viewing hours: Tuesday and Thursday 11 a.m. to 7 p.m., and Sunday 12 to 5 p.m. Once libraries are open to the public, the hard copies will be available for review in the libraries during normal branch hours.
Get Involved; Comment This Week
Public Hearings on Beltway, 270 Widening and Toll Lanes
The Federal Highway Administration, Maryland Department of Transportation State High Administration, the Maryland Department of the Environment (MDE) will conduct six public Hearings. The U.S. Army Corps of Engineers (USACE) will participate in one hearing on August 25. The public will have 3 minutes to provide their testimony and registration is required for both virtual and in-person hearings. Hearing materials can be viewed starting July 31 at the document availability locations or on the program website.
THURSDAY, SEPT. 10, 2020 - Montgomery County
Hilton Executive Meeting Center
1750 Rockville Pike
Rockville, MD 20852
Virtual Hearings Start This Week
Four virtual hearings are planned from 9 a.m. – 8 p.m.:
Tuesday, Aug. 18
Thursday, Aug. 20
Tuesday, Aug. 25
Thursday, Sept. 3
Give Feedback
Comments on the I-495 and I-270 Managed Lanes Study Draft Environmental Impact Statement/Draft Section 4(f) Evaluation will be accepted between now and Oct. 8, 2020 by 11:59 p.m. MDOT SHA and FHWA will review all comments and consider and respond to all substantive comments received in the preparation of the Final Environmental Impact Statement. See https://495-270-p3.com/your-participation/provide-feedback/
Email at MLS-NEPA-P3@mdot.maryland.gov
Send a written letter about DEIS:
Lisa B. Choplin, DBIA
Director, I-495 & I-270 P3 Office
Maryland Department of Transportation State Highway Administration
I-495 & I-270 P3 Office
707 North Calvert Street
Mail Stop P-601
Baltimore, MD 21201