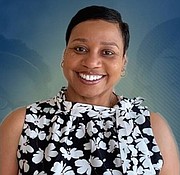 With a new principal and new assistant principal, Bells Mill Elementary School is ready to start this new school year with enthusiasm for education, parent collaboration and social emotional growth for all students.
Both Dr. Stacy L. Smith, principal, and Kelsea Boyd, assistant principal, are looking forward to meeting with students and parents.
"I am excited and privileged to join this staff that incorporates academic excellence into an environment where every individual respects each member of our community," said Dr. Smith. "I'm very passionate about education and I look forward to partnering … to provide our students with a continued rigorous, engaging, and high-quality academic experience."
Dr. Smith is new to Montgomery County, moving here this summer to take the job heading Bells Mill ES.
"I've always wanted to explore the east coast," she said in an email interview. "So, when the door of opportunity opened, I decided to walk through the door."
It was quite a move. Until the end of the 2019-2020 school year Dr. Smith was principal of Adams Traditional Academy, Choice Academies, Inc., in Phoenix, Arizona.
She grew up in Chicago, where she attended Whitney Young Magnet High School. Following high school, she earned a B.A. in Political Science from Jackson State University, a Historically Black University in Jackson, Mississippi. She received her masters in education, M.Ed. with emphasis on Curriculum and Instruction at Chicago State University, a M.A. in School Leadership at Concordia University, and her Doctorate in Educational Leadership and Policy Studies at the University of St. Francis.
Dr. Smith said she knew for sure she wanted to be a teacher after her first year of teaching a group of second graders in the inner city.
"That was after having a brief discussion with my college professor, Dr. Coleman," Dr. Smith said. "She thought I would have more of a fulfilling life experience as an educator than an attorney."
What Dr. Smith likes best about teaching is "watching students get excited when they overcome a challenge that they figured to be impossible."
"The hardest part sometimes can be not being able to give students every resource possible, because you want to do everything in your power to have students succeed."
That will be a particular challenge this year with distance learning for, at least, the first semester.
"Getting to know students face to face is a challenge," Dr. Smith said. "When school was in session I conducted 'walk-throughs' every day. Since COVID-19 I will have to walk through virtually. I will have to be creative while staying safe."
Nevertheless, she said, "The needs of students come first!"
Assistant Principal Boyd wrote that she has been with MCPS for ten years.
When she started, "I knew not only that I had found my home, but also discovered my passion to impact the lives of students and parents within a community."
"MCPS has continued to support my journey as I have grown from a paraeducator at Bethesda Elementary School, to a classroom teacher and team leader at Wayside Elementary School, to most recently being a Staff Development Teacher at Westbrook Elementary School."
Boyd has a bachelor's degree in Psychology as well as a master's degree in Elementary Education from American University and a Certification in Educational Leadership from Hood College.