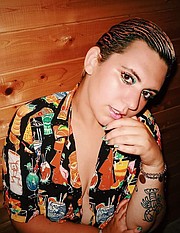 When she attended Centreville High, Lexis Yelis was known as Alexis Acar. But as soon as she graduated in 2012, she moved to New York City to pursue her singer-songwriter career.
It took hard work and hustle, loads of creativity – and the ability to keep going despite serious obstacles. But today, her dream is becoming a reality; and in June, she released her first song, "Canadian Quesadilla."
Initially, Yelis created "Panic! The Musical," enabling her to segue into the music industry as a ghostwriter and collaborator. She then worked backstage for years as an integral part of the sustainability teams at several major music events.
"I was the director for sustainability for the Vans Warped Tour '17, '18 and '19, and worked on the green teams for Coachella and Stagecoach," she said. "Last summer, I had the opportunity to run sustainability at Jiffy Lube Live in Bristow, Va., as well. The job entails working to make sure tours, festivals, venues and concerts are as sustainable as possible through composting, recycling, waste reduction, carbon offsets and education/engagement."
But then, in 2019, Yelis was diagnosed with a rare form of cancer called cutaneous t-cell lymphoma. It's also referred to as mycosis fungoides (MF), because it actually presents as something similar to ringworm – which is why it took 15 years for doctors to diagnose her properly.
"The rash actually showed up when I was 10 years old," she said. "MF is actually something I will always have, and which cannot be cured. Although, for the most part, it is not terminal and is something I'll die with, not from. However, because of how rare it is – along with how hard it is to diagnose – there is limited research. So I also hope to use my music as a platform for activism [regarding this disease]."
IN ADDITION, the scrappy and talented singer also used her cancer as the catalyst for her to finally make the move from behind the scenes to center stage.
"I was done with waiting and, honestly, over the excuses I'd created for myself," said Yelis. "I've learned there's no better time than the present to go after what you want – and that's what I'm trying to do, every day. I've decided to dedicate my life to making music. And whether you love it or hate it, I'm going to do what makes me happy – and that's all that matters."
Recently, she's mainly been focused on building her brand and, she said, "Writing tons of new music." The release of "Canadian Quesadilla" showcases her proud, genre-bending songwriting. Available on all major streaming platforms, it features endless anecdotes that bring the listener into an indie, romcom fantasy. And there's a good reason for that.
"The song is actually about meeting the love of my life, Couchsurf, on Vans Warped Tour and all the shenanigans we would get into, on and off the road," explained Yelis. "Post tour, we were together long distance for over a year before living in the same ZIP code."
"The writing of this song was, honestly, a realization that this was the person I wanted to do everything and nothing with, for the rest of my life," she continued. "And that, for me, was scary to admit, let alone write a cheesy song about." Couchsurf is a fellow singer/songwriter, and he and Yelis are now engaged and living together.
Before COVID-19 threw a wrench into everyone's lives, she described herself as "relatively nomadic, traveling around the country, working festivals and writing music; I go where the music is. I was actually working on a new record in Atlanta with Couchsurf and our producer, Aaron Pace, when we got wind that quarantine was imminent. So that kind of changed our game plan for the year. I went from having a year full of sustainability work and touring to nothing."
But Yelis is making the best of it. "Quarantine has had its ups and downs," she said. "In the beginning, I felt this pressure to make great art and that I had to always be creating – which caused me some insane stress. I have since gotten in touch with my roots, literally, and have been endlessly gardening.
"I think people don't realize that this is a traumatic experience that we are all going through, and that you can't process it fully until it's over. I'm sure some great art will come out of all of this, regardless. Since I am immunosuppressed, I have just been chillin,' working on this release and taking tons of precautions. I'm hanging in there, for sure."
WHEN ASKED what impact Centreville High had on her life and if any teachers had a lasting influence, Yelis said her high-school years were "both some of the best and worst times of my life. There were definitely two boss ladies there who changed my life."
She said Choral Director Lynne Babcock was "one of the first people to put me in my place, so to speak. I think she really helped me realize that there are a ton of people out there trying to be singers, so I have to be twice as good and work three times as hard if I want to get anywhere. Although I only did choir for two years of high school, she is someone I will never forget."
Yelis's other high-school hero was her AP environmental-science teacher, Heidi Seig (now Averette). "She was my Eco Queen who showed me that caring about the environment could be a career," said Yelis. "She was the catalyst for quite a number of my environmental endeavors. And, truly, if she didn't see the potential in an overeager, hippie, eco nerd, I don't think I would have ever achieved all that I have as a leader in the event-sustainability world."
Yelis's latest song, her second, dropped on Aug. 28. And on Nov. 2, she'll be part of the largest digital music festival ever, called #ivoted. To access it, people just have to text a selfie of themselves with their "I Voted" sticker, or holding their blank ballot, to #ivoted.
For more information about Yelis, check out her Facebook page, https://www.facebook.com/lexisyelis/ or follow her on Instagram: https://www.instagram.com/lexisyelis/