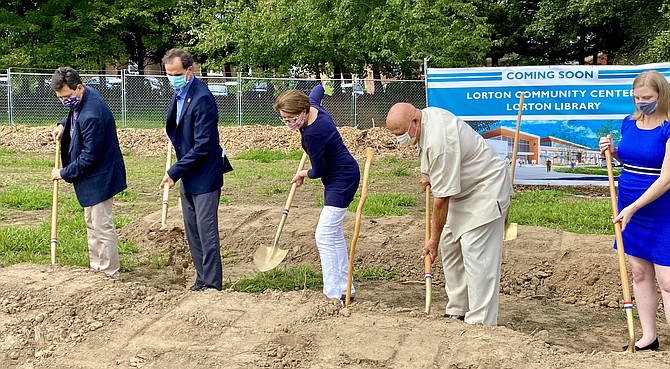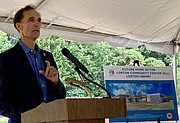 Members of the community gathered with their leaders on Aug. 22 to officially break ground for Lorton's new multi-million dollar community project. The project combines new facilities for a library, community center, senior center, and park located on Richmond Highway at the site of the existing Lorton library.
Building space combines a modernized and greatly expanded library with a new combination community and senior center, sharing a combined 46,000 square feet. The single story building will meet Americans with Disability Act (ADA) requirements for accessibility and designation requirements as a "green" building, meeting Leadership in Energy & Environmental Design (LEED) requirements for Silver Certification; one of 32 such qualified projects in Fairfax County.

THE RENOVATED LIBRARY will feature an expanded children's space, teen gaming room with video stations, a WiFi/laptop bar, seating for wireless device users, a group study room, two conference rooms, and a meeting room which can be reserved for community group use outside of library operation hours.
Moving through a shared lobby and reception area, visitors enter the senior center area with a large multipurpose room and kitchen, and onto space designated for the Lorton Community Action Center (LCAC) use. The community center portion beyond includes two additional multipurpose spaces, exercise area, a large gymnasium, pantry, lab, a sensitivity room for children with sensory issues, and an art room, with such amenities as a kiln and 3-D printer.
The new senior center will replace use of leased space now located at Gunston Plaza. The community center will be the new home for LCAC's Murphy House and trailer operations previously located on the site. LCAC serves residents in Fort Belvoir, Lorton and Newington, helping with basic needs: food, clothing, emergency rent and utilities. They provide educational opportunities, including tutoring, English as Second Language (ESL) classes, resume writing, budgeting, and nutrition.
The project also includes upgrades to the existing adjacent park, adding playground and fitness equipment, walking trails, and an environmentally conscious rain garden, designed with native plants and bird friendly. Parking will be expanded to accommodate the site's increased functionality and use.
In her remarks, Linda Patterson, Executive Director, LCAC, quoted community members speaking about what the new center would mean to them. Erik Robles, "… gives people a safe space to do productive things and interact with each other in a comfortable environment." Rod Myers, "… Beyond the bricks and mortar, this building will be transformed by the energy and passion of the people who visit - staff, volunteers, parents, children, seniors and youth."
THE PROJECT was made possible by voters' November 2016 approval of a $85 million bond, shepherded to passage by former County Supervisor Gerry Hyland, for construction of two new community centers. Funding was approved in Fall 2019 for the library renovation and expansion. Combining the two projects for a cost of $27 million, saved approximately $1 million in construction costs. The project is targeted for completion in Spring 2022, with earlier phased availability of park amenities.