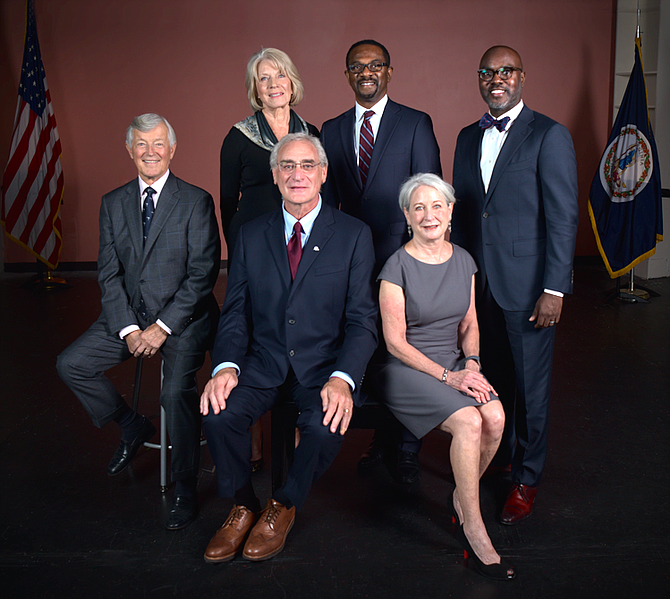 Trouble ahead? Administrators, new organization face the pandemic, T.C. Williams name change, virtual reopening and more.
Alexandria public schools will begin the next school year with a new senior administration team, one that's smaller and more consolidated than the old leadership structure. Given the pandemic, possible T.C. Williams name change and virtual reopening, this year's Central Office staff will play a key role in how effective the school year is for students. The 18-member team includes three new hires. The rest are veteran employees who know their way around the school system. The sum total of annual salaries for the team is $2.6 million.
The plan to restructure the school administration was first proposed to the School Board in December 2019. "This work is to make sure that this structure will allow us to meet the strategic planning goals that we have for 2020 and 2025," said Superintendent Gregory Hutchings at the Dec. 19, 2019 School Board meeting. "It is not related to any particular person or any particular position within our organization."
Hutchings added a new chief of staff, Stephen Wilkins, who previously worked with Hutchings at a school district in Ohio and currently makes about $182,000 a year.
Hutchings also created a new department of school and community relations, headed by Julia Burgos, who also makes $182,000 a year.
Former School Board members say they hope the new structure will help smooth out lingering conflicts with City Hall, in addition to some other concerns.
"Board members and council members would talk past each other," said former School Board member Bill Campbell. "It really goes down to the ugly fights around the budget."
New superintendents often rearrange administrations when they assume power to better suit their goals. Association of American School Administrators Executive Director Daniel Domenech says reorganizations take place for a number of reasons.
"One is he has individuals he has worked with in the past that he has confidence in and will want to bring those individuals in to work with him or because as he assesses the way the district is organized," said Domenech. "He or she may feel that to accomplish what needs to be accomplished, it has to be organized a different way."
Not all new superintendents change central office staff organization, though. Former Alexandria superintendents Herb Berg and Rebecca Perry didn't think it was necessary.
"I am not a person who changes the organization. During my time, I didn't do it," said Berg. "You come in as superintendent, somebody put an organization together. It worked for them. As long as I had great people in the job slots, I was perfectly fine with leaving the organization alone."
"I was fortunate," added Perry. "I inherited a very good group of administrators from Herb Berg."
CENTRAL OFFICE administration is instrumental in fostering relationships with students, parents and teachers. Glenn Hopkins, former member of the school division's Alternative Education Task Force, worked closely with every superintendent from Berg to Hutchings to improve alternative education and opportunities for minority students. He's also struggled for years to gain access to information and responses from administrators.
"I need to see that community relations is going to improve. It's been pretty bad … About four weeks ago I wrote an email requesting some information and to this day I've never gotten a response." said Hopkins. "Greg has the potential to really rebuild relationships based on the quality of people he surrounds himself with."
Despite many familiar names and positions, the new structure includes some new faces and titles. It eliminates the Department of Operations, which used to manage facilities and capital improvements. It also includes two new departments, the Department of School and Community Relations, responsible for community engagement, and the Office of Chief of Staff, which oversees all other departments. Many of the other remaining departments have been renamed with executive officers leading them.
The administration still has some vacancies in the human resources department, which may prove more important this coming school year for teachers working through the pandemic.
Since former Chief Operating Officer Mignon Anthony's departure last month, the facilities department has had no leader to direct projects such as the Douglas MacArthur Elementary rebuilding.
"The jury's still out on what he is doing," said Hopkins. "I would say it concerns me that the folks that take care of facilities — that department does not have a head of it yet … Particularly now, it is critical for any institution, including the school system, when we're talking about investing hundreds of millions of dollars in construction, leasing and renovation — there is no one person in charge of that. It is concerning for me. It has been for years now. That department has been a problem."
In the last 20 years, according to the Virginia Auditor of Public Accounts, spending on classroom instruction has increased by more than $64 million. During that same time, spending on administration at Alexandria City Public Schools has increased about $7 million. In the 2019 fiscal year, the Alexandria school division spent just over $20 million on administration, which is consistent with past years' spending. Hutchings' new senior administration team reflects a decades-long effort to reduce Central Office employees and focus on schools and students.
"I'm not as concerned that the superintendent is reducing the number of folks in the central office — that is a good thing — under one condition — the quality of the people you have," said Hopkins. "If they're incredibly smart and incredibly organized, they can do the work of twice or three times as many people. And is different from a central office that is bloated with folks that are incompetent or incapable, low quality."
"If you're the leanest district in Virginia, there's going to be people saying there's too much," said Berg. "The goal is to have a balance. The goal is to be lean; the goal is to have the fewest people responsible to help you run the school district … In my view, I tried to make that work around the organization that I inherited."
"People will always love to say, 'oh they're top-heavy; too much administration.'" said Perry. "That's been as long as I've been in education—forty-some years. That's always something people say about schools but that's really not true. It takes a good, strong administration to keep everything going. You want your teachers and principals to focus on kids and classroom instruction."
When asked about his reorganized administration, Hutchings was not available for a live comment.
Central Administration and Salaries