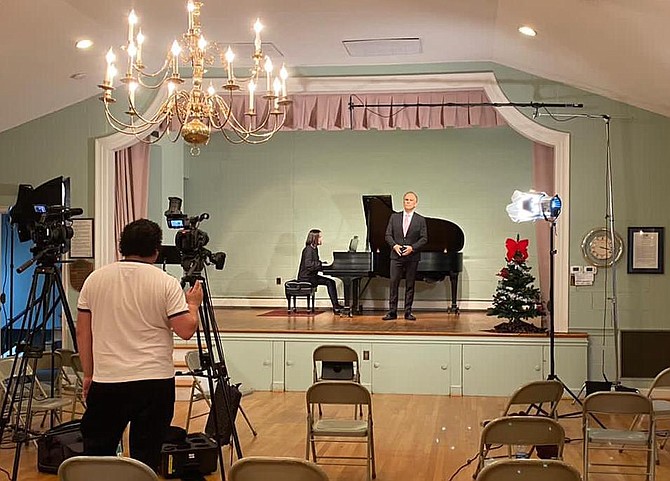 Opera NOVA is back in operation after a nine-month hiatus due to the pandemic. Jose Sacin, Artistic Director, says, "It has been difficult to be away from the stage, to keep the motivation to keep doing what we love." Now they are reconnecting with their audiences. "We are targeting isolation."
Sacin and other performers spent all day Saturday, Dec. 4 at the Women's Club of Arlington on Buchanan Street recording their Christmas show to be released on Zoom as a free concert in mid-December. Sacin says the moderator is Bryan Dawson. Four vocal performers will join Tatiana Loisha on piano with Sacin playing guitar. Sacin will be performing a range of selections from vocal on "Gesu Bambino" to guitar on "Los peces en el rio" and "Santa Claus Is Coming to Town." Angela Knight, Sissel Bakken, and Israel Lozano will also be performing in the program.
Sacin says Opera NOVA has a virtual concert planned monthly through April with their Senior Concert planned for January. Prior to the pandemic Opera NOVA regularly performed for seniors, who can be more isolated, with concerts in local churches and other venues.
A concert is planned for February in connection with Black History month. Last year this concert was held at the Kennedy Center Millennium Theater.
The Children's Concert, which Opera NOVA generally performs in October, traditionally draws an in-person audience of almost 1,000 children. Miriam Anderson, the President of Opera NOVA, says the Children's Concert will be offered in March, virtually this year, for the first time in 42 years. Finally, the April concert will feature "The Three Baritones" with Alex Albuquerque, Eduardo Castro and Jose Sacin and will be focused on celebrating the medical workers ranging from doctors and nurses to the janitorial staff.
Sacin says that although the December concert will be free, there will be a charge for the remainder of the concerts. He says many of the performers have not had a salary since March when the pandemic hit and all performances were cancelled.
Anderson says, "I can assure you the personal impact of having your profession wiped out is staggering. Career opera professionals and musicians are suffering depression and identity crisis." She says each one of these concerts costs several thousand dollars to produce although she jokes the performers sometimes refer to themselves as volunteers because they love to perform and sometimes have to do it for free.
Stephanie Walsh in a letter to Opera NOVA says, "Over the past decades Opera NOVA has been a staple in the Arlington community as one of the few opera-based opportunities in the DC-Maryland-Virginia area. Singers from all over the area have flocked to audition for its operas." She credits Opera NOVA with "the opportunity to pursue our dreams and keep music as a part of our lives."
Sacin says if you donate to Opera NOVA "we can keep creating job opportunities for singers and musicians."
Opera NOVA was formed in 1962 and later restructured in 2011 as Opera NOVA. Arlington is the smallest entity in the United States to have its own opera.