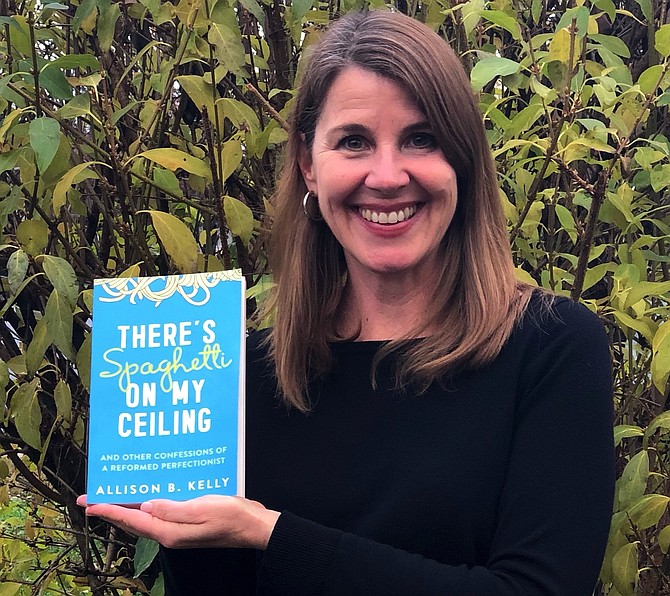 Allison B. Kelly, ESOL Teacher at Haycock Elementary School, is the author of the newly released book, "There's Spaghetti on My Ceiling." Kelly based the 206-page memoir-in-essays on her ten-year chronicle as a full-time teacher, mother of two young teens, and graduate student. "This book speaks to my heart as an educator and as a mom," said Dana Chen of Fairfax, Assistant Principal at Haycock Elementary School.
According to Kelly, she "tried to balance work and life...and some other topics like anxiety, perfectionism and going to the dentist." "My children were in that maniacal age bracket where they signed up for everything but couldn't drive," she said. Before returning to the classroom after the birth of her children, Kelly was an affirmed organizer. She described herself as the mother who "planned matching Halloween costumes and cut sandwiches into cute shapes."
As a full-time teacher, student, and mother, Kelly fully believed all would be good if she kept to the plan. She tried, tried really hard to give 100 percent to her teaching career, 100 percent to raising teenagers, 100 percent to other relationships, and 100 percent to herself." It wasn't working. So instead, she started a blog. "Just a little blog where I would write about things to try to help me process, reflect, remind me to have a sense of humor," she said. Her posts resonated with friends and family.
"This book has such relatable stories that are written with a unique mix of humor and grace. It's so nice to know that I am not alone in my parenting and teaching struggles," said Chrissy Brownson STEAM & Science Resource Teacher at Providence Elementary School in Fairfax. "This collection of anecdotes and reflections is great. As a teacher and parent, I connected with a lot of it," said Ben James, a current co-worker of Kelly at Haycock Elementary School.
When COVID canceled many of the family's plans this summer, Kelly felt reflective. "I sat down, and I read back through these blogs. I surprised myself seeing... themes of work life balance and trying to be the best me I could (while) parenting teens and trying to deal with disappointment and deal with anxiety." Her most recent and last post is about the time COVID-19 hit.
Leeanne Pinski is the Assistant Principal at Franconia Elementary School in Alexandria and a friend and co-worker of Kelly. "I'm not an avid reader, but this book kept me hooked! These short memoirs are relatable with moments of glimmer for all. I found myself smiling, laughing, and tearing up, better yet 100 pages deep in an hour. It truly reminds you to show grin, grit, and grace with every moment in life."
As a new and unknown author, Kelly is learning much about what it takes to market a book. She did not realize how much work came after publishing. "It's definitely pushing me out of my comfort zone. With social distancing, I don't have a book tour planned; however, someone reached out to share that she is organizing a book club called "There's Spaghetti on My Ceiling." I'm excited to meet with teachers at her school for a Zoom group in January. I'm also hoping to connect with some independent bookstores so people can shop locally to pick up a copy."
Leanne King said, "I have known Allison for seven years, first as my daughter's third-grade teacher at Haycock Elementary, and now as a close friend. "There's Spaghetti on My Ceiling" is happiness in a small package... a lighthearted, fun, and honest book that is perfect for any mother, teacher, or perfectionist."
"There's Spaghetti on My Ceiling" by Allison B. Kelly is published by Archangel Ink (November 25, 2020) and available on Amazon as a paperback and Kindle.