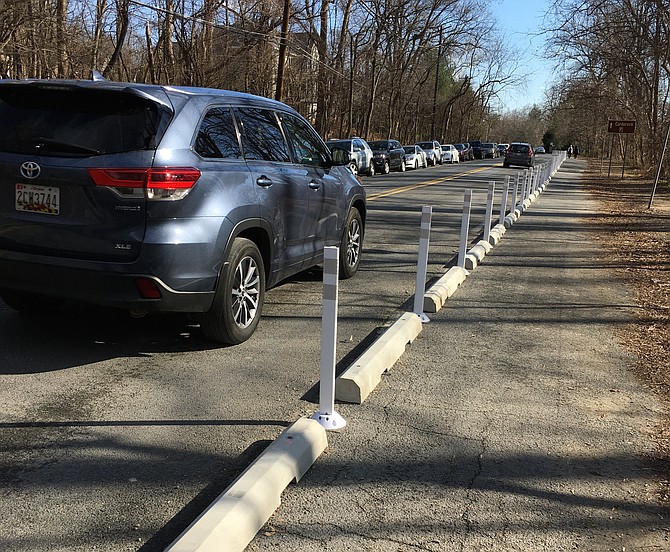 Residents of the area of MacArthur Boulevard near Old Angler's Inn have long been subject to traffic congestion, illegal parking and sharing the road with numerous bicyclists, all caused by enthusiastic visitors to the nearby C&O Canal.
Neighbors have united to call attention to the problems and to seek county help for solutions.
"The illegal parking on Macarthur is a huge issue that has been going on for years. There doesn't seem to be the will on the part of the government to enforce the 'no parking.' Unless that is dealt with, all attempts for enhancement will be for naught," one neighbor wrote on the macarthurblvdgooglegroups page.
Another expanded on the problem: "I think there are two major issues for seeking assistance from MCDOT:
"1. Traffic calming measures and shared use on MacArthur
"2. Residential parking impact
"Both issues existed prior to the pandemic, but have been exacerbated by the large influx of visitors to/through the area. I believe there have been two crashes near Old Angler's between a cyclist and driver since July, one fatal."
The concerned residents met with representatives for Montgomery County Department of Transportation via Zoom on Dec. 8.
Twenty-five people logged on to the meeting hosted by Emily Troutman, the organizer.
"We want to talk about the section of road from the intersection of MacArthur [Blvd.] and Falls [Road] to Clara Barton [Parkway]," she said. "I was hoping we would have an update on temporary separated lanes."
Vincent Ho, Angel Chang and Mark Terry represented Montgomery County Department of Transportation with good news about implementation of the temporary solution.
"In the past week or so, on the south side of MacArthur Boulevard, flex posts were erected on Mac Arthur [from Anglers Inn] to Brickyard Road," Ho said.
Ho said they had received a number of complaints about the illegal parking on the south side of MacArthur. The temporary barriers will block that.
When asked why police do not ticket the many cars parked along the road especially on weekends, Ho said he could not speak for the police but thought it was a matter of lack of resources.
"It's an endless task to [give tickets]," he said.
The new barriers will separate automobile traffic from the shoulder of the road and give walkers and cyclists protected lanes, Ho said.
Cheng is project manager for a long-term project to redesign the roadway, a project that began as a feasibility study in 2004 and is now under final design status. Funding for the project, however, is a long way off.
It will not come up for funding for another year and then will be in the FY 21-27 cycle, Cheng said.
Another problem is that MacArthur Blvd is an historic roadway which means, she said, "we are pretty much limited with what we can do there."
One person asked if there was more that could be done to address the parking problem when the lots near Anglers Inn fill up and spill over to neighboring side streets.
On Dec. 2 Troutman wrote, "I did an informal count of cars this weekend. There were 104 parked illegally on MacArthur Blvd between Stable and Brickyard. 71 cars parked mostly legally on Stable Lane. 14 parked mostly legally on Whiterim Drive. I say "mostly" because, as you know, many park too close to the curb/stop signs."
Joanne Irving offered this suggestion:
"My husband and I went to Carderock this past Sunday afternoon, a gorgeous day with MacArthur completely parked in. There was more than ample parking in the three parking lots [at Carderock] with easy access to the Billy Goat Trail and the Canal towpath. I suspect that most people don't realize that free parking is available so close by, but given that it exists, I have little sympathy for those parking illegally. Perhaps signs directing people to that part of the park would help."
Chang agreed.
"Carderock parking," she said, "We need to share the information."
The MCDOT representatives seemed willing to continue to study safety issues brought up by the residents. Issues like improving marked crosswalks, doing a traffic count and a cyclist count, though Ho said he thought that would be best done in the spring when the weather is nicer.

"Being in the safety business, I wish I could make everything safe everywhere," Terry said. "It's baby steps."
To join the conversation, email macarthurblvd@googlegroups.com.
For more on county plans, see https://www.montgomerycountymd.gov/dot-dte/Resources/Files/MacArthurSeg1/MacArthurBlvd_public%20workshop.pdf
MACARTHUR BOULEVARD BIKEWAY IMPROVEMENTS – SEGMENT 1 FROM OLD ANGLER'S INN TO EGGERT DRIVE,
PROJECT PURPOSE:
Upgrade the existing shared use path to current standards
Promote pedestrian and bicycle usage along the corridor

Enhance safety for all users along MacArthur Boulevard
Improve safety of bicycling on MacArthur Boulevard to better serve the bicyclists of all ages and abilities
An informal count of illegally parked cars on MacArthur Boulevard between Stable and Brickyard this past weekend showed more than 100 illegally parked cars.