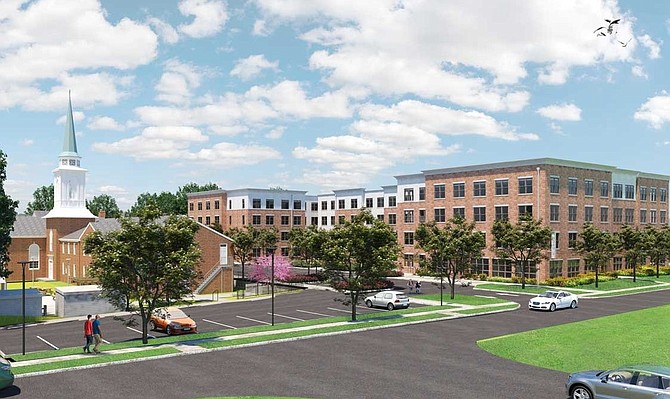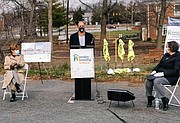 Construction of The Waypoint of Fairlington officially kicked off Dec. 9 with a groundbreaking ceremony to celebrate the affordable housing development on the site of a former parking lot of Fairlington Presbyterian Church.
Mayor Justin Wilson was among those in attendance, which was limited to comply with current statewide COVID-19 restrictions.

"The city is pleased to support another affordable housing development made possible through the partnership of a nonprofit housing entity and a local faith community, which has embraced housing neighbors as part of its mission," Wilson said.
The project will provide 81 apartments for low-to-moderate-income families and individuals in Alexandria. Units will range from efficiencies to three-bedroom units, including nine ADA compliant apartments.
"Some of the 81 units here will offer deep affordability and nine of the units will be fully accessible," Wilson added. "Projects like The Waypoint embody Alexandria's values of diversity and inclusion and its location is ideal for all residents: near public transit, jobs and retail. We are excited to see construction get underway."
Resident amenities will include free Wi-Fi, on-site laundry facilities, a community room, enhanced public transport accessibility and access to a playground and park space on a parcel shared with Fairlington Presbyterian Church and the Potomac Crescent Waldorf School. The community will meet Energy Star green building standards and will be seeking National Green Building Standard Silver Certification.
The Waypoint received a $7.6 million loan from the City of Alexandria, as well as a commitment of nine project-based unit vouchers and significant funding from the Virginia Housing Trust Fund. The project also received 9 percent Low-Income Housing Tax Credits from Virginia Housing.
Wesley Housing acquired the site, an underutilized parking lot, from the Fairlington Presbyterian Church following more than three years of talks with City officials, church and the Alexandria community.
"Our church's mission is to be a transforming force for good in the world in the name of Jesus Christ," said Fairlington Presbyterian Church pastor Juli Wilson-Black. "We are especially glad in this moment to be able to turn spaces for cars into spaces for people, as the pandemic has made even more evident the chronic housing insecurity that so many of our neighbors live with."
Construction on the project, available to families and individuals earning 30-60 percent of area median income, is scheduled to be completed sometime in 2022.
"Wesley Housing's founding in 1974 is rooted just across the street from where we stand today," said Wesley Housing President and CEO, Shelley Murphy. "I'm confident our founder is smiling down on us right now as we begin construction on this new affordable property that many hard-working families in our community can soon call home."
For more information, visit https://wesleyhousing.org/ or https://wesleyhousing.org/property/the-waypoint-at-fairlington/.