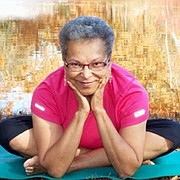 While Christmas Day will be different and difficult for many this year, will be especially difficult for seniors who live alone and will be in solitude because of COVID-19 risks. This is particularly this case for those who are spending it without loved ones or who are missing religious or social observances for the first time.
Part of making it through the next few days, and other milestones that come before widespread vaccination, is accepting that there will be highs and lows, excitement and disappointment and acknowledging that the day will pass.
Local churches have found creative solutions to fill the void of those who are missing religious services, such as those held on Christmas Eve and Christmas Day. "Though we'll have two limited-capacity outdoor Christmas Eve services in our cemetery, most of our parishioners will be attending church through our prerecorded virtual service," said Elizabeth Rees, Senior Associate Rector at St. Paul's Episcopal Church in Alexandria. "We have been working hard to include as many parishioner faces as possible through prayers, readings, choir pieces put together digitally, and candle-lighting montages."
In addition to calling homebound, elderly parishioners, Rees says the church created Advent calendars which include scripture passages. "It is a hard time for seniors especially, since many of them aren't as facile with things like Zoom and FaceTime that allow them to at least see people remotely," she said.
The lack of social celebratory connections can be challenging, says Alice Clark of the Osher Lifelong Learning Institute (OLLI) at George Mason University, who suggests pre-arranged virtual group chat sessions, such as those organized by OLLI.
"We have launched a 24/7 chat room for our members to jump on any time to an ongoing open Zoom session and chat with friends," she said. "They can even arrange for friends to login at a certain time for an organized group chat. It is meant to serve as a social lifeline between terms and during the holidays." A virtual dinner on Christmas Day with family and friends can also provide comfort.
Creating an hour-by-hour or minute-by-minute plan is the strategy of 77-year-old Beth Gibbs, who will be spending the holidays alone.

"What I'll miss most during the holidays is simple human interaction," said Gibbs of Flourish From The Ground Up, a blog that seeks to help others develop self-awareness. "Smiling eyes above a masked face help but don't replace the close physical contact of a hug from my son, my brother and his family and all the nieces and nephews. I'll really miss seeing them in person during the holidays. I guess I'll have to be okay with Zoom."
Gibbs has a few ways of coping: creativity, laughter, yoga and 20 minutes of meditation each day. "I'll be employing all of them during the holidays," she said.
Her creativity comes in the form of writing. "I write every day for two to three hours," she said. "I finished a book that I've been working on for two years and started two others. I also laugh out loud every day."
For those who are missing the majesty and grandeur of Christmas music, one option is a virtual holiday concert, entitled, "Joy" by the nonprofit Encore Creativity for Older Adults, the largest choral organization for adults 55 and older. This year, the Christmas concert will include more than 400 singers from Maryland, Virginia and other parts of the country, as well as musicians playing string, brass, woodwind and percussion instruments.
"Since the pandemic, Encore had to pivot and we created Encore University, a comprehensive virtual program of singing, rehearsing and a wide range of courses in vocal technique, music history and music theory," said Georgetta Morque of Encore. "Many of the singers say singing brings them joy, gives them purpose and keeps them engaged with others, even virtually. "
The concert is free for viewing until Jan. 16.

"This is a very different way of celebrating Christmas this year for everyone," said Rees.