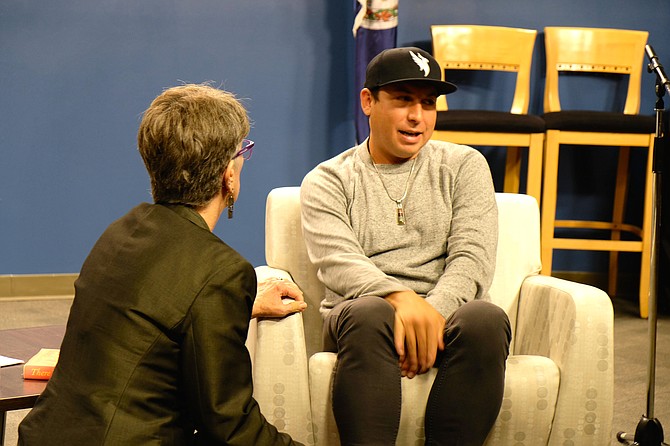 "I didn't grow up in a reading family," Tommy Orange told the group of Arlington residents gathered at the library last fall. "We were more into roller hockey, and the Oakland A's. In fact, I read books at the Oakland library in order to get tickets to the A's games…they used to give us free tickets if we read books." Arlington Central Library's head librarian, Diane Kresh, asked him: "What's it feel like to be a writer now not having grown up as a reader?" Orange answered, as much to her as to the entire population of young men like himself who prefer not to read: "No one could have been more surprised than I that I ended up being a writer." He also laughed about how his teachers must have reacted, and noted " If there are teachers in the room, it should encourage them not to give up."
Orange is the author of the New York Times bestselling novel "There There," a multi-generational, rapidly evolving story about a side of America unknown to most, that of urban Native Americans.
Orange is a recent graduate from the MFA program at the Institute of American Indian Arts. He is a 2014 MacDowell Fellow, and a 2016 "Writing by Writers" Fellow. He is an enrolled member of the Cheyenne and Arapaho Tribes of Oklahoma. He was born and raised in Oakland, California, and currently lives in Angel's Camp, California.
"My father grew up speaking Cheyenne as his first language but he didn't pass traditions on because of the pain he experienced as a young native Indian. He didn't want that for me," said Orange. But Orange had trouble finding a niche: he had trouble in school, got into drugs, and did odd jobs before he ended up becoming a sound engineer during the digital era. Eventually, the book flowed out of him and helped him find a way forward. "I wanted to have my characters struggle in the way that I struggled, and the way that I see other native people struggle, with identity and with authenticity."
Asked by Diane Kresh, head librarian at the library, what native American writers we should read, Orange replied: "Paul Chaat Smith, 'Everything You Know about Indians is Wrong,' 'Heart Berries,' by Terese Marie Mailhot, are two really good ones," he said. "And David Treuer, who just got shortlisted for the national book award." (He wrote "The Heartbeat of Wounded Knee: Native America from 1890 to the Present.
As the writer opened up to questions, a large number of local Native Americans revealed they too struggled with the issues Orange wrote about. Damian Killsback, who identified himself as a Cheyenne from Montana, told Orange: "I was moved by your story. I wondered how you deal with the homogenization issue." It was apparent both men identified closely with the pain of the era of Native American history where the "white man" believed that you should "kill the Indian and save the man." Arlington is close to Carlisle, Pennsylvania where Native Americans were sent to rid them of traces of their culture, sending them out after graduation to live lives as "non-Indians." It was essentially a three year prison, they agreed. But likewise, they noted, there is also a form of discrimination suffered by native americans who cannot reclaim their identity because of mixed blood.
Orange said that he had just read that day that as many as 70 percent of American parents don't talk to their children about race and identity. He suffers from the problem of not being able to pass along as much of his culture as he would like: "I tell my son a lot but he can't be enrolled in my tribe(s) because I married a non-Native American, and my mother was also non-native, meaning he does not have the required percentage of tribal "blood." Several other Arlington residents who are Native Americans commiserate with Orange and spoke about the stereotypes they have to contend with as they explain their heritage.
Orange noted, "People across cultures got interested in this book because after Standing Rock there was a resurgence in interest in Indians. We should be more sensitive to the fact that you can't separate the two in an American identity."
The crowd gave Orange a loud round of applause and lined up for book signing. One attendee, Kathleen O'Reilly of Washington, D.C. praised the talk and the series. "I have heard perhaps 50 or so famous authors interviewed at public events including those at the Library of Congress. I say without qualification, that no author interview I have been at was conducted nearly as well as that evening in Arlington." Arlington Reads, a community engagement program of Arlington Public Library, promotes literacy, the joy of reading and intergenerational participation. The next event will be: Arlington Reads: Roxane Gay in conversation with Library Director Diane Kresh
Arlington Central Library, Tuesday, March 10 7:00 pm - 9:00 pm. An RSVP is necessary.
To learn more about Arlington Reads, see:
www.arlington.library.us