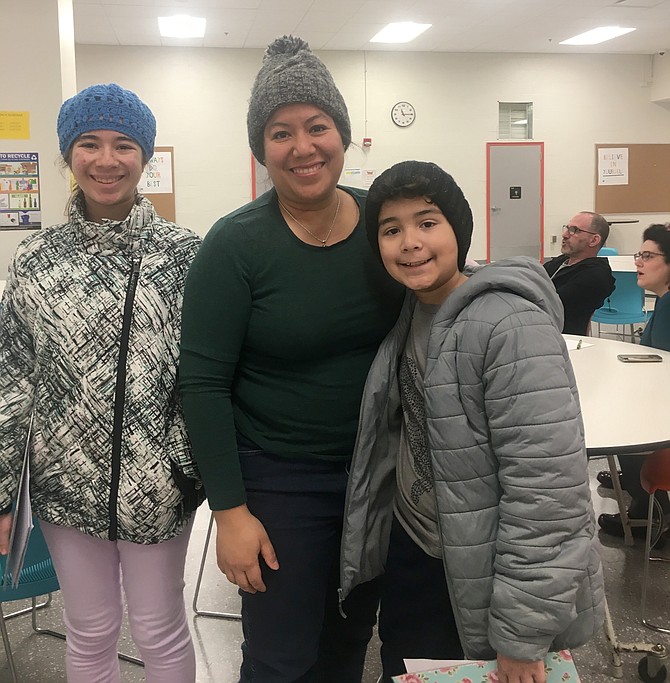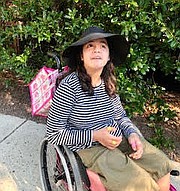 Maria Nightingale came to the meeting about the search for a new superintendent of schools with two of her children, Lauren and Connor, on Jan. 25. She told the consultant who was collecting information about what people wanted in a new superintendent that she thought a good manager who could manage transportation issues quickly was important.
"My second daughter's in a wheelchair; I had to push her up the hill to Shriver School for a month because the school didn't have a handicapped access bus. It was difficult to take her to Shriver due to the steep hills and lack of crosswalks before making it to school. She was overwhelmed sensory-wise due to the traffic, wind and noise." Ms. Nightingale is a disabled Marine Corps veteran who was also recovering from surgery at the time.
Nightingale said her two children who accompanied her are working on their Citizenship in the Community Merit Badge through Scouts BSA (part of Boy Scouts of America.) Lauren is on track to be a trailblazer as a female Eagle Scout. They were paying close attention to the issues discussed in the meeting.
"Their inspiration is our middle child, Valentine," said Nightingale. "Although Val has severe cerebral palsy and needs a wheelchair, Lauren and Connor call her the 'heart of the family' and they are inspired to be involved in the community to advocate for her and other disabled children. They also know that the skills they earn through community involvement and Scouts will help them take care of Valentine in the future."

The issue is bigger than just one family's struggle to get their daughter to school according to Nightingale.
"There were two other students that could not attend school for the first month at Shriver. The previous principal tried weekly to make sure her students received transportation but it was not possible. When I spoke to a bus driver he said that drivers don't want to drive a special needs bus even though it pays more. So, we are guessing that also finding drivers was an issue," said Nightingale.
APS Spokesman Frank Bellavia commented in response to a question about this that "special needs drivers are paid more. We are always in need of more bus drivers."
In addition to the bus problem, Nightingale had to maneuver the wheelchair on the street because of a ramp blockage. (See photo above.)
As of February 2020, problems with accessing the ramp for wheelchairs were still unresolved. "Pedestrians with strollers or individuals that need wheelchair accessibility have to get on the road, with oncoming traffic, in order to access the area," she said. Shriver is a school that was designed for special needs students.
Nightingale also noted there are some after school activities. Parents currently need to provide transportation. For Valentine, if the family chooses to walk home, they can't get the wheelchair around the blockages.
Despite numerous phone calls, letters, and emails by the Nightingales through the month of September, the APS Department of Transportation did not respond directly other than with a form letter to parents on Sept. 17 noting the difficulties the school system faced with transportation and promising to get solutions quickly. Asked for a comment on the bus problem, as well as the ramp blockage, the transportation department did not respond, and Director of Design and Construction, Jeffrey Chambers, referred the questions to APS Spokesman Frank Bellavia, who said:
"Due to student privacy concerns, we can't comment directly on this. However, Transportation has responded to and met the needs of the student. APS provides 6 buses to the Shriver Program on a daily basis. Shriver staff greets each bus in the morning to assist students in getting off the bus and in entering the building. While The Heights Building is new and we continue to make improvements to address needs as they arise, students can access the building through any door. …There is currently a light pole in the middle of the sidewalk that is an obstacle to some pedestrians accessing the building. This light pole was required by the Use Permit. Arlington County recently gave us permission to remove the pole and we are currently working with the contractor to do the work. This will provide easier access to that part of The Heights."
Why did it take so long for the school to come up with an interim solution like a van for handicapped wheelchair access so that the two or three students in wheelchairs could have gone to school? Bellavia could not comment on a specific case for privacy reasons but he noted "each special education bus has different equipment to meet the needs of individual students. Typically, routes are set before school starts and there are always adjustments made after school starts. In this case, we had to reroute buses to accommodate students with similar needs after the school year started."

Other parents have raised the issue of getting to the new HB Woodlawn school in Rosslyn. "There's no way to get there," said one mother in the meeting with the consultants. "The rich kids can afford parking but the poor kids cannot." Asked about this, Bellavia said: "We don't provide student parking at the Heights. As an option program, APS provides a bus to all students who attend H-B Woodlawn or the Shriver program. In addition, APS has a pilot program where students who have an iRide card are provided $1 Art Bus rides. https://www.arlingtontransit.com/about/programs/iride-for-arlington-students/ The pilot also works on Metro."
Lauren and Connor Nightingale will have a lot to write about when they complete their merit badge. So far, Connor said, "I was surprised how many citizens had different issues to discuss and possible ways to fix them." Lauren said, "I learned about being a good citizen in the community and how young people can help." They will be watching to see what it takes to solve this issue.