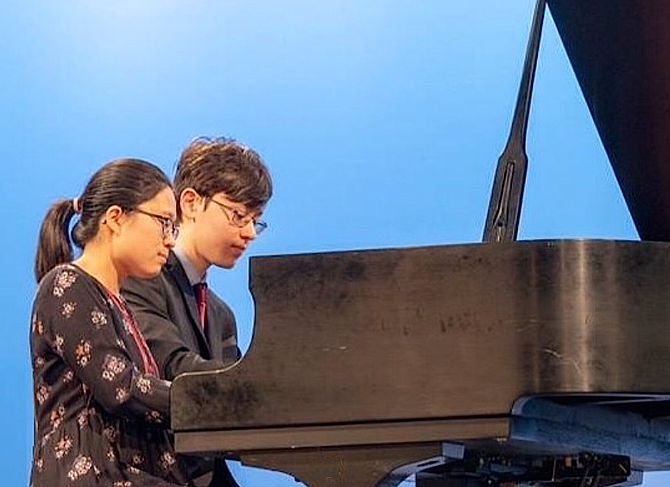 Something very special awaits Northern Virginia audiences. It is a live performance of "From the Top," the most popular weekly one-hour music program on public radio.
Carefully selected young performers share their passion for classical music through live performance and conversation. They will even provide insights into their musical pursuits and their own day-to-day lives.
How did "From the Top" find its way to the Center for the Arts?
"I spend a lot of time exploring how we can serve as a creative classroom, not just for our patrons and students, but also for the artists who perform here," said Adrienne Bryant Godwin, program manager, Center for the Arts. "'From The Top' is the perfect opportunity to host an event that would serve our various communities in such a unique way.
"Audiences will get to witness the up-and-coming super stars in the classical music world," added Bryant Godwin. "These fine young musicians will get to participate in a once-in-a-lifetime opportunity to perform on a broadcast that reaches nearly half a million listeners. I also love that 'From the Top' focuses on growth opportunities for these performers off stage as well."
The young performers come from across America. Featured performers from Northern Virginia include: 12-year-old pianist Ella Kim from Herndon, Jialin Tso, 18, from Chantilly, and Alexander Suh, 16, from Fairfax, and 10-year-old violinist Lira Masuda from Glen Allen, Va.
The live "From the Top" event will be hosted by celebrated pianists Greg Anderson and Elizabeth Joe Roe. Anderson and Roe will interview the young performers as well as perform with them to showcase the exceptional talents of the young artists.
Of note, the selected musicians and "From the Top" staff will also participate in Community Engagement and Arts Leadership sessions at Poe Middle School in Annandale, and with the Mason Community Arts Academy.
"From the Top" will be taped for later broadcast on NPR (National Public Radio) stations including in the Nation's Capital Region's WETA 90.9 FM.
Beyond their performances and leading up to the Center for the Arts event, "the musicians will be participating in engagement activities with students from Poe Middle School in Annandale and the Mason Community Arts Academy. They will be developing their leadership skills and contributing to their overall education on what it's really like as a professional musician," noted Bryant Godwin.
Where and When
Center for the Arts, George Mason University presents "From the Top," the nationally-distributed NPR program and podcast that celebrates the voices and talents of America's young classical musicians, at Concert Hall, 4373 Mason Pond Drive, Fairfax. Event: Saturday, Feb. 29 at 8 p.m. Tickets $48, $41, $29. (there are 50 percent off tickets available for youth through grade 12). Call 703-993-2787 or visit www.cfa.gmu.edu. Note: "From the Top" is heard Sundays on WETA 90.9 FM at 6 p.m. as well as more than 200 other stations nationwide. The "From the Top" event at the Center for the Arts will air on participating stations and by podcast during the weeks of April 20 and May 11, 2020.