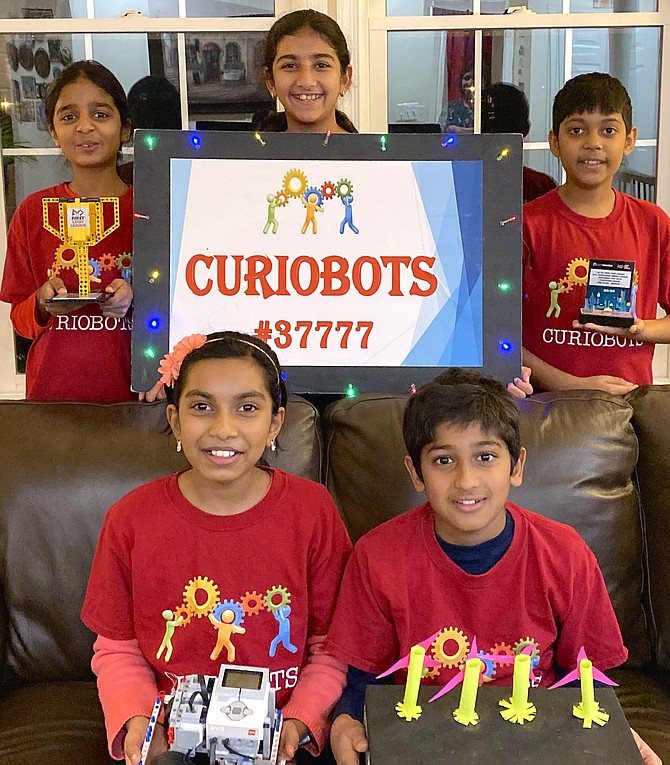 A team of five friends ages 10-11 who attend Floris Elementary School in Herndon walked away with the 3rd Place Championship trophy at the FIRST LEGO League, Virginia + Washington D.C. Competition. The event was held at James Madison University in Harrisonburg in early December.
"A total of 500+ teams from across the state competed at the regional level to qualify for the state-level competition. A total of 109 teams then competed at the state level," said adult coach Janhavi Rajagopal.
During the multi-month season, Arjun Krishnamurthy, Varenya Immidisetti, Srinika Kallem, Sanya Bhalla and Ayush Tripathy researched a real-world engineering challenge, developed a solution and designed related LEGO-based robots. Calling themselves Team Curiobots, the students, guided by their adult coaches, took on the CITY SHAPER Challenge, a phrase coined by the FIRST LEGO League. "Our cities and towns face big issues, like transportation, accessibility and even natural disasters. How can we shape a better future for everyone? It will take teamwork and imagination. Are you ready to build a better tomorrow together?" asked organizers on the nonprofit's website va-dcfll.org.
TEAM CURIOBOTS prepared for judging in four areas: Robot Game, Robot Design, Project and the FIRST Core Values. "They judge you on how well you work as a team," Kallem said, referencing the fundamental competition difference which distinguished FIRST LEGO League from other championships of its kind: the incorporation and judging of Core Values.
Tripathy said: "I learned so much."
Member Arjun Krishnamurthy said he and fellow teammates "learned how to program and run an Ev3 robot...and (learned) engineering skills in a fun and sporty atmosphere." Using LEGO MINDSTORM technology, Team Curiobots designed, programmed and tested their robot game model using the LEGO building bricks combined with the real-life robotic technology, elements with touch, color and infrared sensors. The model was supposed to represent the team's Innovation Project.
"Every year, they design a mat that is based on the topic (the challenge) of the year. There are usually fourteen missions...each has a number of points...At the tournament, they gave (us) two and a half minutes to do as many missions as we could," said Kallem.
"We knew Robot was our weak spot," said Tripathy. "We adapted other things teams had done like programs, Master loop and PID (Proportional-Integral-Derivative controller) …We only wanted to improve," he said.
As for the Curiobots' Innovation Project, according to Bhalla, this segment of the competition allowed the team to "think outside of the box and solve innovative real-life problems. …We felt like future engineers as we raised awareness for promoting energy-efficient Data Centers," she said.
The team identified Data Centers as their project to explore because, as Kallem and other teammates traveled to classes and appointments near their homes in Northern Virginia, they noticed the massive buildings. "We always see a bunch of Data Centers... We didn't know what they were, so we…researched it," Kallem said.
"This season, we met many experts to help us complete our Innovation Project," said Bhalla. She named specialists at the Department of Energy, Greenspace and Amazon AWS: Manassas Data Center. "We got a boatload of information doing the project," said Immidisetti. Bhalla said that the team discussed the implementation considerations of their solution with a civil engineer and program manager." (We) got a great insight into the cost of building a data center underground and in an existing bunker," Bhalla said.
Next, the team pitched their solution to a senior campaigner at Greenspace. The team gained additional insight, but this time regarding the lack of government support to invest in clean energy in Virginia, according to Bhalla.
"Dominion Energy is a utility company that supplies electricity to all data centers in this area (and) uses non-renewable sources such as coal to power the Data Center. This needs to change," said Kallem, who added the team planned to raise the needed change to their State Senator.
Team Curiobot's plan was three-fold, beginning with "Bring the Change," spreading awareness about the problem through the distribution of flyers at local sites, according to Immidisetti. The second part of the team's solution was to recover the heat produced from the servers. "When the servers get hot, the hot air just gets lost," Bhalla said.
THE TEAM proposed to reuse the waste heat, "to put water and oil inside of the CRAC units (computer room air conditioning devices), which are basically huge A.C. units for the data center and use that recovered heat in nearby buildings," said Immidisetti.
According to Kallem and Bhalla, while the second part of the team's solution coupled existing data centers with other facilities that have high heat demand, the team urged investing in clean, renewable energy.
"For existing data centers, we are proposing to put solar panels and windmills on the roof. This will supplement the electricity that the data center pulls from the grid. The heat will be reused. For new data centers, we are proposing to put them underground. On top, there will be a mixed space with pools, offices, restaurants and more," said Kallem.
Bhalla added: "We are proposing to build data centers underground, so they would not be eye-sores. The heat from the servers would go through pipes that heat the buildings above the data centers."
"FLL is truly preparing us for the future," said Krishnamurthy."There's no reason for us to be scared by robotics and programming. That is the future, and we are the generation that is going to shape the future," said Bhalla.