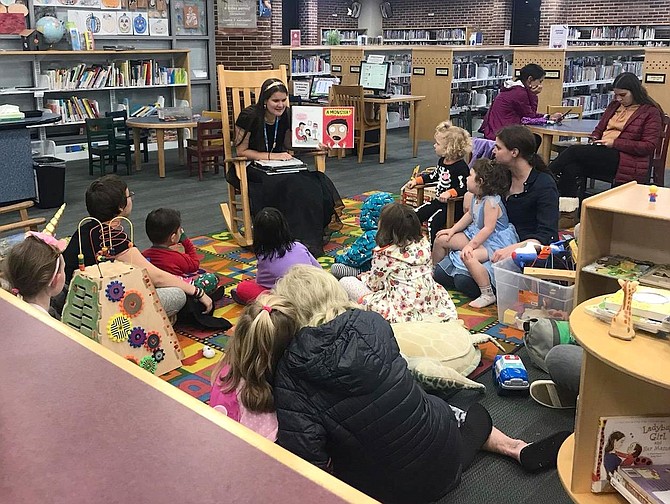 Every week, hundreds of Alexandrians have counted on being able to walk through the doors of James M. Duncan Branch Library, a place that has proven to be much more than the thousands of books it makes available to patrons. Before the onset of COVID-19, young children (and their caretakers) looked forward to trips to Duncan Library for story time programs, and every day, students relied on its technology to tackle assignments. For locals of all ages, the Duncan Library has been a go-to place for a mind-opening escape from everyday life.
"Last year, our average statistics for building occupancy was 385 people per day," said Brack Stovall, Branch Manager for the James M. Duncan Branch Library. "On average we checked out 735 items – including books, DVDs, and CDs – per day. Each month, an average of 260 people attended adult programs hosted by the branch. We also had an average of 62 programs for children, attended by 1,965 people each month."
When COVID-19 pushed the whole country into emergency mode and libraries were forced to close, Alexandrians lost access to so many resources at a time when they probably could have used them the most.
"We serve a lot of families with young children, a lot of seniors, and a large ESL population," said Hannah Risley, the reference librarian for the Duncan Library. "Every day after school, we would be flooded with kids needing to use our computers. In the mornings, our story times are so popular with the young families and nannies in the area that we have to hold three in a row just to accommodate the crowds without breaking fire code. Then in the evenings, we get a lot of people using our WiFi for studying, teleworking, or even gaming. I probably spend at least five hours of my day interacting directly with walk-in patrons and handling their information needs."
Risley also plans and implements all of Duncan Library's adult programs – book clubs, movie groups, discussions, and more – so she was probably one of the first people to understand the effects of quarantine on the Alexandria community. She and Katie Whitman, the children's librarian who runs all the youth programs, were quick to start executing their programming in the digital sphere.
Risley started by hosting March's Death Café – typically an in-person discussion program, over tea and cake, designed to "help people make the most of their finite lives" – online. From there, she went on to go digital with every Duncan Library adult program.
"By the end of the second week of April, we had a full calendar of adult programs happening on the Zoom platform," Risley said. "In April, we held 13 programs for adults, totaling more than 300 attendees. In May, we held another 13 programs, with close to 300 attendees collectively."
On the children's side, the only programs that would translate over Zoom were the story times. So while the more interactive youth programs have been on hold, Whitman has been live streaming story times since early April – once-a-week sessions of Duncan Library's Toddler Story Time, Pre-K Story Time, and Pajama Story Time.
"We're doing three weekly story times virtually – down from the six per week that we'd have through regular programming," Whitman said. "Where they used to be 30 minutes long when we had them in the library, they are now just 20 minutes long because publishers restrict what you can read when it is online and open to a virtual audience."
Although both adult programs and children's story times have been running smoothly over Zoom, the start was not without complications.
"The book club meeting on April 2nd, turned out to be the first virtual program I held using Zoom … and while we were discussing the book of the month, we actually got Zoom bombed, [when a meeting is interrupted by people who were not invited, and whose only intent is to wreak havoc] by a group of about ten young people who kept talking over everyone, cursing, and one tried to take over the screen. That was quite the learning experience, but luckily the book group was understanding."
Also luckily, both Risley and Whitman said it was good that the glitch happened during an adult program as opposed to interrupting one of the multiple children's story times.
"From that point on, to avoid this or something similar from happening again, we have been using a paid Zoom plan that prevents attendees from taking control of presentations," Risley said. Thanks to the Friends of Duncan Library – [a nonprofit organization that supports the operations of the Duncan Branch Library] – who are funding this subscription, we know our virtual programs are safe for all audiences."
Since working out these kinks, the Duncan Library team has launched an impressive program of virtual events, with some sessions attracting between 50 and 100 attendees. These digital meetups include the weekly children's story times, two monthly book clubs, the monthly Death Cafés, a monthly meditation led by Yoga in Daily Life, and the monthly meeting of the Friends of Duncan Library.
Some of the Zoom-based adult programs have actually drawn in more people than they did when they were held within the physical walls of the library. Virtual attendance right away exceeded expectations so much that Duncan Library now offers even more programs – classes, discussions, and presentations that are intended for online audiences.
"Our single most popular program has been our 'Estate Planning During a Pandemic' presentation. We had over 75 attendees, and more than 100 – the attendee limit with our Zoom subscription – signed up," Risley said. "In branch, many of these programs would be getting between five and 20 people, but online I am regularly seeing numbers over 50. Then I have also been hosting a wide range of one-time speakers including: an ornithologist who has done a number of bird and wildlife programs for us virtually, a few different authors including Jim Johnston, who wrote Murder Inc.; Amber Sparks, who wrote And I Do Not Forgive You; and, The Washington Post reporter Lillian Cunningham, who is also host of the Moonrise podcast.
Risley added that upcoming special programs include a two-part State Department series about the experience of retired diplomats with the U.S. State Department, and a presentation by Bryan Porter, Alexandria's elected prosecutor, about his book on Alexandria's serial killer.
The idea is that, if it's impossible to escape to Duncan Library these days for a mind-opening experience, then Duncan Library can bring the experience to you. And, this mentality has brought significantly more people into the library's orbit.
"I hear from people who never attended things in person because it just wasn't convenient, but now they use my programming as dinner entertainment," Risley said. "I also know of several people in other states who have attended my programs."
While virtual alternatives have proven equal parts stimulating and convenient for adults, Whitman has found that it is a bit harder to entertain kids when they aren't right in front of you.
"I've found that Toddler Story Times are still the most popular, with 15 to 30 who attend each week," she said. "By contrast, we used to have Toddler Story Times twice a week and we'd get 74 people for each. Now it's just once a week, 20 minutes long due to restrictions publishers place on virtual readings."
Even though children's programs have not flourished online the same way adult programs have, Whitman recognizes the successes. And still, these shows will go on.
"I think there is a lot of influence on the trip of going to the library and it's a lot easier on a virtual platform for kids in particular to get distracted or walk away," Whitman said. "But we have a strong core of users who sign up for everything and then do their best to log in and attend, so it is going well."
All Duncan Library programming will remain over Zoom at least through the end of August, but the staff is looking forward to when in-person programming resumes.
"I imagine of everyone we serve, the Spanish and Immigrant communities of Arlandria and Chirilagua were most affected by Duncan Library's closing," Risley said. "Those are the people in our community least likely to have reliable internet, so they are also the least likely to be able to continue accessing library resources digitally. Even for people who have been taking advantage of our online presence, people at Duncan are friendly and personable. They want to be in a shared space, together. Going forward, people are still going to want to be part of the same tight-knit community, but perhaps the physical space won't play as large of a role."
Like Risley, Whitman too envisions a blend of virtual and physical components. Regardless of what the future holds, the Duncan Library team's collective priority is to serve their community in every possible way.
"As we've been faced with COVID, we've shown that we have a great ability to grow and thrive under pressure," Whitman said. "Our immediate mission was to get our programs out to the community, and that's what we did. Sharing them in a new and inventive way has been the most important focus to provide a sense of normalcy in our community."
To stay current with Duncan Library and its virtual programming, visit http://alexlibraryva.org/virtual.