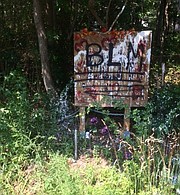 The accompanying photograph is of the vandalized memorial to Bijan Ghaisar who was murdered by the United States Park Police (USPP), in November of 2017.This memorial has been defaced three times that I know of, possibly four. The Mount Vernon police were notified of all the previous incidents but when I called last week, was told they have no credible leads at this time.
Perhaps a secured, protected trail camera could be mounted, in an effort to identify the hateful people responsible for these heinous acts. Their latest was to splatter white paint over the letters BLM (Black Lives Matter) and the red hearts that surrounded them
Why am i asking the Mount Vernon Gazette to bring Bijan's murder to their readers' attention yet again? It is because we need to understand hate is real. It exists in our communities, offices, neighborhoods and houses of worship and we need to confront it when we see it and hear it. Bijan has been dead for over 30 months yet someone feels the need to continue to torture his family and friends. Why? I will pay for a trail camera if someone will volunteer to put it up for me. I can be reached at 703 786-5833. If you have any useful information about this issue, please contact the Mount Vernon District Police Station, at 703 360-8400.


John K. Bergen
Mount Vernon