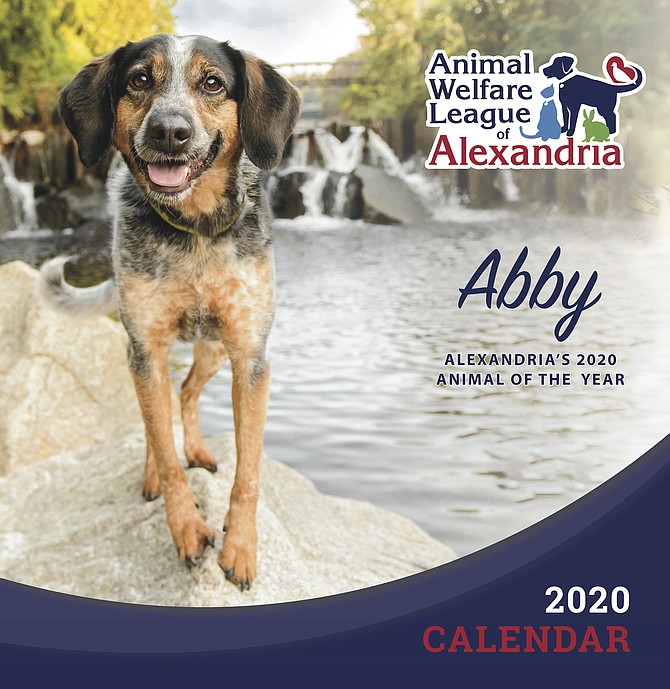 It's been an unforgettable year for Abby, a six-year-old cattle dog/coonhound mix adopted in 2014 from the Animal Welfare League of Alexandria (AWLA). First, Abby was named Alexandria's 2020 Animal of the Year after earning the most votes of all pets entered in the shelter's annual photo calendar contest. Then, she and her family moved to Lexington, Ky., where for the first time in her life she had a backyard to roam — one that spans a whole acre.
It was a fitting reward. "When Abby became Alexandria Animal of the Year, she demanded better accommodations," said her "mom," Diana Gritti. "It warms my heart to see a rescue dog enjoy something like that."
Abby was outstanding before she earned her AWLA title. Certified as a therapy dog by the American Kennel Club, she had completed nearly 100 visits to nursing homes, where she thrived on getting to know the senior residents. Abby is a very smart, sensitive dog, Gritti said, and is eager to don her official work bandana and start visiting the nursing homes of Lexington as soon as it is safe to do so.
Abby was the first animal to receive a vote in last year's calendar contest and reached the head of the pack in the contest's nail-biting final hours. This year's contest, which launches Monday, June 1, should inspire similar drama. The theme, Work-From-Home Helpers, highlights the pets who have provided love and support through the long months at home this spring. Photographs of pets in action — whether "helping out" in the home office or offering moral support by napping nearby — can be submitted at AlexandriaAnimals.org/Calendar beginning June 1. The top vote-earners will receive prizes, such as photo sessions with a professional pet photographer, and the animal with the most votes will also be named Alexandria's Animal of the Year.
The contest is the AWLA's largest fundraiser of the year, and this financial support is more critical than ever to providing vital services to the community. Every registration or vote is a donation to help animals, and all registrants receive a complimentary calendar. The contest is not limited to AWLA alumni or Alexandria residents. And, every animal entered will be pictured in the calendar, which is printed in full color and designed for hanging on the wall.
Gritti says that despite their new location, she stays in touch with the AWLA and will continue to support the shelter. "I feel very strongly I'd like to get another dog from there," she said. What advice does Abby have for the next Animal of the Year? "She would say to milk the title for all it's worth," Gritti said. "Get as many treats out of it as you can."
The Animal Welfare League of Alexandria is a local 501(c)(3) organization that operates the Vola Lawson Animal Shelter, Alexandria's only open-access animal shelter. In response to the global pandemic, the AWLA has initiated a virtual adoption process that has seen adoption of dozens of pets and is operating a Pet Pantry that has provided nearly 4,000 pounds of pet food and supplies. They also have launched a virtual humane education program for kids and are offering assistance to Alexandrians with questions about wildlife and animals in the community. More information can be found at AlexandriaAnimals.org.