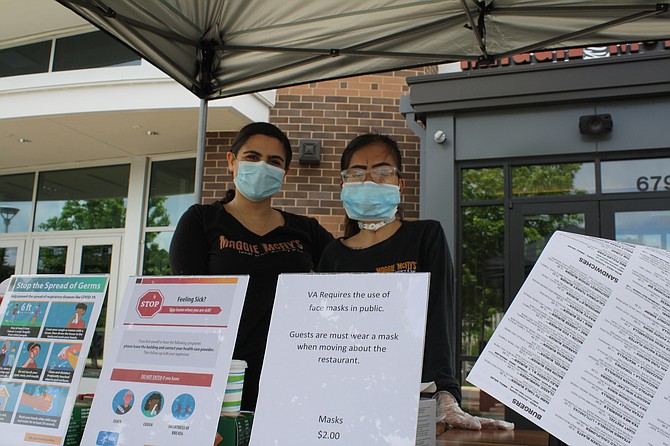 As Virginia entered phase one of reopening in the wake of the coronavirus, Springfield Town Center opened their doors on Friday, May 29, with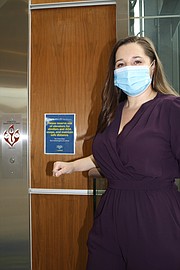 facial masks and hand sanitizer in place, hoping to attract some shoppers but not too many. The town center, as with other retail establishments in the area, is limited to 50 percent capacity, as stated in the rules put out by Gov. Ralph Northam's (D) office.
"We're following the State of Virginia policy," said Laura Feinschil, the Marketing Director at PREIT, the property management company at the town center.
They did a "very extensive cleaning, especially high-touch areas," said Feinschil, and there are standing marks on the floors in some areas where people might wait to ensure social distancing as well. The seating which could be seen throughout the center before the pandemic was all taken out. The restaurants shifted gears to allow outside seating only, curbside service for phone orders, and delivery.
"We've been in constant communications with our retailers," Feinschil added.
The maximum capacity for the town center is 14,000 in the common areas, but under phase one, they can only allow 7,000 people at one time.
Woodbridge resident Tony Tucker was among a few people at the main door on opening day, waiting for the green light. He heard about the town center opening online, and was confident the cleaning was efficient. "I believe they are going to be very cautious," he said.
The Town Center recently started a "Mall2Go," program where people can order food and goods online and have them delivered outside the door, or in the parking lot. "We're encouraging our retailers to use this whenever possible," Feinschil said.
At Maggie McFly's, a few doors down from the main entrance, Maria Calabrese was with fellow employee Ashley Vu at the wait stand out front. Since the pandemic, some of the staff could not work, but in mid-May, they brought back two servers to handle the to-go orders, and possibly more in the near future. "Hopefully we can bring back more in phase 2," said Calabrese.
Just after the doors opened to the town center, an outside table to one of the restaurants had diners, and the wait staff was at the table, business as usual with all masks were in place.