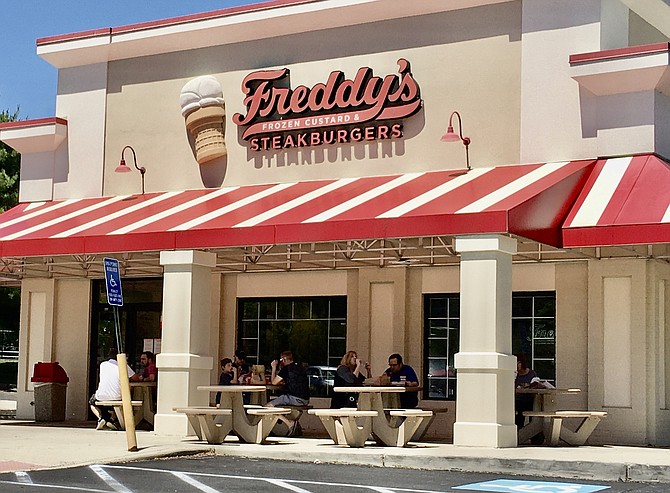 With Northern Virginia now in Phase I of reopening – and rapidly heading toward Phase II – the Fairfax City Council last week approved two emergency ordinances to help local restaurants serve customers outdoors.
One granted the city manager or his designee the ability to temporarily close streets and public right-of-way areas during the pandemic. The other granted temporary waivers of zoning regulations and review requirements regarding outdoor commercial activity.
"Ideally, we'd like to use private property," said City Manager Rob Stalzer. "But we might have to use the public streets."
Both actions were considered and approved during the May 26 Council meeting. And they'll provide the City with the necessary flexibility during Phases I and II to accommodate outdoor-seating requests coming from restaurants struggling financially in the wake of the COVID-19 restrictions.
"It's a positive step so the City can be nimble and respond quickly to requests from the business community," explained Councilmember Janice Miller. City Attorney Brian Lubkeman said these emergency ordinances would both expire 91 days from May 26. However, Mayor David Meyer noted that they could then be extended, if desired.
"We're going to do everything we can to make it work for everyone."
—City Manager Rob Stalzer
Economic Development Director Chris Bruno said the City restaurants are interested and eager to participate in the outdoor-seating opportunity. Councilmember So Lim asked how long it would take for restaurants to get the needed permits, and Bruno replied, "A couple of days."
"The point is to allow us to move as quickly as possible," said Stalzer. "We're trying to mobilize and anticipate as much as possible."
Councilman Jon Stehle said he'd talked with representatives of three other cities and "learned the value of consistent signage [for all the restaurants]. Also important is access and egress to and from restrooms. This is a great opportunity to know what success means to them."
Councilman Sang Yi said that, if a restaurant appeals something about its permit, he'd like the Council to have the final say. But, replied Lubkeman, "It's temporary. And if there's an appeal and it has to go to Council, there could be a significant delay until you meet again."
"But the person issuing the permit would also handle the appeal," said Yi. "I think there should be more other people involved."
But, countered Miller, "If it gets too complicated, we'll lose the ability to move quickly. We'll have to take a leap of faith that [City] staff will do the right thing."
The Council then unanimously approved both ordinances. And, said Stalzer, "We're going to do everything we can to make it work for everyone."