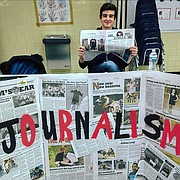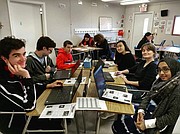 When Michael Wemyss, Herndon High School Class of 2020, sat down on day one in his junior year journalism class, he assumed that the course focused on the school yearbook. "I could take a couple of pictures…I wasn't looking to do anything big," he said. The problem was that teacher Dawn Crosson announced that the class would bring back the school newspaper, The Stinger, and do it in print. "Maintaining a high school newspaper as a platform to share student voices and to unify the learning community was a necessary and important task," she said. According to Wemyss, the students chose two editors who, within days, dropped the course. He said, "I could tell things were going in the wrong direction. I felt something in me that made me stand up and say, 'Hey, I'll be editor.' "
Wemyss' life changed. It centered on copy, editing, layout and advertising. "I was the editor-in-chief… a difficult task to take on...When we started the newspaper, we had nothing. There were so many times that everything was about to collapse…We figured out all the jobs…The stressful part was all the editing...We would order pizza and work in the classroom until eight o'clock at night."
By the end of November 2018, the first edition hit the hallways of Herndon High." I was elated Michael, and the rest of the staff were dedicated to producing and printing a physical copy of the paper," said Crosson. Wemyss said the response was very good. "People demanded a second issue. However, it proved the most stressful. He, co-editor Audrey Powell and student staff produced it in three weeks and sent it to the printer before winter break. However, the trucker drove the copies to Richmond. Luckily, he made it back to Herndon before students left for the holidays.
Wemyss returned his senior year. According to Powell, Wemyss proved passionate. She said, "He always had a bright idea…In times of deadlines and crisis, he never gave up and did whatever it took to pull through and finish." For Wemyss, his goal was seven issues. "I think we got out four. We were working on our fifth one before the shutdown," he said. According to Wemyss, the situation did not look good for print. He and others considered alternatives and eventually expanded the paper to an online version, featuring the Senior Hall of Fame.
Looking back, Crosson said when school starts up again; they plan to continue The Stinger in monthly print versions. "I love the kids getting to hold in their hands what they've created," she said. However, "Michael was my right-hand man on a mission-- the face of the newspaper for the school. According to Powell, when she signed up for journalism, she wasn't expecting to meet one of her best friends, "kind hearted, funny, and brilliant Michael."