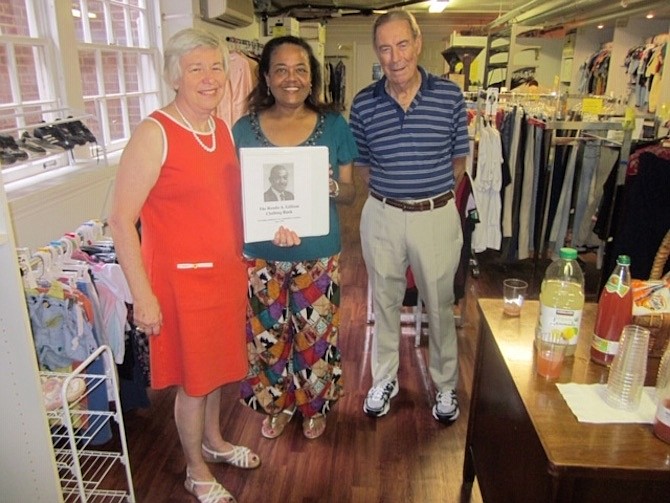 Ronda Gilliam Clothing Bank, sponsored by the First Presbyterian Church, has reopened at the Arlington Methodist Building located at 716 S. Glebe Road. The clothing bank closed March 15 in line with government health restrictions.
The clothing bank offers free clothing, shoes, linens, kitchenware and toys. Annette Reilly, manager of the clothing bank, says the greatest need is for children's clothing, especially ages 10-12 who grow quickly and wear out their clothes fast. She adds that Arlington generally has a couple of spring clothing sales each year, which were cancelled this year, so the need is greater now.
Reilly says there is no limit on the number of garments, and families may return every six weeks. "We want to share the resources available." Anyone can come; there are no income limits but they generally serve a low-income and homeless community who are looking to stretch their income.
She says for the last few months the immediate need has been for food and rent but now with the season changing, people are turning to clothing. The clothing bank also offers kitchenware, towels and linens which are often donated from estate sales. "Towels go especially fast."
The clothing bank is open on Wednesdays from 1-3:00 p.m. and on Saturdays from 9:30 a.m.-12:30 p.m. Reilly says they usually serve 15-25 families each day. No appointments are necessary, but face masks are required.
Reilly adds, "The clothing bank can store off season items, and some people like to donate here because we don't charge for the clothes." She says they support all sizes and make sure the clothes are clean and wearable.
The clothing bank was established in 1970 by an African American Presbyterian elder and school teacher who noticed that children weren't coming to school because they didn't have warm clothes.

"I have volunteered on and off since 1973 because I can see the need is continuing, and I want to keep it going."