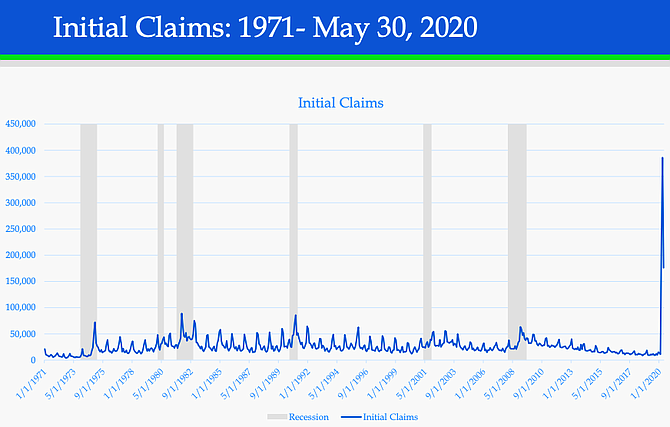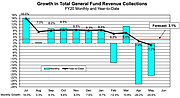 This week, I virtually attended our second Appropriations meeting since we adjourned the April General Assembly reconvene session. We received our monthly economic and revenue update from the Secretary of Finance, Aubrey Layne. This update was the first to include a full month's data reflecting the economic effects from the COVID-19 pandemic.
The good news is that the economic damage caused by the pandemic-forced shutdown to the state budget is significantly better than previously estimated: potentially $400 million less than the $1 billion expected deficit. This will help us as we navigate the upcoming 2-year budget, approved in March. We were forced to put most of that spending in abeyance until we return for a special session in August to tackle not only budget priorities but much-needed police reform. The bad news is that local governments dependent upon sales tax revenue are taking a much bigger hit as state sales tax revenue fell 12.5 percent in May compared to the same month last year.
Virginia has received a total of $3.1 billion in funding from the federal Coronavirus Aid Relief and Economic Security (CARES) Relief Act through the Coronavirus Relief Fund (CRF) which is a huge help. However, this funding has not been approved by the federal government to be used to fill any lost state revenues. This emergency funding must be used for COVID-19 response by Dec. 30, 2020. Since it is possible that these current regulations could be relaxed in the future to help fill in revenue gaps, one half of the state's share of funding will be distributed to state agencies immediately, and the other half of the state funding will be held back in case any future additional federal flexibility will allow us to backfill revenue losses.
As I mentioned in my article following last month's Appropriations meeting, May is typically a significant month for revenue collections. This is due to regular collections of withholding and sales taxes, as well as estimated and final payments for individuals being due on May 1. This deadline was extended by Governor Northam this year to June 1. As a result of COVID-19's effects on revenue generated from payroll withholding and retail sales, combined with delaying the individual tax payment deadline, we can now determine that total general fund revenue collections fell 20.6 percent in May. Due to the new June 1 due date, full data from the month of June will be needed to help determine an updated revenue forecast for the state budget.
On a positive note, in May, payroll employment increased by 2.5 million jobs nationwide, while expectations were for a decline of 7.5 million. The unemployment rate also fell from 14.7 percent to 13.3 percent. Also, the number of people filing for initial unemployment benefits is steadily declining. Initial claims for unemployment fell by 249,000 to 1.9 million during the week ending May 30, and the four-week moving average fell from 2.6 million to 2.3 million.
In Virginia, payroll employment fell by 365,000 jobs in April, a drop of 9.0 percent compared with April of last year. Employment in Northern Virginia fell by 8.4 percent.
The Virginia Employment Commission (VEC) has received 820,000 claims since March 15, with over 620,000 claims paid out—an all-time record. That number compares to 11,000 claims per month prior to the pandemic. The calls answered by the call center have more than quadrupled to over 28,000 per week, and the weekly claim volume through the automated phone system is over 530,000 compared to 28,000 prior to the pandemic. Total payments to Virginians will total more than $4 billion this week, compared to less than $25 million per month prior to the pandemic. What is striking is that the week before the COVID-19 crisis began, we had the week with the lowest unemployment rate in the last 50 years! Imagine the huge increase in work volume for the VEC office and you can understand why there have been many delays in processing claims. Look at the claims chart and you can see the huge spike at the end: no previous recession in the past fifty years was even close.
As this was the first full financial report under the pandemic, we can now see much of the effect it has had on our economy. While we are seeing some positive changes from just a month ago, and there is a sense that things may be bottoming, the key will be the public's confidence, which won't be at 100 percent until we either get a vaccine or therapeutic treatments for the virus. That consumer confidence is also undermined by the big hit to small businesses, like the bead and jewelry store my wife has in Alexandria, and to lower-paying jobs. The trend is that large businesses are getting people back to work faster than the smaller ones.