If it goes bump in the night somewhere around Northern Virginia, chances are, the folks at Argos Paranormal are on it. They've dug up some
paranormal happenings from their experiences and produced an award-winning show called "The Witching Hour," that just had their second season premiere on Fairfax Public Access Channel 10 on Friday, June 19.
Fear not though, "the investigators of Argos Paranormal go where no other paranormal show has gone before as they will be investigating locations that the locals fear and no other paranormal show has ever dared to investigate," they claim. These investigators make sure they set up around 3 a.m., also known as the witching hour, when paranormal activity is believed to be at an all-time high during the night. At a spot in York, Pennsylvania, "we were there in the basement all night," said producer Ryan Martinez.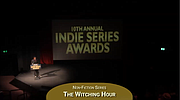 The three-man team consists of Ryan Martinez, a resident of Clifton, along with his brother Remso, the production assistant, and Brian Suojanen, an Ashburn resident that is a camera operator. All three have "cast member," on their position description too. Even though Clifton has a history dating back past the Civil War, and some homeowners have ghost stories of their own to tell, Argos Paranormal hasn't done any work in the town. "They weren't necessarily comfortable with paranormal investigators being there," Martinez said.
The team goes around with cameras and a highly technical "EVP," an electronic voice phenomenon system, and picks up sounds and voices in the haunted sites in various spots in Virginia and Pennsylvania. Stops along the way have included east coast sites such as St. Albans Sanatorium, Belle Grove Plantation in Port Conway, Virginia; Fleetwood Church in the Virginia countryside, the Graffiti House near Fleetwood Church and the Occoquan Inn on the Occoquan River.
St. Albans, in the college town of Radford, Va, was the site of killings in July 1755, when a group of Shawnee Indians fought with the colonists of Draper's Meadow, killing at least five people and taking others as hostage. "To survivors, the Shawnee left behind grisly reminders of their wrath such as a bag containing the decapitated head of Philip Barger," reported the "Colonial Ghosts," a tour group in Virginia.
Season One had six episodes of paranormal mania, and Season Two has eight episodes of the team and spirits in action. It's not something that just happens though, according to producer Ryan Martinez, who has found that "spirits don't want to encounter investigators," he said.
During the 2019 award season, The Witching Hour was recognized as the Best Non-Fiction Series at the 10th Annual Indie Series Awards in Burbank, Calif., making it one of the very first paranormal TV series in television history to earn an award, they said. Martinez was unable to attend the ceremony but did send a pre-recorded acceptance speech that was played during the ceremony. On his recording, Martinez talked about the honor of winning, saying that "this is also a victory for my fellow paranormal investigators."
Graveyards and Ghostly Gatherings
One of the episodes of Season Two is filmed in the "Old Jail Museum," in downtown Warrenton. "Many deaths have occurred there," said Martinez. The Fleetwood Church in Culpeper County is another site they staked out. It was close to the Civil War site known as the Battle of Brandy Station, and the church was built on top of an old graveyard, Martinez said.
The battle was fought in June 1863, and known as the largest cavalry battle of the war. The Union troops under Union cavalry commander Maj. Gen. Alfred Pleasonton were up against Confederate general J.E.B. Stuart, and in the end, there were 1,299 soldiers killed in the battle. The battle occurred just south of the Rappahannock River along the Orange and Alexandria Railroad. Their investigation at the Fleetwood Church uncovered "spirits of those buried under the church," Martinez said.
Tapping into this area's history is part of it too, and Martinez feels he's possibly uncovering things that may not be as famous as the Mount Vernon Plantation of the trail of Mosby's Raiders. At the Occoquan Inn, where The Witching Hour set up camp for an episode, there is reportedly the "Entity of Dogue Indian," and an "English Gentleman," haunting the premises. "When we go out and film at these locations, we're preserving history too," he said. In Fairfax County, "we've done a few private home investigations," he added, "they would hear walking."
At the Occoquan Inn, they experienced "ceiling lights turning on and off, footsteps and stomping that could be heard from the second floor, and even witnessed our mini maglites turn on and off after we would ask the spirits if they could use some of their energy to manipulate the lights,"
said MartInez. With their various electronic tracking equipment, the spirit energy seemed to be traced to a second floor bathroom. It turns out the inn had a history of being a hospital and funeral parlor in the Civil War, the owner Gary Savage told them.
They are looking to travel back to Pennsylvania for future shows. For one or two of the shows in season three, "we're hoping to film at a couple of places near Gettysburg," Martinez said.
Quiet on the Set
With all these spirit recordings, and the land surrounding Northern Virginia, rich with history, the team had to learn to put it all together for a show, and Martinez tapped into the Fairfax Public Access channel for guidance. Although "I taught myself a lot of skills," he said, the classes at FPA were needed too, particularly the studio camera course. "That course was very helpful to me," Martinez said.
All the travel and time involved might have landed them an award, but everything is funded out of the trio's pockets, which includes travel, food, membership fees and equipment. Even the EVP has to be paid for by someone, and they decided against bringing in advertisers because they wanted to be in control, and with someone else making decisions based on money, "it really wouldn't work out well," Martinez said.