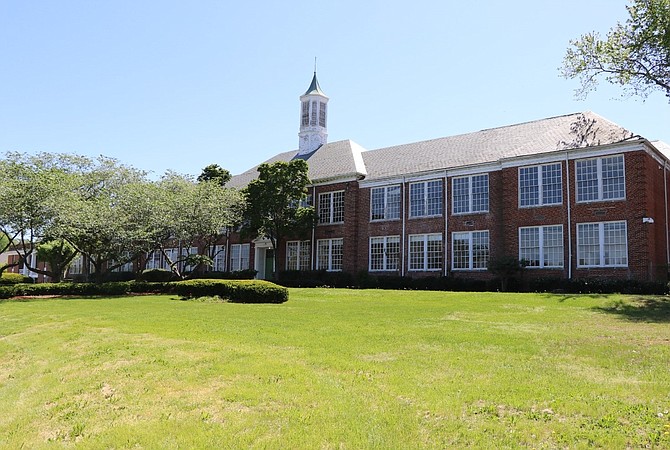 VIRTUAL COMMUNITY MEETING ON MONDAY, JUNE 29, 2020
A virtual community meeting is planned for June 29, 2020 from 7 p.m. to 8:30 p.m. to provide updates on the Original Mount Vernon High School Renovation and Adaptive Reuse project.
If you are interested in attending the virtual meeting, please email DPWESCAPOMVHighSchool@fairfaxcounty.gov to receive meeting sign-on instructions. Or call the Building Design & Construction Division admin office at 703-324-5800, TTY 711.
BACKGROUND
The Original Mount Vernon High School was built in 1939, a classic example of Colonial Revival architecture. The county-owned facility is located at 8333 Richmond Highway on a 22-acre property that was once part of George Washington's estate.
In 1987, the Virginia Department of Historic Resources determined that the high school property was eligible for the National Register of Historic Places. The school was listed on the Virginia Historic Landmarks Register in December 2017, and in the National Registry of Historic Places in May 2018. The approximately 140,000-square-foot Original Mount Vernon High School facility consists of the main high school building and several smaller buildings to the west and south of the main structure. There are two athletic fields to the southeast of the property that are scheduled for community use.
PLANNING EFFORTS
In fall 2016, following the end of the long-term lease in the Original Mount Vernon High School, Fairfax County began an effort to plan for adaptive reuse of the building and the site. A number of interim and permanent occupancies have been implemented.
Parallel to these efforts, in early 2018, the county hired a development team to explore concepts for the long-term redevelopment of the overall Original Mount Vernon High School site combined with George Washington RECenter and park. Following early proposed redevelopment concepts for renovations, a mix of new residential development, and additional public facilities, the county determined to focus on a phased approach to redevelopment that would align with the EMBARK and Bus Rapid Transit project along the Richmond Highway Corridor, which is in the planning phase.
As such, the priority for the redevelopment work has been placed on the renovations and adaptive reuse of the historic high school and related site work as Phase I of the overall redevelopment. Phase I work includes ADA accessibility; exterior, windows, and roof work; upgrading the mechanical, plumbing, and electrical systems; and upgrading utilities.
The overarching vision of Phase I is to leverage the former high school to build communities of opportunity, create career pathways, connect different generations and better integrate residents into the economy.
For more information, contact Katayoon Shaya at 703-324-5800, TTY 711.