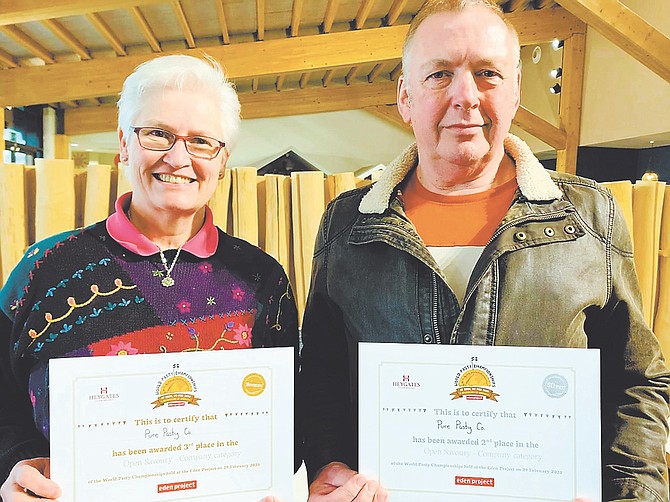 Vienna-based bakery Pure Pasty Company have been awarded silver and bronze medals in the Open Savoury Category at the Eden Project on Feb. 29.
The winning pasties were the Cheese and Onion taking the bronze and the silver winner was a Lamb Jalfrezi; both brought to the competition by boss and British ex-pat Michael Burgess and his English chef Nicola Willis Jones.
To top off the experience, an old friend of Burgess' from England, Jan Mathieson, won the amateur Open Savoury category with a Goat's Cheese, Pear and Walnut pasty.
The event has become an annual pilgrimage for Mike and Pure Pasty Company despite distance and the weather! As Burgess notes, "We love Cornwall, having established a connection as a child, so it's great to be back amongst friends once again. I don't think I've seen a company take two of the three top spots before, so I'm incredibly proud of my team's efforts. I've often dreamed of, 'what if we take more than one spot?' and now we've done it!"
We're also chuffed to bits that one of our supporters took the title for Amateur Open Pasty. It's magnificent to see her on stage looking so happy.
This company result gives us impetus going into a year where we have ambitious plans to spread the pasty across the whole of the USA. For once this year, Lamb Jalfrezi and Cheese and Onion, were two of ours I secretly would have backed to do well."
Willis Jones adds, "travelling from Virginia to compete against all the Cornish bakeries and beyond is a privilege in itself. To place twice in the top three is an amazing achievement for Pure Pasty. We have spent years honing our craft and these results show that we are getting it right. We do our best to give all the ex-pats in the DC area a real taste of home."
Entering the competition for the fourth year running, the American bakery from Virginia won the first prize in the Company Open Savoury category two years running. Open Savoury allows for experimentation away from the traditional Cornish-style pasty. The first time they won with that ever-divisive savoury ingredient – pineapple, which served to add a touch of sweetness to the spice in Chicken BBQ. Last year they returned with seasonally inspired favourites the Turkey, Stuffing and Cranberry and were the victors again.