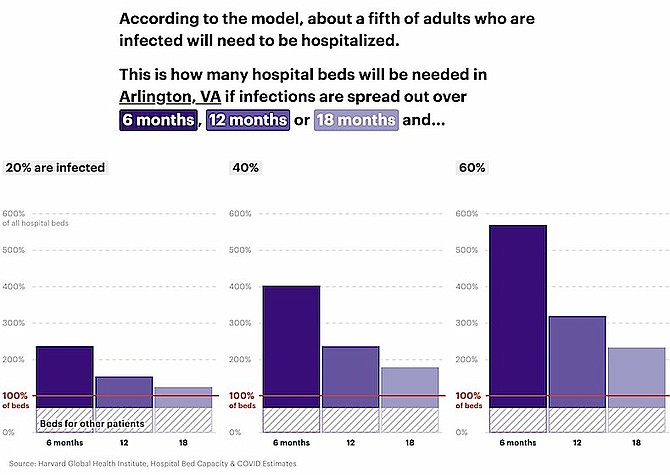 Northern Virginia's health care system could be overwhelmed by an influx of patients infected with the novel coronavirus, according to an assessment from the Harvard Global Health Institute. The projections show hospitals in Fairfax, Arlington and Alexandria could quickly fill their available beds with patients, forcing administrators to either expand capacity or make the kind of life-and-death decisions about care that Italy has been forced into by the crisis.
"The numbers seem very daunting," said Thomas Tsai, assistant professor at the Harvard Global Health Institute. "Our goal was to motivate collective action so we are not making decisions when the epidemic is hitting individual hospitals."
One scenario presented by the institute paints a grim picture for the Arlington Hospital Referral Region, which includes Fairfax County and Alexandria. Assuming the virus infects 40 percent of the population and social distancing allows for the disease to be spread out over six months, more than 10,000 hospital beds would be needed to handle the crush of new patients. That's about 1,000 percent of available beds. Even if hospital administrators cancel most elective surgeries and double the number of beds available, that's still five patients for every hospital bed.
"Nobody really knows what the disease course is going to look like," said Tsai. "So it's important to stay grounded on what we do know, which is our bed supply and our ICU supply."
The data on intensive care unit beds is even more ominous, a particularly unsettling dimension of the projections because these are the patients who would need ventilators because of the intense respiratory problems associated with the disease. Under the scenario where the virus infects 40 percent of the population and social distancing allows for the disease to be spread out over a six-month period, more than 2,000 ICU beds will be needed. Even if most elective surgeries are canceled, according to the Harvard projections, that would still put the the need for ICU beds at 700 percent. That's seven people for every available ICU bed.
"This is looking exclusively at hospital beds based on predictive modeling," said Julian Walker, vice president of communications for the Virginia Hospital and Healthcare Association. "There are also many other healthcare facilities in this state, outpatient surgery centers for example, that are not counted in the hospital bed totals that could also be pressed into service in the event that there is a real medical surge issue here."
IF NO STEPS WERE TAKEN at social distancing, health experts say, the course of the disease would be about one month. That would totally overwhelm the system and create an unworkable crisis. Spreading the course of the disease out over six months would require a sustained effort at social distancing, an effort to flatten the curve that is still in the early stages.
"We are moving into a period of sacrifice," explained Gov. Ralph Northam as he cancelled all Virginia schools for the rest of the academic year. "We all need to take care of each other from afar because social distancing is the only path forward."
Even if the course of the disease is spread out over 18 months, which would require a massive and unprecedented effort at social distancing, the predictive model still shows the system in Northern Virginia does not have enough capacity. Assuming every elective surgery is cancelled, doubling the availability of ICU beds, Northern Virginia will have a 150 percent need for ICU beds. That's two ICU beds for three patients who need respirators in September 2021.
"We are underprepared for this kind of an event," said Kevin Peach, chairman of the Local Emergency Planning Committee in Alexandria. "That's why people are behaving the way they are and that there's such an elevated panic."
HOSPITALS ACROSS VIRGINIA are taking steps to prepare for the potential crush of patients flooding their emergency rooms. Elective surgeries have been postponed or cancelled, placing a financial burden on the industry. Mary Washington Healthcare in Fredericksburg has already set up a field hospital, and other hospitals are exploring the idea of setting up their own field hospitals. The governor has also relaxed regulation on steps necessary to establish new hospital beds.
"During this public health emergency, government rules about establishing hospital beds are being relaxed," said Walker. "So all of the tools that are available are being explored and leveraged."
Walker also noted that the Virginia Healthcare Emergency Management Program was set up after 9/11 to prepare for prepare for a variety of public health emergencies. Participants include public health officials, state government leaders, the hospital community, first-responders and public-safety personnel. For more than 20 years, these groups have been engaged in strategic planning, operational planning, information sharing and resource coordination.
"The planning and prep work to respond to these situations is something goes on on a regular basis," said Walker. "And that kind of collaboration that has existed for the last 20 years is being brought to bear by assembling all of the stakeholders and assembling the resources to try to combat this head on."