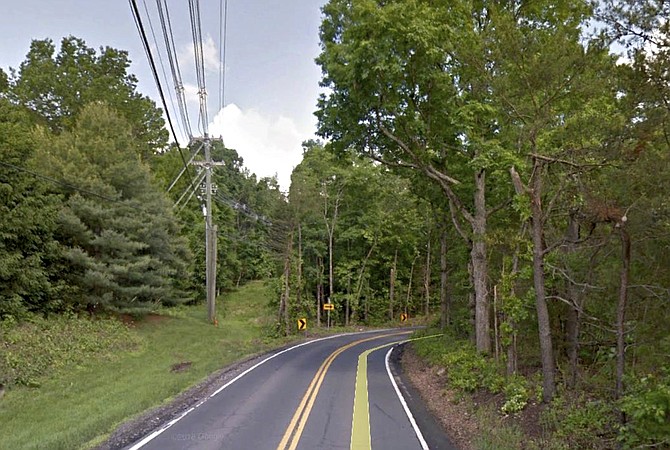 Feelings ran high during VDOT's recent meeting about potential changes to Braddock and Old Lee roads in Centreville. Some 65 local residents filled the lecture hall at Westfield High, and to say they were upset about the ideas presented would be an understatement.
VDOT is currently assessing potential safety and operational improvements it could do at the intersection of Braddock and Old Lee, plus the S-curve on Braddock just west of Old Lee. The concepts being studied include intersection enhancements such as turn lanes, a jug handle and a roundabout, as well as realignment of the S-curve.
Ultimately, VDOT's preferred alternative was the one that everyone at the Feb. 13 meeting hated the most. And, as one resident said, "All the proposals you recommend add more traffic to Braddock and benefit Loudoun County."
At the outset, VDOT Preliminary Engineering Manager Andy Beacher gave a slide presentation explaining the five alternatives under consideration and telling why some action is needed. "At this time, there are no funds to do it," he told the crowd. "But your comments will inform our decisions, moving forward."
PRESENTLY, that section of Braddock carries 9,200 vehicles a day, with 8,200 on Old Lee. Eastbound Braddock has heavy traffic congestion and queuing during the morning rush, with southbound Old Lee experiencing the same thing in the afternoon – in addition to people trying to turn onto Braddock.
As for the S curve, between 2010-2017, some 18 large trucks have gotten stuck there. And from 2006 to now, there have been 115 accidents – and that's only the number that's actually been reported, so it could be higher.
Fairfax County's current master plan calls for realigning Braddock and Old Lee to go into Rock Hill District Park and out again, with Braddock ending in a T at Old Lee. But, said Beacher, "That would cost $70 million-$80 million. So we're looking for interim, low-cost improvements until that could be done."
*Alternative 1: Signalizing the Braddock/Old Lee intersection without turn lanes. It would have the least impact on right-of-way, utilities and the environment, but poor traffic operation. Estimated cost: $400,000.
*Alternative 2: Also adds a traffic signal, plus a 200-foot, southbound, right-turn lane. There would still be eastbound morning queues, plus more impacts to the right-of-way. Estimated cost: $2.2 million.
*Alternative 3: Adds a traffic signal, plus a 200-foot, southbound, right-turn lane and a 1,100-foot jughandle lane to accommodate the existing eastbound left turns. It would impact the gas line in that area and the south side of Braddock. Estimated cost: $5.6 million.
*Alternative 4: Would be a signalized intersection with multiple turn lanes. It would result in good traffic-performance, but significant, environmental impacts. And it could lead to the Cub Run Bridge having to be replaced. Estimated cost: $9.5 million.
*Alternative 5: Replaces the current, roundabout configuration with a single-lane roundabout with one bypass lane in all directions. It would impact park property, and both alternatives 4 and 5 would take four to six years to complete. Estimated cost: $11.2 million.
In addition, Beacher said realigning the S curve on Braddock would cost an estimated $9 million. The work there would require a deep, 20-foot cut in the ground and a large section of rock removed. Furthermore, fiber optics and a gas line both run through that area, making the job even more difficult.
"We're recommending Alternative 3, plus the S-curve fix," said Beacher. "It's a good balance between performance and impacts." Total cost would be an estimated $14.6 million – $5.6 for the alternative plus $9 million for the curve.
However, meeting attendees were none too pleased with that idea. "I live right off there, and if they straighten out the S curve, it'll turn into a steep slope and a speedway," said Chris Terpak-Malm of Pleasant View Estates. "People speed there now, except for when they get to the S curve. Otherwise, I can't get onto Braddock to go right. And if you want to go left, forget about it."
She also noted that a new roundabout or an added lane would be in the floodplain and wouldn't help the environment. "They need to stick with the county's master plan to realign Braddock and Old Lee into a T," said Terpak-Malm. "The [proposed] improvements would cause other problems."
Another woman said, "If we could get a short, right-turn lane, it would help immediately, in the interim. Four to six years is a long time to wait."
But VDOT traffic engineer Sid Siddiqui replied that "It would encroach upon the park property and might cost half a million dollars because of drainage concerns. That entire intersection floods badly."
Beacher said the design work, right-of-way phase and construction all take time. And, he reminded attendees, "This is purely a study, at this time."
"What about just doing something about the S curve?" asked another resident. "Because that's a safety issue. The school system won't let buses stop there for fear of them getting rear-ended by a driver flying down the hill."
But Beacher said VDOT's trying to "combine efforts so there'd be less impacts to drivers" by doing both the intersection and curve at the same time.
"The good plan is the county's plan," said Mubarika Shah. "Your other plans all have problems. These alternatives are like putting Band-Aids on the traffic problem, and all the homes they're building in Loudoun County will add to the traffic on Braddock Road." But Beacher told her the county's plan is "quite expensive and would take a longer time before it could get done."
Regarding the jughandle proposal, one man said, "Two left-turn lanes would be a better solution." However, replied Beacher, "The storage lane for left-turning vehicles would be really long."
Yet another man asked, "If these are only short-term fixes and they're so expensive, why not just do the Comprehensive Plan? Why throw almost $20 million into something that's not a long-term fix?"
Residents also noted that big, commercial trucks aren't supposed to drive there, "but no one enforces that." And, they added, "People are already driving too fast on Braddock."
A woman who lives on the Cox Farms side of the S curve wondered when VDOT would let property owners know how their property would be affected. "Not until we get funding," answered Beacher.
"Why not make no left turns during certain hours?" asked another man. But Beacher said, "It would be challenging to implement that restriction because so many people need to turn left."
A SULLY ESTATE RESIDENT asked, "If this is a study and no decision has been made, then why are you saying Alternative 3? With this alternative, I'm the lady who loses all her land. And it's a floodplain that rises 10-15 feet when you're not making your study." Beacher simply responded that it's VDOT staff's recommendation.
"The S curve needs a study, itself," said Meet Gill, also of Sully Estates. "And Alternative 3 is the worst of all the plans. You're blocking the through traffic so [just] one way can go through. The S curve needs to be taken more seriously than the rest of this project."
Agreeing, Sully Estates II resident Weldon Regan said, "All those 'solutions' will invite more traffic on a two-lane road. If you straighten the S curve on the dog-park side of the road and put in a walking path, you'd be able to tie into the road more easily."
"Did you do an intensive study of [Fairfax County's] Comprehensive Plan, as much as you did of the other alternatives?" asked Jim Mitchell. "The county bought that land to put that road across it, and you guys are just rejecting it outright." Others then piped up, "I agree" and "Me, too."
Fairfax County Transportation Director Tom Biesiadny said it would take a longer time to get the money to do the Comprehensive Plan's idea. Still, Mitchell was doubtful. But Siddiqui said that, even if only fixing the S curve were chosen, "It would still take two to four years to complete, after we got the funding."
Now that it's received residents' comments at the meeting and online afterward, VDOT will next determine the preferred alternative to build. It will then hold more discussions with Fairfax and Loudoun counties to identify potential local, state and/or federal funding sources. For further information, go to www.virginiadot.org/projects/.