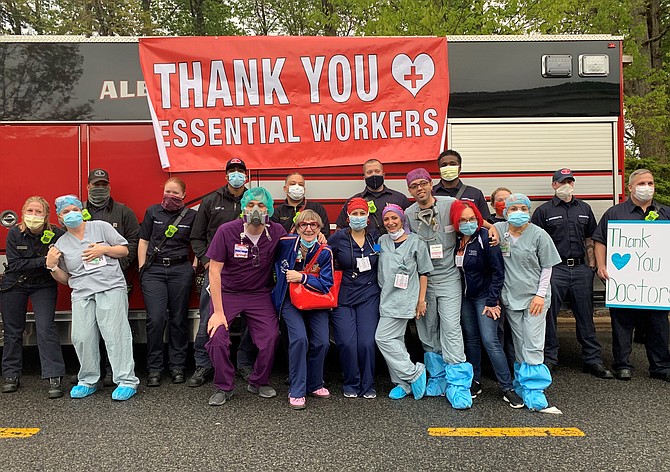 Law enforcement personnel from across the region descended upon Inova Alexandria Hospital in the early evening hours of April 28 to show their appreciation for healthcare workers during the COVID-19 crisis.
"This is amazing," said hospital CEO Dr. Rina Bansal as she looked at the crowd gathered with signs of appreciation and thanks. "If we talk about one community, this is truly one community. To see our first responders appreciating our health care workers truly warms my heart."
First responders were joined by neighborhood residents in cheering the hospital workers during what was expected to be a routine shift change.
"We're out here to support our essential medical staff that has been dealing with the virus in an up close and personal experience," said Sergeant Ronchez Hancok of the Virginia State Police. "We would like to show our appreciation to them for the hard work they are doing in saving lives on a day-to-day basis."
A number of law enforcement and fire agencies banded together to plan tributes to the medical professionals working in the Northern Virginia Inova Hospitals. Visits at individual hospitals were scheduled during the evening shift change, which saw hundreds applauding medical professionals and other hospital staff.
The George Mason Police, the Virginia State Police, Alexandria Fire Department and Alexandria Sheriff's Office were on hand for the Alexandria tribute.
"This is a major lump in my throat," said Dr. Anthony Comerota. "This is a true reflection of the way health care professionals and first responders in the community have acted. When you see this type of camaraderie, it's all worth it."