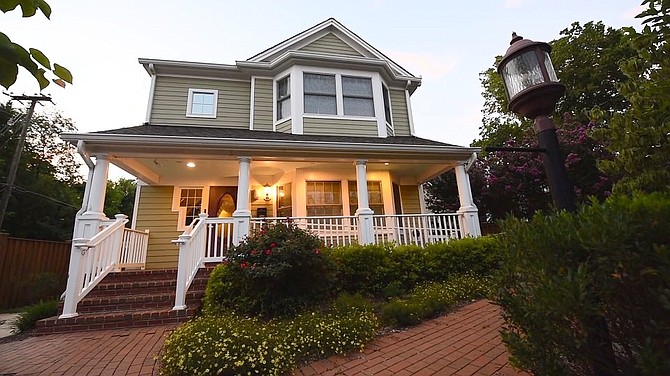 Maureen Devine-Ahl, Doorways Interim President and CEO, said that by March 13, Doorways had already made the decision to get as much work done offsite as possible. "We are proud we were ahead of the curve on this." The first thing they did was take the shelters to a minimum coverage plan.
Doorways operates both a Domestic Violence Safehouse for victims who are fleeing imminent danger and a Family Home to shelter families transitioning out of homelessness. The Domestic Violence Safehouse is the only domestic violence shelter in Arlington, with a capacity of 23 beds between the Safehouse and scattered site capacity.
The current number housed is 13, although Samantha Clarke, Chief Program Officer, says "we have a responsibility to house and shelter any survivor of domestic abuse or violence. If we had a need over that capacity we would always find some way to do it."
The Family Home has 22 beds and 10 bedrooms to shelter families transitioning from homelessness. The safeguards put in place due to the coronavirus presented a number of challenges with a kitchen, laundry and shared bathrooms. Devine-Ahl says the residents got together on their own and cooked family-style and shared their food. It was also a challenge with the school suddenly out and how to entertain the kids all day.
"And also securing PPE. Thankfully we had some masks and other things already. But at that point in time it was for response mode instead of testing someone symptomatic. Now it is more prevention.
"Social distancing wasn't something we knew about at the time. The first 1-3 weeks we woke up every day and got some new piece of information. There is so much information out there."
But Devine-Ahl recalls one national call with King City, Seattle was particularly useful. "They were 7-10 days ahead of us. They were already setting up field hospitals, de-intensifying shelters to take the highest risk out." She says Doorways started talking about moving those staying in the Safehouse to hotels to ensure their health and wellness and to de-intensify the close communal living.
"This is the group who need to escape domestic violence at the drop of a hat. They have called the hot line because they have been assaulted. They end up in the emergency room and don't want to leave the emergency room and go home."

She explains it is a pretty normal trajectory for the families in the Safehouse but now the victims are coming from the hospital "which is ground zero for the coronavirus. They could be putting others in the Safehouse in danger as well as staff." So Doorways decided to move the six in the Safehouse to confidential hotels.
Devine-Ahl said they have a little bit of everything and have been able to repurpose existing state and Federal grants from travel and training. There has been a lot of flexibility. The County is making some money available and there is some FEMA assistance. "I feel good about where we are right now." But she is worried if this would be sustained living over a period of time.
Devine-Ahl says they have been monitoring closely whether the stress of the coronavirus would cause more domestic violence. They noticed that the first week with the world changing dramatically there were reports out of China that domestic calls tripled.
"I thought 'game's on.' But we have not seen that in the same fashion. There are spikes some days, but not overall." Doorways is in touch with the Arlington County Police Department to make sure the low incidence of domestic abuse calls isn't an error or lack of outreach. But she says the police report that their calls are down as well, and the same is true in Loudoun and Fairfax.
"It could be good news, but I suspect the devil you know is better than the one you don't, so it may seem better not to risk leaving the house for an unknown."

Clarke agrees. "People who are isolated with the people who are abusing them know their abuser and what to expect. Abuse isn't good, but it may be more acceptable than leaving. It is always hard to leave and now there is the fear of the unknown with the coronavirus."
But she says they're reaching out to let people know that there is a safe place they can go.
"Just because people aren't asking for support doesn't mean violence has stopped," Clarke continues. "The normal avenues open to them through doctors, schools and church are now closed. We anticipate a surge when the stay at home order is lifted and people perceive the threat to their health is diminished."
Devine-Ahl adds maybe people can't talk under the same roof and after things start to lift and they can leave the house, it may not seem such a danger to ask for help. "We let people know the shelters are open and we can help you talk it through."
She says it is more difficult to know about possible child abuse. It is more challenging to see now because teachers often spot abuse. But currently children aren't in school, and they have lost the community channels. Doorways looks for other avenues such as food pickup and other ways they can be creative.
Devine-Ahl says the community has been helpful by dropping off physical goods such as diapers, toilet paper and laundry detergent or other items on their Amazon Wish list.

"The Arlington community has gone above and beyond." Devine-Ahl says their office at 4600 Fairfax Drive accepts donations on Fridays from 11:00 a.m.-1:00 p.m. "Just drive up to the back, pop open your trunk and a staff person will come and unload your car." She says they also accept donations of non-perishable food to stock their residential kitchen.
Doorways provides a safe, temporary home to those escaping imminent danger due to domestic and sexual violence. It welcomes women, men and those who identify as LGBTQ+ offering counseling, financial education, support groups and job advocacy as the families work toward permanent housing. If you are experiencing violence or abuse you can talk 24 hours a day to somebody trained. Call the domestic violence hotline at 703-237-0881.