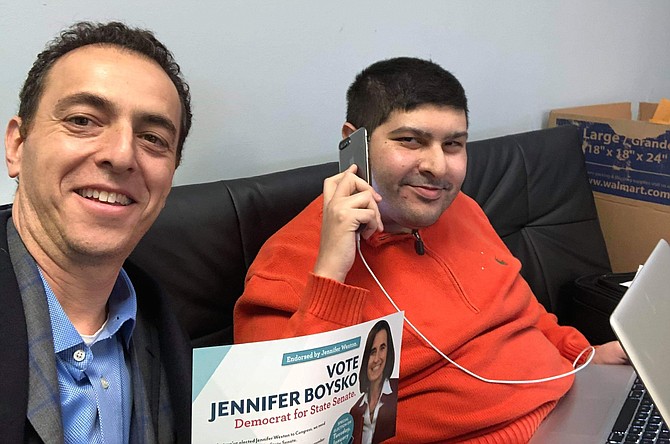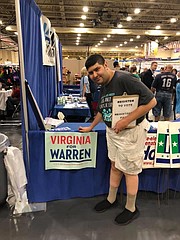 For 30-year-old Chantilly-native Toora Arsala, volunteering has become a way of life. He first started volunteering in high school as part of the Best Buddies organization. From there Arsala started volunteering in various other organizations and does what he can to help his community.
Due to his commitment to helping others, Arsala will receive the Volunteer Fairfax Benchmark Award for volunteering over 1,000 hours last year. He has volunteered with high traffic festivals in the community such as Celebrate Fairfax.
"My 20 some years that I've been volunteering for high traffic festivals. There have been times where I've been working in festivals from 9 a.m. to 9 p.m. My friends say 'You're kind of crazy for working all those hours.' Not at all, I'm always hydrated and am free to help as much as I can."
Trinity Yasnick, program manager at Celebrate Fairfax, mentions the positions Arsala has filled during his fifteen-year tenure as a volunteer.
"Toora has been volunteering with us for fifteen years at Celebrate Fairfax and is usually at the customer service or information booth answering questions, helping volunteers check-in, handing out snacks at our gates or helping direct our guests."
EXPERIENCE is not all that makes a volunteer, but Arsala's extensive history makes him invaluable. Yansick describes how his helpful nature makes him a great volunteer and teammate.
"It's been great that he's been around for so long because I know I can put Toora in some of these roles where he can answer any of the questions for any of the attendees that are coming. He's always willing to help out and to get more information about how he can be more involved. He's just a great volunteer and we love having him."
Aside from community festivals, Arsala also works with local legislative representatives by calling and registering voters on behalf of the Democratic party. James Walkinshaw, Braddock District Supervisor, cited Toora as one of Fairfax County's most dedicated volunteers.
"Toora brings enthusiasm and energy to everything he does. Whether it's phone banking for hours on political campaigns like those of Congressman Gerry Connolly or helping organize the Afghan festival, Toora's volunteerism makes a difference in our community."
Not everything has been smooth sailing in Arsala's volunteering career. Last year he suffered a knee and spine injury, but he didn't let it stop him from supporting a candidate.
"I managed to come in the campaign office to make phone calls for the candidate I was passionate about and that's one thing that the candidate really enjoyed and he took a picture of me sitting on the couch, making phone calls on my laptop. Volunteering is my passion and dedication, so despite my medical issues, I still came out to help out the community."
Although health issues have caused rough patches, Arsala is determined to continue inspiring his community to volunteer and lead others to pursue their passions.
"One of my messages to folks is to never give up, just keep on going. If you have a passion for something, go for it. I've learned a lot helping out in the community and my goal is to keep volunteering for the next 20 to 30 some years. I want to leave a legacy, so folks can get more inspired to help the community."
GRATEFUL for the opportunity to help others, Arsala acknowledges his family and doctors for his success.
"I wanted to thank my parents for being there for me every step of the way and the doctors at Reston Hospital Center who helped cure my collapsed lung. If it weren't for them, I wouldn't be here today."