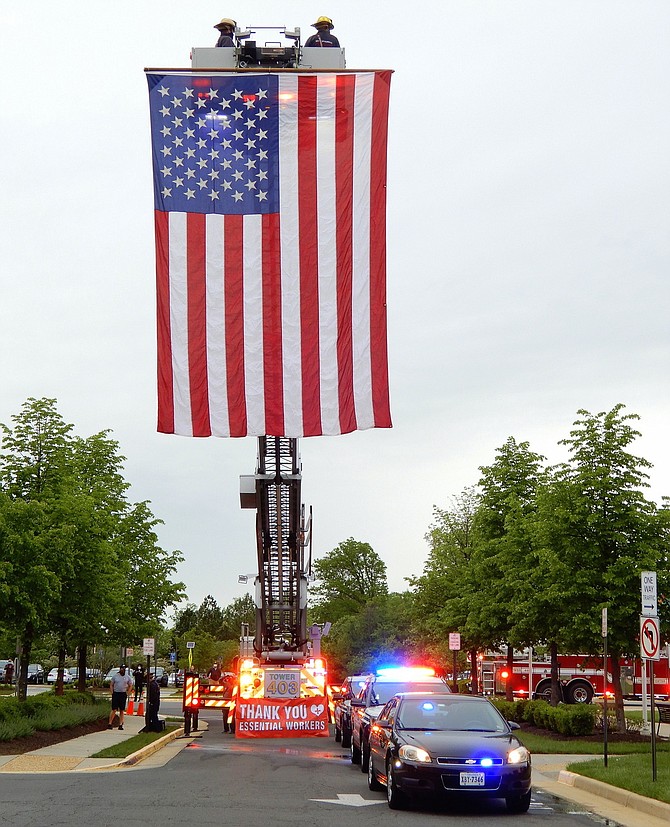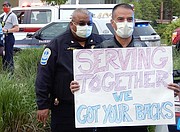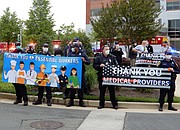 It's nice to be appreciated – and, last Tuesday, May 5, at Inova Fair Oaks Hospital, local first responders let healthcare workers there know exactly how much they're valued. At the 6:30 p.m. shift change, staff members walked outside and were greeted by fire engines, police cruisers, a gigantic American flag and about 100 first responders applauding them and holding signs and banners of appreciation.
"It's wonderful," said Inova Fair Oaks President Susan Carroll. "We're partners with all public-safety personnel, and we support each other through all hard times. So for them to do this for us really means a lot."
"This is the community we serve," added Chief Nursing Officer Deb Fulbrook. "So it's great anytime we have the opportunity to connect with them."
Carroll said the hospital has had COVID-19 patients there for the past six weeks and has seen a steady increase. Many have been admitted, while others were treated in the emergency room, but were well enough to go home. Although a small percentage of the inpatient COVID-19 patients died, more than 100 were admitted and more than 100 were discharged.
"Debbie and her team have done a tremendous job," said Carroll. "Some nurses are being repurposed, helping out in the ICU [Intensive Care Unit] and elsewhere."
And, said Fulbrook, "That's one of the great things about healthcare workers – they respond wherever the need is greatest. Overall, morale here is positive. The clinical staff is very resilient, and we promote self-care so they can take time away for a respite and for a manageable work/life balance."
"Patient and team-member safety is our number-one goal," said Carroll. "So we use the appropriate PPE and technology so our staff can take care of their patients. Initially, we talked via baby monitors from room to room. And we're using donated iPads so patients can communicate with their families."
"We've also increased the rounding on team members by Inova administrators," said Fulbrook. Carroll explained that the senior leadership team makes sure the doctors and nurses have everything they need. They're also asked if they feel safe and, if not, what the administrators can do about it. Said Fulbrook: "We make sure they know we hear them and we're here to support them."
TOUGHEST, said Carroll, is the fact that, in early January, just 44 people in the world had this virus. Now, she said, "We're looking at millions. Understanding the disease's progression has been challenging for everyone. And we don't have a lot of historic data about it, so it's hard to manage through it because it's so new."
But there are also some bright spots. "The learning is amazing because everyone is sharing their knowledge," said Carroll. "The first COVID-19 patient at another Inova hospital came March 7 and stayed 25 days. Now, the average length of stay is seven days. Physicians are partnering to learn the best protocols from all over the world, to learn what works best – so it's been a huge collaboration."
Fulbrook gets the greatest satisfaction "seeing our patients improve and be discharged to go home."
"And seeing what we mean to the community is so gratifying," added Carroll. "We see ourselves as the guardians of community health, so we want to be here to provide that for them in their time of need."
Last Tuesday, with fire engines' sirens blaring, police cruisers' blue lights blinking – and a huge American flag hanging from Fairfax City Fire Station 3's tower ladder truck – what these healthcare workers mean to the residents they serve was on full display. Units from Fire Stations 21 in Fair Oaks and 40 in Fairfax were there, too, as were Virginia State, GMU and Fairfax County police – including officers from both the Fair Oaks and Sully district stations.
MEDICAL STAFF walked around the loop in front of the hospital's main entrance, while the first responders applauded them. And a Black Hawk helicopter did several flyovers – complete with wing dips in salute – much to the crowd's delight.
GMU Police Capt. Mike Lighthiser organized the whole shebang. "We've worked with INOVA on some other projects, and I feel like our responsibility as first responders is to help those we work with, hand-in-hand, every day," he explained. "But now, the circumstances have changed, and they're on the frontline."
He organized similar celebrations at four other Inova Hospitals and at the Reston Hospital Center. The best part, he said, is "seeing the medical providers feel like they're supported."