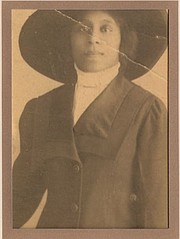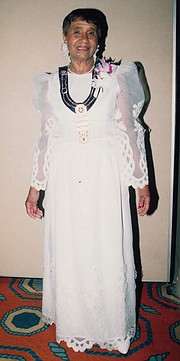 World War I ended in November of 1918, but another world devastation began. The 1918 Influenza "flu" known to many as the Spanish Flu was an invisible enemy that killed more people than World War 1. An enemy that did not carry guns nor grenades but was deadly.

Alexandria experienced the Flu. From 1918 through 1919, the Alexandria Gazette reported on the Influenza Pandemic by mentioning that by early fall of 1918, stores, churches, schools, theatres and all public gathering places were closed to help slow down the spread of the Flu.
One family that experienced the impact of the Flu was Irvin (Irving) Carter and his wife, Bessie Evans Baltimore. They were the parents of two young daughters, Verma Evelyn Carter and Lucy Beatrice Carter. On Oct. 28, 1918, Bessie was under a doctor's care for Pulmonary Tuberculosis. Before she was quarantined, she contracted the Flu and her three- and two-year old daughters were not able to see her again. Bessie was under her doctor's care for two months.
It was a picture perfect snowy day on Dec. 26, 1918 when Bessie Evans Baltimore-Carter died in her family home at 600 South Washington Street leaving her husband and two daughters behind. She died from tuberculosis and the influenza. Two-years later in 1920, Bessie's husband, Irving Carter died at his parents' home at 606 South Washington Street leaving his daughters without a father. His daughters were raised by his Carter family and his deceased wife's Baltimore and Spriggs' families. Throughout the lives of Verma and Lucy, family members rarely talked about the girls' parents. The story of their parents was never told and never passed down to their daughters.
Both daughters grew up in Alexandria and attended school. Verma married Sylvester Roy in 1936. They had four children, Sylvester Jr., Raymond, Donald and Lucy. Verma's sister Lucy Beatrice Carter married twice. She married her first husband Haywood S. Cross in 1934. They had one daughter, Beatrice Virginia Cross. Lucy's second marriage was to Harold Roy in 1943. The couple had one son, Harold Roy Jr.
Verma and Lucy treasured their family. Although they grew up without their parents, they became devoted mothers to their children. Verma and Lucy bonded with their parents' siblings throughout their lives. Lucy stayed in touch with both sides of her family, remembering their birthdays and celebrating holidays with them. When her elderly family members died, she assisted in paying their burial expenses.
Unlike their parents, Verma and Lucy lived a long life. Verma Evelyn Carter Roy died at the age of 85 and Lucy Beatrice Carter Cross Roy died at the age of 90. For their parents, Bessie died before her thirtieth birthday and Irving died before his thirty-second birthday. Their lives were cut short by disease.
For Bessie Evans Baltimore Carter, she was added to the mortality statistics of victims who died from the 1918 Influenza Pandemic. The Flu Pandemic killed about 50 million people worldwide, that included the 675,000 deaths in the United States. In 1918, there was no vaccine and no antiviral medicine to treat the Flu. The recommendations from doctors were isolation, quarantining and good hygiene practices.
Those same recommendations are given today for the COVID-19.
During the 1918 Influenza Pandemic, the world had millions of human deaths and today, we are approaching a similar fate. What a devastation these pandemics have had on so many families in the world.
Char McCargo Bah is a published author, freelance writer, independent historian, genealogist and a Living Legend of Alexandria. She maintains two blogs, https://theotheralexandria.com/ and https://findingthingsforu.com/.
More like this story