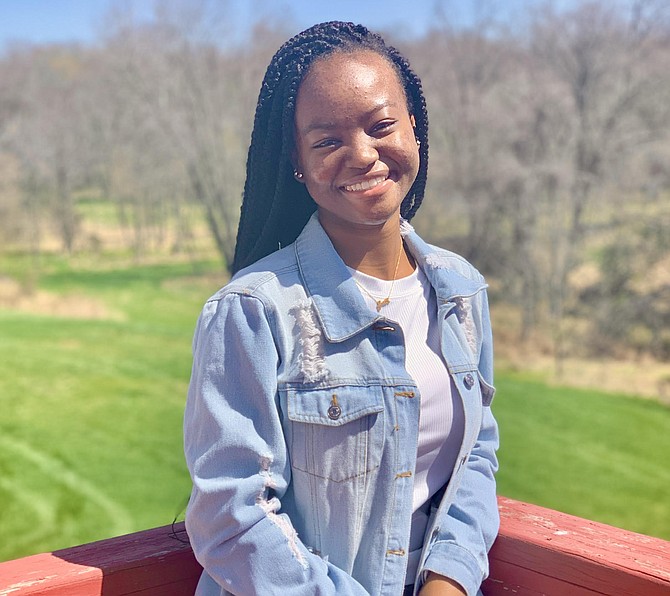 One little click set Imani Irons of Herndon and senior at South Lakes High School in Reston on a path that eventually led her to be among 25 students who, after completing six key college planning steps, each at valued dollars, the College Board awarded $40,000 in its chance Opportunity Scholarships Program. Irons said she discovered the College Board Opportunity Scholarships after she registered for the SAT, a standardized test widely used for college admissions in the United States debuted by the College Board. It was open to students from all 50 states, Washington D.C. and U.S. territories signed up for the program.
Information on the College Board's SAT website led Irons to compete in the Board's six college pathway steps and chances to earn scholarships. "Working towards the scholarship helped to keep me on track...Some steps for the scholarship were things that I was already planning to do, such as filling out the FAFSA and applying to college...There were other steps that I may not have completed if it hadn't been for the scholarship, such as practicing at least 6 hours for the SAT and then improving my last score by 100 points," Irons said.
According to the College Board website, the 25 scholarship recipients completed the planning steps over the course of the program, each providing that "chance opportunity" to earn a cash scholarship. Irons did so knowing the odds to be awarded the scholarship, but also remembering completing the steps kept her pending college applications on track.
Irons built her college list – $500 scholarship, practiced for the SAT – $1,000 scholarship, practiced improving her score – $2,000 scholarship, strengthened her college list – $500 scholarship, completed the FAFSA (Free Application for Federal Student Aid) – $1,000 scholarship, applied to colleges of her choice. According to the College Board website, the more effort a student put in, the more opportunities the students had to earn a scholarship.
According to instructions on the website, if a student completed all six steps, they were eligible to earn $40,000. Scholarships would be awarded through monthly drawings to students who completed each action.
Irons said, "To actually win the scholarship has just been amazing. It is a huge relief and has taken away a lot of stress to have my first year of college taken care of, and no longer worrying about how I will pay for it or going into debt with student loans. "Iron's Opportunity Scholarship could be used for any Title IV accredited institution of higher education, including accredited two-year and four-year and applied to tuition, fees, books, and other relevant educational expenses.
Irons award will be disbursed directly to the institution she ends up attending, tentatively Virginia Commonwealth University she said, so there will be no tax implications for her. "I am extremely grateful to the College Board for this scholarship and the opportunity. Scholarships are such a great program for all college-bound students," she said.